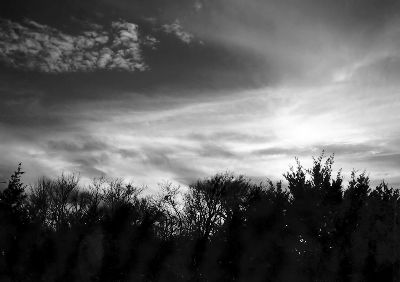 4/1/05-Fri.-A perfectly gorgeous spring day! Temperatures early this morning were in the low 50s (F). The sun is beaming. The wind is cool and quite gusty. The high is predicted to be only in the upper 60s or low 70s.
After Fran had walked the dog and gotten groceries I walked the dog too, did some investing activities online, and went to the bank for our second deposit of the week. Profits from stock trades plus Frances' music performing pay have totaled over $900 this week so far, for altogether about one day's work between the two of us. Boy, we love retirement.
Later. Puff has been giddy amid our latest weather. Already on the chilly side after her haircut yesterday, she is reacting to the cool front with idiotic frenzies of running in the backyard. However, she ate grass and then was messily sick late today. We do not know which came first, the upset tummy or the ingestion of greenery. With luck the episode is over.
Had another neighborhood encounter with an unleashed dog and its owner, when I took the beast on her second walk of the day. It is so irritating when owners do not act responsibly with their pets, then have the gall to blame others if they act defensive of their own, better controlled animals. I never even came close to hitting the lady's dog, just tried to get Puff away as soon as possible, but even this was not good enough for the bitch (and I do not refer to the canine), who complained loudly that I was "making" her precious run after us. This is the second incident. After the first, I had mildly suggested she use a leash. But, as is so common, the owner could not imagine any reason her best of all possible dogs would need one. It is disappointing to so often get confirmation that the average IQ is 100, and that, even among those who should know better, rationality is in short supply.

4/4/05-Mon.-Coffee buzz. Got too little rest last night and have then sort of compensated with too much caffeine as I completed a three-hour shift of radio station fund drive phone answering. I started this volunteer work on Saturday. It has been a quite pleasant diversion from my usual routines and relative isolation. The people I've met, both on the staff and among my fellow volunteers, have without exception been interesting and friendly. The food donated by local merchants has been tasty and amazingly abundant. And travel to or from the station has been easy and quick. All in all, I think I'll likely volunteer for later drives too.
Our CPA called late this afternoon. We have an added tax bill of about $2450, but will be able to shelter around $3800 in our IRAs. Considering that total household income for 2004 was about $78,000 and we hardly noticed the taxes already paid as the year progressed, this "hit" seems minimal. It would be great good luck if we usually must pay extra due to inadequately estimating earnings or equity profits.

4/8/05-Fri.-My current radio station fund driving ended Wednesday, so it's back to a more or less normal routine.
Tonight, though, I made a fruit salad for a Saturday first meeting with a local potluck supper group, folks who get together for both good vittles and social interaction.
And I'll be taking a trip with my mom next week, including a surprise visit to see her sister, Hazel, on that lady's birthday, 4/15.
I've tried lately to arrange a mini-vacation for Frances and me, as to Ruidoso, NM, but she has too much else going on, isn't so into spur of the moment decisions just now, and needs her car checked by our reliable mechanic before another trip. It's been hesitating badly, and I cannot fix the problem.
A Terminex inspector came and gave our house its checkup yesterday morning. No termites were found.
Afterward, I drove with Puff over to a shopping center, selected and bought some greeting cards, took the beast for a short walk, and got a couple birthday mementoes ready to mail.
We take this sort of thing so for granted, the ease of shopping for ordinary items like that, the assumption that once cards are mailed they'll reliably be delivered within a few days, that a gift check will promptly clear a bank and its value be readily handed over. Yet what about only a hundred or two hundred years ago, or now in many foreign countries, or even right here if one is very poor or an illegal immigrant?
My brother, Ron, wound up getting the selling job and has begun doing the training in how to convince folks to buy home security systems. For now, he's also keeping his part-time work at Sears, but just working with them on weekends. He's sure this new gig will be the best work he's ever had. They are flying him to Chicago in about a week to give him some intensive educational and motivational guidance. Well, I hope it pans out but am almost certain he'll fail at the latest venture.
I called and arranged to see him, once again for breakfast, tomorrow morning.
Puff had her new annual physical and shots today and is doing fine, up to a little over 18 pounds of mostly muscle. She's healthy as can be! She didn't whimper at all when she received the needles in her rump, but then, when she was put back on the floor and sat down, suddenly noticed the pain in her caboose and reacted so pathetically, as though she thought something had just attacked her when the soreness began kicking in there, not understanding what had caused it, we could not help smiling at her predicament.
Whether because of the excitement or a reaction to getting the shots, she spit up her food not long after we'd gotten back, but then was fine by time for her evening meal and kept it down.
While I was trying to figure out a good place for Frances and me to go for a short vacation, I asked my mom for suggestions, since she's in many ways over the years "been there and done that" here in TX. She suggested Palmetto State Park as being possibly pretty nice this time of year.
In fact, I did camp there one spring several years ago, on my own except that Pepper was with me. Fran had been busy then too, and I had just been in the mood to do something different, so went over there for a three-day weekend. It turned out to be an unfortunate experience, but not altogether because of the setting.
I had gone at a time when the mosquitoes were bad (not realizing beforehand how swampy that area is), and the weather was rainy. Besides that, something was wrong with my tent, which I never was able to correct. A part was missing, and I couldn't get the tent up completely without it. So I was rather uncomfortable generally while there. Also, when gathering big chunks of tree trunk for a fire, my back was hurt enough that I was in a lot of pain then and for the next several days and nights.
Pepper liked it when we'd go on walks, but was miserable in the rain back at our campsite and looked at me accusingly as I was trying unsuccessfully to get the tent fixed. I finally dried her off and let her stay in the car till things were more pleasant. Yet it was too steamy for the car to be enjoyable either.
Still, it would not be an adventure if there were no possibility of things going wrong. Were the outcome guaranteed, traveling to new places and trying fresh things would have far less appeal!

4/13/05-Wed.-A great weather day. Up at 7:00. Packed and got underway toward Waco a little before 9. Fran had taken Puff for a walk and then gone grocery shopping, arriving back just as I was finishing loading the car, and expressing exasperation that the supermarket had been out of several things on our list.
What if terrorists attack with WMD, I think, and our country has another severe economic depression, civil unrest, martial law? What if one of us develops a life-threatening disease? We take so much stability, freedom, abundance, and health for granted. Inevitably this will change.
But, for now, the material side is pretty good. Our combined income while we were working averaged only between $40,000 - $50,000. On the tax return I mailed in yesterday, our 2004 gross income (in retirement!) was $80,500. This despite our net asset value going up. At the end of 2002, our nest egg was down to $473,500. At the end of 2005, after three more years of almost no work, it could well be over $700,000. Knock on wood.
This evening, once Mom had gone to bed, I sent an e-mail to Frances, packed for tomorrow's trip to Vinton, LA, and then enjoyed reading a little gem of a paperback summary of A. Einstein's ideas, The Universe and Dr. Einstein, by Lincoln Barnett.
A few weeks ago, Mom assisted a local lady with getting much lower cost health care through a military benefits program. She is eligible as a veteran's widow. Extremely grateful, and in lieu of having a garage sale, the woman gave Mom several boxes of clothes, books, and videotapes, and said she could use them herself or otherwise dispose of them in any way she wished. Mom offered from this batch what I might like, and I've found both this book on Einstein and a light jacket in very good condition. I've been needing another jacket for several months, and this one fits well. Mom expects that, any of the things her extended family does not want, she'll donate to one of her several volunteer projects.
On p.18 of the 1975, second revised edition (Bantam Books, New York, NY), of this Einstein book I've been reading, I found a remarkable quote, in the introductory section giving the history, science, and philosophical background from which Einstein's published theories arose: "Twenty-three centuries ago the Greek philosopher Democritus wrote: 'Sweet and bitter, cold and warm as well as all the colors, all these things exist but in opinion and not in reality; what really exists are unchangeable particles, atoms, and their motions in empty space.' " How did he know? In all likelihood there were in his day no scientific experiments and few methodical observations, nor the machines and the devices with which today we may augment our senses. It seems he must have just come to the conclusion through thoughtful analysis, unencumbered by the superstitions otherwise all too common in both his time and ours.
Mom and I watched a quite funny, silly video movie tonight (one of those given by the grateful widow), "What Planet Are You From?"

4/14/05-Thurs.-We got underway about 9:30 AM. An hour or so later, when we stopped for a short break and for me to take over driving, Mom discovered she had forgotten to bring her wallet, her TX map (which I'd asked her about, and she'd assured me before we left that she had packed), and any other keys (in spite of locking us out of the van and saying she'd make certain from then on she always had extra keys on hand) besides that for the van. No problem. I kept careful track of the one remaining key to the vehicle (but who knew how we'd get into her house upon our return?) and paid all the bills with my credit cards when they were accepted and with cash when not. But this evening I lost my Citicard, apparently having left it at the front desk of the motel.
When we'd gotten to Vinton, LA, where Mom's sister and brother-in-law live (after our having stopped a few hours earlier at a Wal-Mart to buy a TX map), mother said she couldn't remember how to find their house, didn't recall the address, and had not gotten directions before we'd left.
We drove around Vinton for a few minutes, but when Mom was clearly unable to lead us any further, we stopped at a gasoline station and called her sister for help. The first phone didn't work. Some very friendly Vinton residents offered the loan of their cell phones, just as if we were lifelong buddies. But the line was busy each time we tried it. A third person offered yet another phone. We tried again, got through, and then waited for Aunt Hazel to drive over to the station and then lead us to their house. An extra hour was lost due to the lack of proper trip preparations. But, rather than giving me directions, the others decided the best plan was to get me to the motel and checked-in, then all go to a restaurant for my aunt's birthday dinner, after which I'd be dropped off at my room, saving them another trip out to take me there before they went to bed. I'd no objection. It meant more time to get my money's worth in the great motel.
I'd figured I'd get a motel room once at Vinton, but Mom said Hazel and Jack instead were arranging one for me. I guess they wanted to make sure I wasn't disappointed. It was the most luxurious accommodation I think I've ever had just to myself. (Later I saw there were several much cheaper motels in the area.) After my AARP discount, the room cost me $82.50. My aunt and uncle's place, though, was too small for both me and Mom as guests. I might have slept on the sofa in the front room, but my uncle has a very symptomatic back and often must get up and sit there in his Lazy-Boy to get through another difficult night.
They're meeting me, for us all to go for breakfast, at 8:30 in the morning.
The pine trees, Big Thicket forests, and abundant wildflowers through which we traveled on today's trip were gorgeous!
On the History Channel, there was a great World War II Series, "Band of Brothers," based on a book of the same name and a true story.

4/15/05-Fri.-I found out today that Hazel's 80th birthday was today. I'd known of course it was her birthday and that this was the reason for our trip to see her, but had I known it was her 80th I certainly would have made a bigger deal about it and objected to their simply dropping me off at the motel right after supper last night.
Regarding my missing Citicard, I later found it in a wad of trip expense receipts I was saving for possible reimbursement from Mom.
She as well as my aunt and uncle and I had breakfast together today at a Vinton eatery, one of Hazel and Jack's favorites.
Then Mom and I headed off for the Houston VA cemetery where we looked up and spent a few minutes each at the gravesites of my dad and my brother, Ralph.
But first we had another comic episode. I couldn't get the key to work in the ignition of Mom's van. She tried too and had just as much trouble. Jack and Hazel had started to leave but saw we were still parked instead of pulling away and came back to find out what was wrong. I began to think we'd have to call AAA or a locksmith. The darn ignition was just "frozen." The steering wheel by now was also locked. Hazel and Jack were offering puzzled suggestions too, and suddenly Mom asked if I was sure it was the right key. Sure enough, it was the key to my car, then back in Waco. Groan! Well, I hadn't had all that much sleep last night. The incident occasioned much relieved laughter in our little group.
On the way over to Mary's place in Sugarland this afternoon, Mom and I got lost, of course, and drove several miles out of our way. Mom had thought she'd known a better route than the one I'd copied, that Mapquest had suggested, so we'd tried it, but there had been so much new development in the area, since the last time either of us had come that direction, that we missed earlier landmarks. At least it only took us about an extra half-hour to get back on track and locate Mary's house.
We rested a few minutes, and then Mary drove us over to the Adobe Cafe for supper, with Mom paying (using my credit card). After eating, I took lots of pictures, and we enjoyed a private river walk behind the restaurant, complete with dozens of turtles plus both adult and baby ducks.
Mom said that when she dies, and after whoever is interested goes to a service at the VA cemetery (and assuming an earlier memorial service in her home town of Waco), she'd like her loved ones to gather at that same restaurant and river walk to celebrate together her life, our family's version of a wake in her honor.
Back at Mary's again, we watched a sweet, charming gem of a DVD romantic comedy movie, "Love Actually," which I can heartily recommend.
Mary also shared with me some literature on a source of workshops in which she's involved (headquartered in Austin), Omega at the Crossings, as well as on some Don Miguel Ruiz writings, such as The Four Agreements. (See "The Sixth Sun Foundation" for an online directory of Four Agreement Wisdom Groups. The four agreements are, and I am paraphrasing: 1. integrity, and saying what mean, without speaking against anyone; 2. taking nothing personally: it's really NOT about you; 3. avoiding making assumptions, communicating as clearly as one can, to reduce drama or sadness; and 4. doing one's best, a changing standard, but worthy of commitment, and so managing without self-judgment or regret.)

4/19/05-Tues.-My sister Alice's birthday. I'll be calling her tonight to wish her a happy new birth year, chat, and see how things are going.
Frances and I have been busy, since my return from the trip, with preparing the five-year anniversary issue of our family and investment newsletter. Fran has also begun rehearsals for the next Austin Lyric Opera performance, Mozart's "Marriage of Figaro."
Later. I reached Alice by phone. She's very deliberately enjoying a respite today from the usual worries about how they'll get by financially. She contributes a little to the family budget, with private tutoring in French and by giving psychic readings. But her husband, Ed, has always provided the bulk of their income, and he has now been essentially unemployed for 3½ years. They have subsisted on home equity loans in the interim, except that he has received a few thousand dollars as a consultant and for helping with the local campaign of a fellow Republican.
Now the equity money is all but gone, and they are getting desperate. Too bad they bought a house for around a million dollars several years ago. Even with his great jobs, how could they afford that kind of mortgage? But then, against all realistic expectations, the place tripled in market price. Why not sell it then, retire, and live the good life in a cheaper area? However, they loved a millionaire lifestyle and felt committed to staying there, having convinced themselves they had found their dream home and so must never leave.
At the time, up till 3-4 years ago, it had seemed Ed would just always be earning big bucks. Yet the recession happened, and soon he was called "redundant" by his then British employer and let go. Now higher interest rates and a slowly weakening real estate market are threatening to squeeze them into bankruptcy unless they act quickly.
Still, Alice dithers, hoping against hope that at long last Ed will get another fabulous position. She still urges him to stay on there yet longer, just in case. Her capacity for self-delusion is great. I hope a seemingly inevitable bursting of their bubble will not be too hard on her. I do not share with them my unsolicited opinion of a foolishly risky and extravagant lifestyle, only dropping mild hints about the need to keep options open and maybe consider moving rather soon.

4/25/05-Mon.-Our species in general, and US citizens in particular, seem clueless when it comes to the seriousness of global warming and its implications. The situation reminds me of the casualness with which most officials and passengers reacted to the early stages of the Titanic's crisis after an iceberg had sheared a large slice through its hull. Within decades, there will be no more glaciers in Glacier National Park, millions of species will be extinct, drought will be far more common than a hundred years ago, weather will be erratic, and temperatures will, in the more northerly latitudes, be 10 or more degrees warmer (F) than when I was a boy. These changes may well prove more challenging than either the Cold War or the War on Terrorism, and ultimately, though unlikely to completely destroy us, could bring on a very dark age. Yet we are continuing blithely with our shallow, short-term "business as usual" attitudes and policies.
My brother, Ron, after recently getting a salesman job for a residential security service company, has now had more good fortune. I am astonished to learn that he has received a favorable decision in his application for disability from the US Postal Service, based on his simply having bipolar disorder and allegedly needing a lower stress job than as a carrier. He even gets a lump sum back payment for the months he's been away from the Post Office payroll. He's been naturally eager to get out of his latest living arrangement, staying in one of his daughter's rooms at his ex-wife's house (while the girl must sleep on a sofa), for him just one step up from living under a bridge, and so has used his first money after the settlement to get a new apartment, having moved in this just past weekend. I hope things are genuinely turning around for him and that, from now on, he can keep his head above the metaphorical water.
In the early days of this blog there were several hits a day, and comments from others by e-mail were not uncommon. But now only one or two check out the site daily, and I never hear a word from readers. It may be that a former follower of these scribbling efforts, who herself or himself had a more popular blog and a prominent link to my site, may no longer be writing much at all or has deleted the link to these pages. Also, I have not been adding entries with the regularity I once did. Were I again to put in a new entry most every day, the offerings here might gain renewed interest.
I suspect too that one reason for few hits is just that blogging has become such an international sport I am now in competition with millions, when before it was at most thousands, perhaps even merely hundreds who would add entries fairly regularly.
Of course, it is also possible I am becoming more dull in my old age, and that few find anything here of interest. I do not think it likely I can so transform my life, my style, or both as to capture the attention of many when at present I appeal to so few. But the hurdles existence throws before me may eventually cause this account to have a more empathic appeal. And to the extent the blogging trend represents a fad, but I persist, the numbers will one day again be in my favor. We'll see.
In the interim, keeping a journal has the same meaning and function for me personally that it might if there were no internet and, indeed, if nobody else would ever be reading it.
Austin is currently under both a severe thunderstorm alert and a tornado watch. We have enjoyed quite pleasant temperatures over the last few days. But it is about time for us to move into the muggy, mosquito-infested or baking hot days of central Texas' long summer seasons, which usually last from early May through most of October.
Till now, though, the weather has for quite awhile been ideal for Fran's pastimes of gardening, landscaping, and nature photography. Indeed, she is becoming more content with our fair city. When Frances was a newlywed and had been here about five years or less, she could hardly stand this burg. But being all but retired definitely is more pleasant for her than working an average of about 60 hours a week, as she would do through most of the school term up until 2002.
And since then she has evolved a pattern of friendships, rewarding music performing gigs, and other activities that suit her personality well, so that, when I asked the other day her thoughts about an ideal location to which we might move after my initial Social Security benefits kick in, later this year, her response was that no transition is needed, that Austin's the place, at least for the foreseeable future.
I am gradually increasing my social network here but am not to that point yet, and I still look forward to our leaving and going to an area more recreationally, meteorologically, and geographically dramatic and pleasant. Hope I can convince Fran of the attractions elsewhere when the time comes.
Some of the perks of our being here that I do enjoy, though, include comp tickets as Frances' spouse, to various concerts and organizations for which she is a permanent or sub musician. Last week, I was able to go to the Friday night Austin Symphony Orchestra performance this way. Haydn, Grieg, and Janecek were the featured composers. Afterward, there was a reception with wine and lots of delicious catered food. I also got to meet some of her fellow instrumentalists.
This coming Thursday, I'll be in this way going as well to Austin Lyric Opera's "Marriage of Figaro (Mozart)."
Meanwhile, my efforts continue to get acquainted with others and gradually increase my circle of friends. I had another fascinating discussion in my book group, last Wednesday. This past Saturday, 4/23, I met with several folks who like to just get together socially each month at Austin eateries. I made friends with new people there who were rather gregarious. We all had a good time while savoring the excellent victuals.
Speaking of things new, Frances and I went shopping this morning and bought a printer to replace the one we had a mere five or six months, before it ceased to operate five or six weeks ago. Fran installed the latest (our fourth) a few hours ago and tried it out. I have started using it as well. But things aren't necessarily easy in this best of all possible worlds. Now the cookies seem to be disabled, and a number of the web pages I open are reformatted in a way that is dysfunctional.
I've finished the little Bantam edition paperback volume on Einstein mentioned here a few days past, The Universe and Dr. Einstein, and still am inclined to sing its praises. It is not merely a good introduction to relativity, but also to modern philosophy. Among the quotes I like are these, with which I agree, from Albert Einstein on matters of faith: " 'The most beautiful and most profound emotion we can experience is the sensation of the mystical. It is the sower of all true science. He to whom this emotion is a stranger, who can no longer wonder and stand rapt in awe, is as good as dead. To know that what is impenetrable to us really exists, manifesting itself as the highest wisdom and the most radiant beauty which our dull faculties can comprehend only in their most primitive forms---this knowledge, this feeling is at the center of true religiousness (p. 108).' " And again: " 'My religion consists of a humble admiration of the illimitable superior spirit who reveals himself in the slight details we are able to perceive with our frail and feeble minds. That deeply emotional conviction of the presence of a superior reasoning power, which is revealed in the incomprehensible universe, forms my idea of God (p. 109).' "
Recently finished and can recommend Crow Lake, by Mary Lawson.
Have been bothered lately by fecal material deposited on my otherwise still nice looking car, from birds in the trees I park under for shade while Fran and I are in one or another of our favorite restaurants. So today, when we went to Sarovar Indian Cuisine in north Austin, I parked out in the sun. To the familiar "no shirt, no service" motto at many eateries, I've added a new one: "no shade, no shit."

4/26/05-Tues.-Bought shares of a couple stocks early this morning. Later, prepared a new entry for my Investor's Journal.
Checked e-mails. I had an opponent's chess move notification. The other player, who goes by the moniker "Halftime," is winning the current game. We're playing via Chess World, a cool site that provides free matches in a very easy to use format, keeps track of players' points, has teams, manages tournaments, etc.
Halftime says it's quite common for even "beginners" (my level) there to be playing 50 or more games at once, as he does, and that some have over 400 different opponents in play at any particular time. To which I say: "Get a life!" But in a way I am impressed too. I'm sure it beats just feeling sorry for oneself, committing crimes, spreading venereal disease, being a complete couch potato, or any of a number of baser sorts of adjustment. And who knows? Perhaps from the ranks of such compulsive Chess World players may come the next global chess master!
Later I went to the bank, researched the issues in a current Austin election and did my early voting, shopped at a nearby grocery supermarket, took Puff on her second walk of the day, meditated, updated our investment records, got caught up on chess plays with my two opponents, and did some catching up as well on e-mails with pen pals. Later tonight, while Fran is still at an opera orchestra rehearsal, I may do a little semi-potato couching myself, viewing a new videotape while romping with the beast.
There is an interesting but quite sad drama going on involving both the Austin Symphony Orchestra and the Austin Lyric Opera right now. A man has just been fired under questionable circumstances from the symphony and is also, at least temporarily, being prevented from performing with the opera. He had been with both groups for a long while. I really do not know enough to make a firm judgment, but the secondhand info I have received makes it seem he is being treated unfairly. The overall situation has some in both orchestras rather upset. The musician in question apparently has nothing on which to fall back. These were his primary financial and social outlets.