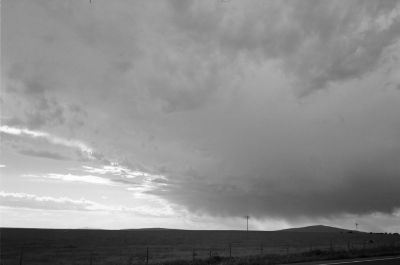 10/2/04-Sat.-Last night, when I took Puff for a walk, bearing with me a plastic sack and mitten for picking up her stool, she did her heavy duty business right away, within three or four yards of our place. I removed it, sealed the fecal material away in the plastic folds, and daintily toted it off (to throw out later). But then, after only another couple blocks, she pooped again, big-time. I had no empty bags for the extra poo. How did she ever have so much? Like planes in bad weather, it must have been stacked, circling the "runways."
Happily, the air conditioner and other problems of several days ago were fairly easily fixed and did not cost an arm or a leg. Now our cameras are operating well again also, and we have a new microwave oven that functions adequately. We are behind on several things, but are glad that the black cat, having crossed our paths, nonetheless left us with a bit of dignity this time.
Frances and I have continued to have a variety of minor to moderate repair and maintenance challenges, but none like the so recently alarming electrical anomalies, that might well have led to fires. We'll gradually deal with the new breakdowns, hopefully without letting them stress us out.
We've heard now from my mother-in-law, Linda, and sister-in-law, Trudy (and her kids), who were heading from here to Linda's place in FL. They had a tiring but uneventful trip and found no significant damage from the latest hurricane. Good.
Fall has finally arrived here, and we were blessed with a slight cool front as well as a nice set of badly needed rainstorms having come through during the night or early this morning.
It is, accordingly, a great time for lazing about, reading John le Carré's The Tailor of Panama, napping, listening to music, meditating, eating out (we went to Jason's Deli for lunch), playing with the dog, writing e-mails, and so on.
Life is getting back to normal for us after the guests, trips, and repair scares.
I got the results back from my annual physical examination and the blood/urinalysis lab work of last week: all was completely normal, indeed better than I think it has ever been since I've been keeping track, as if by magic (for I'd not been terribly conscientious about my diet or lowering cholesterol during the June and September trips), except for the good cholesterol (HDL) level, which was 36, and ideally should be 45 or above. So I've been looking online for useful info on raising HDL.
Fran has been doing some volunteer work for the local botanical gardens. I'm thinking of volunteering as well, but have not found the right "niche," something I'd find both sufficiently interesting and fun to warrant the sacrifice of my unpaid time.
The presidential election news has been intriguing. It's captivating to follow the various ups and downs of this or that candidate in the weeks close to an election.
Time to take our dog for another evening walk.
Later tonight Fran and I expect to watch the 2nd "Lord of the Rings" movie, "The Two Towers," on our VCR. We'd somehow not seen it yet, either in a theatre or at home.

10/6/04-Wed.-If one counts as well my participation, in April, in a University of Texas community course on film scores and, in September, the long trip I took to the photogenic land of geysers, mud pots, bison, moose, and so on, tonight marks only the third time this year that, on my own (apart from Frances or relatives), I'm doing something at least a little outside my normal routines.
Little wonder, then, that, even after nearly three years of retirement, and so presumably having plenty of time to meet people in fun and stimulating ways, I find myself without close friends. Indeed, my former work pals (all ultimately uninterested in our getting together outside business hours) having fallen by the wayside once efforts to see each other became more challenging than simply showing up at the job site each weekday, the current friends or acquaintances are ones I met only through my wife's music-related activities and with whom I visit just five or six times a year.
While by myself in my silent cabin one night last month in Yellowstone National Park, it dawned on me with some force that since ending my career I'm becoming more and more isolated. Rather reluctantly, for my natural bent is reclusive, I determined to counter this trend.
Thus tonight I'm trying out going for the first time to an AAII investment group meeting. I figure I'll keep pushing myself into new things. Maybe eventually something(s) will "click" for me, and I'll find the motivation to carry on with it (them) without having to keep prodding myself further. At least that's the hope.
My father at the same age was very much in danger of becoming a social hermit, uncomfortable in any gregarious setting outside his home. Dad never struggled against this kind of retreat, became quite closed off and emotionally shut down instead, and, till his death at age 83, was often therefore a terribly lonely man.
I'm reminded again of the story of Silas Marner, who had cut himself off from almost everything but finally found his way back into an intimate involvement with society. The fable of Scrooge of course comes to mind as well. It is good that, not merely in fiction but also in the real world, we are at times given such second chances.
Later.-The AAII group meeting this evening was interesting, but not particularly so based on the intended content. Rather, it was intriguing to see the group's dynamics. These reminded me greatly of the way the special-interest groups (SIGs) operated when I, or Fran and I, would attend those sponsored by Mensa, back in my bachelor days and during the early courtship time with Frances.
By chance there were only men among the 15-16 who attended this time. (Ironically, in a similar, Wimberley group the leader began a couple weeks ago, only women showed up.) All there on this occasion seemed relatively to quite intelligent. About a third of them, however, including the leader, had competitive issues and tried to dominate the discussion, as if wanting to verbally demonstrate how smart they already were. (So why go to a group in which most will be needing to learn?) Very little new information was passed along, either by the leader or in the ensuing discussions. Nor did there appear to be much if any organization to the talk. In short, it was, to judge by this one meeting, hardly worthwhile.
I suppose there is reason to think, though, that those most interested in really getting something out of an investment group will stick with it more than those who primarily just want to spout off. Maybe in this I am being naive. In any case, till I find something better, I shall keep attending. My goals here are twofold: to broaden my social circle; and to learn more about how to value and select good stocks.
The SIG met in a Montessori school elementary classroom. Perhaps against my better judgment (for, however much I enjoyed myself at times with younger siblings, nieces, and nephews, Fran feels I lack the temperament to be a good teacher, and, as I've noted before, I really do not find much joy in babysitting situations), I found myself wistfully wondering, during some of the exasperating social transactions going on this evening, if I might yet, without too much trouble, find a practical means to work in an educational setting, thinking it could be much more rewarding, for instance, than what I was doing tonight.

10/14/04-Thurs.-I'm off early in the morning for a visit with my mom. She has her 82nd birthday on Saturday. I plan to return in a few days. Fran is staying here. She had visited Mom, during her own relatives' trip down last month, and does not have as much interest as I in frequently spending time with her. I suppose it is often that way between in-laws. Fran's mom and I also do best together if we are not that frequently around one another.
Here in Austin, we are happy that the hottest season of the year has ended. Temperatures are pleasant once more. Autumn and winter are our favorite seasons for this reason.
Puff continues, at about ten months of age, to try our patience but also to amuse us greatly. This morning I took her on a long walk through the neighborhood. She became extremely frightened by the noise of some men stapling shingles onto a new roof. For the rest of the walk, even when we were many blocks away from the construction site, she was almost wild, jerking, lunging, and pulling, faster than I wanted or in other directions than I wanted her to go. I'm going to have to train her with a choke collar, I guess, to teach her to heel.
Tonight, Frances took the beast to a second set of obedience classes, the first (at Wal-Mart) having been pretty much a failure with our best of all possible dogs.
Then Fran had a surprise performing gig at a tango workshop, the contact for it coming only after she'd left with the pooch. So she had to turn right around and go downtown again for the later activity.
I continue to find the presidential campaign keenly of interest.
We have restocked our supply of candy in anticipation of Halloween. We almost always get plenty of such goodies, wanting to have lots on hand for that big night. We do not want to run out and have tricks instead of treats! But this usually also means there is an abundance left over for Fran and me to share, after the children have gone home. I know it is not healthy, but once a year we enjoy indulging our sweet-tooths.
In our area, a lot of other children, for security, no longer go trick-or-treating but instead attend special Halloween parties at their churches or schools, rather than run the risk of something bad happening in the neighborhoods or with the treats they get. This change has come about after stories of razor blades in apples, poisoned candy, and other horrors.
Nonetheless, large bunches of children keep coming by for the usual costumed door-to-door festivities. Some even take pillow cases with them and try to fill them up with candy before stopping for the evening. Often parents - especially those of pre-kindergarten children - go with them, and stand out on the sidewalk while the kids go up to each door.
I used to wear an ugly mask myself when opening the door to the Halloween kids, thinking I was just participating in the holiday. But one quite young little girl became very frightened, on suddenly seeing me this way when the door opened, and started to cry. I yanked the mask off and tried to make her feel better. After that, I never wore a scary mask again for trick-or-treaters.

10/18/04-Mon.- Went over to Randall's, did some shopping, and voted in the Presidential election today. It was gratifying to see a long line of other early voters. The more who vote, the more democratic the results, whatever the outcome.
I used a choke collar on Puff during this morning's and evening's constitutionals, and it definitely improved the experience. As I told Frances, the beast was not good, but she was certainly better as a walking companion than before.
Returned yesterday from the visit with my mom. Despite ups and downs, that time was positive overall. Ron, Jane, Allen, Nina, and Sharon were also there. Horace and his two youngest sons stopped by briefly to help Mother celebrate her birthday too.
Mom, her friend, Alexis, and I went on Friday to see the Odessa, TX, high school football movie "Friday Night Lights," not one either Mom or I would have gone to otherwise, but Alexis particularly wanted to see it and to take Mom, as her birthday gift to her.
Saturday evening, the gathered crowd at Mom's watched the unrealistic but entertaining super-disaster film (with some terrific special effects), "The Day After Tomorrow," about a devastating new ice age that, in our near future, overtakes the planet over a period of less than two months. With abundant interruptions for Mom to take birthday wishes calls, that kept us occupied for close to four hours.
There were also fun games of pool and chess.
Several there looked at my Yellowstone pictures, though only Nina seemed enthusiastically interested in them, relating similar mountain river, hot spring, and sulfurous volcano vent settings in her native Ecuador. (Fran, her mom, and her sister, previously, had given me plenty of positive feedback about those photos too.)
Ron reported that he and Claudia seem to be on the verge of a break-up, after being together as a couple for several years. Unfortunately, this has seemed inevitable for awhile, after she had (bizarrely) encouraged him to give up his career with the Post Office, which he then (stupidly) in fact did. Now they are having major disputes about money. (Duh!) I can't help thinking she was helping to set him up for failure, just as she's apparently done with a succession of former male friends (one of whom even killed himself).

10/25/04-Mon.-One day before my 61st birthday anniversary. Yesterday I joined the Austin Film Society (AFS), and tomorrow Fran and I shall celebrate my latest aging milestone by going to a 1930s comedy being shown by AFS at the Alamo Draft House, "Easy Living."
Since the last entry, we've had a terrific set of thunderstorms, keeping us awake much of Friday night, along with 2-3 inches of rain. It and the runoff from higher neighbor lawns once again turned our yard's moisture into a torrent, leaving rich deltas in its wake. Optimistically, I spent a couple hours Saturday broadcasting winter rye seed, front and back, hoping for new growth in lawn spaces that have been bare for awhile.
Then we had another shower last evening. Today, during my morning walk and on a free (from the bank) coffee break in the park-like area adjacent to my financial institution, I've been noticing a host of pleasant little things, from birds' excitement to the fresh vividness of blue-green lichen on the trunk of an old sycamore, a thick patch of prickly pear cactus, its long spines glinting in the sun where it grows wild in a wide, usually dry, drainage ditch, the wet nose of a small dog poking through a fence hole near the ground, sniffing its enthusiasm at Puff's close by passing, and so on.
In my small way, I have been inspired for now to greater awareness of phenomena around me by seeing an interview with our new Poet Laureate, Ted Kooser, who, dealing with cancer, began several years ago a habit of focusing intently on one thing on each morning's walk, holding it in mind, and then writing (and rewriting, multiple times) a poem about it.
In my car, while running errands today, I began listening to an audio CD of Tim Cahill's Yellowstone account, Lost in My Own Backyard, a neat gift from my mother-in-law, one of the better presents she's given me. I'm finding it interesting. It is not great literature, but has an appeal for someone either newly acquainted with that famous national park or hoping to be encountering it soon. This books-on-CD idea is great for the many times when there's not much worth hearing on the car radio.

10/28/04-Thurs.-Up a little after 8 AM. Went for my morning walk, taking Puff in tow. Fran was off fairly early to Zilker Park where she's doing volunteer work and photography, plus enjoying chats with acquaintances there.
I wrote a check for my sister-in-law, Leila, prepared it for mailing, and posted it. The hassle involved in various contacts with her concerning an upcoming performance in Waco of "My Fair Lady," in which one of Leila's daughters has a small part, has made the eventual entertainment seem scarcely worthwhile. As so often, dealing with difficult people makes me wish instead for life in a hermitage, a Walden Pond cabin, or another similarly reclusive retreat. Fortunately, not all social interactions are so challenging. (Of course, I realize some probably regard me as "high maintenance." Go figure!)
Next I stopped over at my bank for a little business, plus coffee.
Called for the status of my long-term health care insurance application. Was told it's "in underwriting," but that they have all the medical records the company sought. They called me back about an hour later and said I had been approved for their maximum coverage.
Frances and I celebrated by going for lunch to a delicious buffet at the Sarovar Indian Cuisine restaurant, in northern Austin.
I'm having a good time getting used to a gem of a digital camera, the Pentax Optio 750Z, a gift from Fran for my birthday. I will use it mainly for people and landscape pictures, but the very first night I employed it for a bit of astronomy, a better than normal glimpse of the almost full moon: