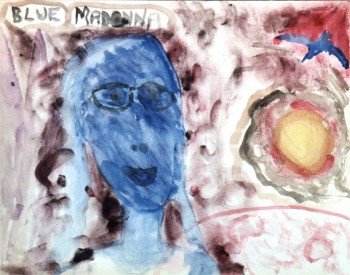 9/1/99-Wed.-Slept a little longer than usual last night, as I'd a dermatologist appt. this morning. I left for it an hour early but got there with only five minutes to spare, thanks to Austin's horrendous "rush-hour" (a misnomer, as it proceeds quite slowly) traffic.
Unusually, I was seen promptly and the treatment was most efficient. I had several new suspect spots of basal cell cancer. One was biopsied. Four or five were frozen with liquid nitrogen.
After getting away from there, I headed for my favorite restaurant for such occasions, Trudy's, where I had their migas breakfast, one of the original specialties of this establishment.
Then it was back to the old grind at my state job.

9/3/99-Fri.-Fran and I have had a hassle-filled week, but are doing OK, all things considered. I kept my caseload under good control despite several hours off to have the new skin cancer places treated. I took my car in to Firestone this evening, after its starter system performance had gotten serious enough that I figured there was real danger of being stranded soon. They are keeping it overnight and hopefully will fix it tomorrow.
Frances has had serious difficulties at work in the last few days and even had a good cry over it last evening. Parents as well as one influential band director have been spreading negative tales about her behind her back. She has, in fact, been cut out of the private teaching loop at one school because of a personality difference with the band director. He, in turn, has bad-mouthed her to other band directors, so they tend to give more weight than they should to the petty complaints of immature students who cannot take a bit of criticism, and of their parents who automatically stick up for them without ever hearing Frances' side.
My wife is superb at what she does. Her record is probably one of the very best among the private teachers in that school system. She deserves better than this. The main problem is with a single individual who does not have the balls to speak directly to her about whatever grievance he feels he has. Ironically, it was he who had initially lauded her highly and gotten her started in Pflugerville's schools.

9/10/99-Fri.-This was my last workday before a short vacation, to include a visit with sister-in-law, Mary, and nephew, Jim, in Houston, and Mom, in Waco, plus a couple days to myself here in Austin.
I woke up this AM about 5:00 after a vivid nightmare in which our former friends (having not kept up with them over the years), Carl and Harriet Gold, go out onto a balcony of a high-rise office building or hotel, to look at the view out across the city, holding hands. One slips and somehow goes over or through the thin barrier, still clutching the other, who tumbles after. They cling, in a final, terrified embrace, as they plummet many floors to their deaths.
9/11/99-Sat.-Though my vacation has begun, I'm feeling unusually subdued. Fran also, or even more so, seemed depressed this AM. She admitted her gloom and could not account for it. She was awfully tired and sad last night as well. It seems to me she's still rather bothered by the personnel situation at her school system.
When I'd told her of my dream of the Golds' fate, she said it was like a scene from Kurt Vonnegut's Cat's Cradle, in which a couple fell to their deaths from a balcony when their building, containing the ice nine sample, collapsed, releasing the isotope into the water supply and triggering global catastrophe.
I stopped at McDonalds, in Bastrop, this morning for breakfast, on my way to the visit with Mary and Jim.
Several babies kept up a cacophonic serenade of crying throughout my meal.
I reached Columbus with my bladder running on full and the gas tank on empty, just in time, at the first stop-light, to be blocked by the local law, escorting a slow-moving parade, complete with famous people, kids, fire engines, tractors, and so on. The sun blazing, the car engine down to fumes, I read from a paperback of Tony Hillerman's Finding Moon, and melted, while I finished waiting for the folks to "float" on by.

9/12/99-Sun.-Had a very nice visit with Mary and Jim yesterday. I got to their place a little before 2:00. We chatted some. I listened, with sincere appreciation, to a musical piece that Jim had composed this past summer. It seemed very good for his first multi-instrument effort. The performers also were excellent.
I also looked through his yearbook, in which he has several pictures, and played a couple chess games with him. Though he won both, with seemingly little trouble, he paid me the compliment of saying they were more interesting than with his usual competition.
Mary and I went out to eat and then on to see Jim as the lead in a hilarious play, "Noises Off," put on by his high school. It was superb. Jim also did a lot of the set artwork and the decorative designs for the poster, cast shirts, and programs.

9/13/99-Mon.-In a dream last night, I'd been the last one in charge at a large house where my nephew Keith had been. In other words, though I'd not been officially so designated, I was briefly babysitting four-year-old Keith at this large place that was like an extended-family homestead house, but in town, as Mom's place is now, though it was a different home than Mom's, bigger, older, with a somewhat different yard. Like hers, it was also fenced-in, suburban, and frequented often by a number of relatives, few of whom necessarily lived there. I was, however, unaware that I was the last adult there at this time, assuming that Horace and/or Leila, Keith's parents, were also somewhere about. Keith wanted to go outside and, since the back yard was completely enclosed, I opened the door for him.
There was also some commotion about Pete moving and leaving and wanting to buy a place like this, or even this place, and newly into some money or a well-paid job, so that he could just barely afford it, though then there was also the impression it was a bigger place, more out in the country, but still associated with our family, that he was bidding on and hoping to buy.
In any case, I come back, after being gone awhile, to the house where Keith and I had been. There is the impression of Keith having been lost, though someone else, perhaps an older brother or sister, was looking for him. The yard at the place is a little larger than at Mom's in Waco. The house and lot are very reminiscent of a rented place, on Pearl Street in Austin, our family had back in 1960 to early 1961. In the dream the season or climate is cooler and wetter than now in central Texas, for it is comfortable being outside and the ground and leaves are wet, not from a sprinkler system but from sufficient rainfall in recent months. There is an overcast quality to the day. Deciduous leaves are all about on the ground, as in the fall. And there is a younger than true-life version of Keith, muddy head-to-toe and with mud and leaves also in his mouth. He'd been unable to get out of the yard but also could not get back into the house. I'd forgotten I'd let him out before I'd left and, as I mentioned, unaware then that there was no one else about to look after him. Alarmed at my oversight but relieved that he was alright, just needing a good bath and change of clothes, I wake up.

9/14/99-Tues.-Jim, Mary, and I had a good, fun weekend.
On Sunday, we went to Moody Gardens, in Galveston, and saw first the 3-D Imax movie on T-Rex, pretty neat, then the rainforest pyramid, quite nice, and next the new aquarium, very satisfactory, though not as large and varied as in Chicago. We had some extra time and so went to the nearby flight museum as well.
Jim needed some misc. items which we stopped and shopped for at Randall's on our way back. While we were there, I rented a movie videotape, "There's Something About Mary," which we all watched at home that evening. It was so funny that Jim and I had several fits of uncontrollable laughter. Mary enjoyed it too but didn't get into it to that extent. In fact, she never cracked a smile!
Also on our way back, we stopped for supper at Sammy's, a perennial favorite Lebanese restaurant. As usual our food there was great.
On Monday, I got up to write down my dream, as above, and see Mary and Jim off to work and school, respectively. Then I went back to bed for a nap, till nearly 9 AM. Not rushing anything, enjoying a very leisurely vacation schedule, I finished my ablutions by about 11:30 and meditated till Mary, who took the afternoon off, got back a little after noon.
We decided on an entertaining, but not wonderful as it turned out, movie thriller, "Chill Factor," getting to the theater in time for the 12:30 showing.
Afterward, we searched for a nice open restaurant and found one on a little river. It had a neat atmosphere and good Mexican food. We enjoyed a fine chat as well and got away and home before the traffic became terrible.
Jim got back from school soon after we had returned. He's driving his own car now, a hand-me-down from Mary (who now has a later model, obtained cheaply from a neighborhood estate sale). He brought some good news: he received the highest grade in a physics exam, raising his chances of finishing the year with a 'B' in that, his weakest, course; he's been designated as the official illustrator for the school athletic event posters, which also more or less guarantees him an 'A' for gym for this, his senior, year; and he's begun the audition process for "Little Shop of Horrors," knowing already that he's done well enough to assure he'll have a significant part, though not yet which one.
Mary, meanwhile, just before he got home, had called Rice University on his behalf. As a National Merit finalist, Jim stands a better chance than otherwise of getting into that school and being able to afford it. He liked what Mary told him about their music program. I believe at this point he may be leaning toward going to either the state university, in Nacogdoches, or to Rice, in Houston.
I found two new skin cancer spots during this trip. It seems they are out of control! My right hip/femur joint has also recently been giving me fits. My right and left shoulders keep nagging me with less acute but still nuisance pains. And one tooth now seems to be cracked, conducts hot and cold with numbing efficiency, and must be fixed. Bother!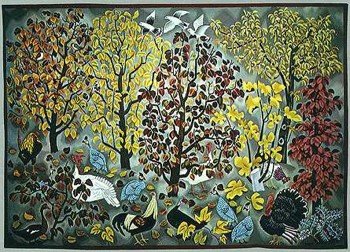 9/16/99-Thurs.-Up about 6:30. My hip and shoulder joints have still been very problematic. For some reason, this is most noticeable at night. There's no such thing as turning over in one's sleep if the beginning, middle, and end of such a movement is excruciatingly painful. Oh well. I must not exaggerate. Torture would be "excruciatingly painful." This is just a damned nuisance!
I prepared for the next phase of my current vacation, a trip to Waco and visit with Mom, and got underway a little before 9 AM.
On Tuesday I'd gotten back from Houston, put away my stuff from the trip, took a short nap, went out to eat in the evening with Frances, once she'd returned from teaching, and generally tried to see through the fog that had addled my poor brain all day, particularly after the long, hot road journey.
Frances was kind enough, then, to set up the templates on our computer for four pages of "Wagnerian Express," our monthly newsletter.
I spent most of yesterday (Wed.) preparing the next (9/21/99, officially) issue of that family publication, making copies, and sending it out to the nine or ten folks who can receive and successfully open it as an e-mail attachment.
Even though this newsletter is only four pages long, comes out just once a month, has a very small readership (about 10-20, depending on whether or not you count those that get it but probably never read it), generates very little feedback (perhaps not too surprising in a dysfunctional extended family like ours), and is a lot of trouble (technically) to prepare on the computer, it gives me a great deal of satisfaction, even more than did the "Mark" version before it. I expect it will continue, in one form or another, indefinitely, or at least as long as Fran and I are able to put it out.

9/18/99-Sat.-Am on the way home, after a nice visit with Mom. As anticipated, Leila and Horace and family had "other plans" and were too busy for any visiting at all. Their loss. Mom and I generally had a very good time together.
I'm stopped at Temple for a coffee break. Looking over an updated edition of R. Lichello's How to Make $1,000,000 in the Stock Market, Automatically! - His approach is not nearly as automatic or dramatic as the title implies. However, considering that the stock market has for years been breaking records, not discounting any bad news at all, the margin of safety implicit in his approach now seems very much in order, particularly as we are approaching our retirement years. Accordingly, in the months ahead, I expect we'll gradually raise our relatively stable assets to $200,000, 1/3 of our year-end target, for the year 2000, of $600,000, then follow a variation on Lichello's method, at least on through to our retirement, in 10/2003.

9/22/99-Wed.-Tonight, Frances, Pepper, and I went out for a drive, a run in a field (for the canine), and (for the primates) a Mexican food dinner at Tres Amigos. On the way, we saw four deer fairly close to the road, nibbling at a bit of green grass. Considering the ongoing effects of a bad drought over the past couple or three months, they are undoubtedly desperate for food and water.

9/24/99-Fri.-I heard an interview by Terry Gross on the radio this week of a man who has had a liver transplant. She asked about how long he should likely live and how he deals with the uncertainty of his condition, for which the life expectancy is much lower than is true of the population as a whole, even after the organ replacement. He said that "each day is a gift." It struck me that this is a good way to look at things for all of us. Especially after Ralph, Dad, and Jerry have already died, just among those in our little extended family, it should not be farfetched to realize that we are all very mortal. Among the three of us who used to pal around together in the early 70s, particularly after we had all become active in The Lifestream Way, Ralph, Luke, and myself, I am, of course, now the only survivor, Luke having died in a fire a few months before Ralph began to have symptoms from the brain tumor that eventually killed him as well. Each day could be our last. There are a terrific number of things that might kill us, a rather limited number of ways we can stay alive and healthy. I would like to think I shall live a good, long life. But this is just a hope. It is probably not much in my control.

9/27/99-Mon.-Today, on walks around my workplace building, I saw, from very close, two sets of parrots, Monk Parakeets. As always, their sightings perk me up grandly, as if they are lucky omens.

9/29/99-Wed.-In the spirit of seeing each day as precious, not as something one is due, today was an interesting example. It began with dull aches and pains which, by the time I had reached my workplace, about 7:30 A.M., had graduated to acute discomfort in multiple joints, both shoulders, my neck area, and my right hip. This situation remained essentially the same through the rest of the day. The work went relatively well for once, but was punctuated by brief episodes of agony significant enough that, on returning home, I suggested to Fran that we go somewhere for supper that sold spirits. We wound up at Black-Eyed Pea, where I enjoyed a glass of white wine and a bowl of soup. Back home, we picked up Pepper and drove over to a favorite walking place, hiking briskly for about 2 ½ miles, seeing about 12-15 deer, some at very close quarters, a large number of sparrows, busy feeding on insects above a grassy field, and a superbly gorgeous sunset, one that almost any landscape artist would love to have as subject. The walking loosened up many of my tense muscles, till then strained and in painful spasms virtually all day. The sunset and cool evening breezes were truly like presents, as, indeed, were the sightings of all those deer in open areas, right in town! I think I'll go to bed early, though, to give the sore places a better chance at healing more before tomorrow, with whatever surprises it may offer.

9/30/99-As my job shift ended today, another full fiscal year at that most estimable employer has come to an end, one that was particularly harrowing. Despite everything, I have now completed nineteen full years of work for the State of Texas.