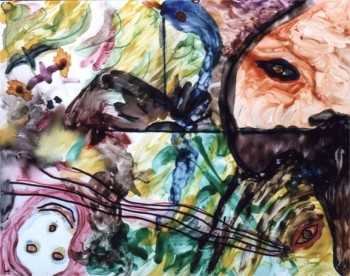 11/7/99-Sun.-Up today about 6:15 AM., after, as usual recently, a very fitful night of interrupted slumber, primarily because of ongoing left shoulder and upper arm pain.
Meanwhile, a variety of other nuisance issues have been on my mind of late, for instance the vandalism of part of our succulent garden by neighbors, probably teenagers, who are methodically ruining a couple formerly large clumps of spineless prickly-pear cacti in the front of our property, smashing off the leaves and branches by the dozen, always when we are away so that we cannot catch the cowards at it. We've no idea why we have been singled out for such attentions.
And so it goes. Could mention another half-dozen such needling little matters that seem beyond resolution but are nonetheless, taken together, frustrating and aggravating.
On the positive side, we were pleasantly surprised a few weeks ago to receive a check from Mom for $3000, just a spontaneous gift, with a like amount being given, apparently, to each of my siblings and to Mary! How neat!
And we often have pleasant walks in the mornings, when we go out both for exercise and fun for Pepper. Today, for instance, we were out before the sun rose, saw the dawn come up over lovely fields, with patches of fog floating a few feet off the grasses and weeds, in the midst of which we also saw several white-tailed deer, some quite close-up, including a couple large, muscular bucks with antlers. One of them was only about forty feet away, so sure of himself that, rather than running or bounding off as we went by, he just stood majestically watching us.
This coming week I get a holiday, on Thursday, 11/11. I'm looking forward to a shorter week of work than usual. That Thursday evening, some friends and Frances are taking me out for a belated birthday celebration. Alright!
11/11/99-Thurs.-Up today, as usual, just before 6 AM. It is a normal workday for Frances. She got underway about 6:50. I took the dog and drove off a couple minutes later, heading to the Barnes & Noble shopping center (three to four miles from our house), with its adjoining fields and farms, where, despite construction for a new housing development, there is ample space and relative seclusion for plenty of deer and other wildlife to survive.
This is the area where we saw a couple of bucks, looking splendid with their fall racks, this past weekend. Today the mutt and I had gotten a later start than then, however, waiting for Fran to be ready and off for work. Others had had a chance to walk near the deer haven, traffic had become heavy close by, and the construction equipment and crew were noisily busy through the part of this sanctuary nearest the shopping center. So, we saw no deer on our first time 'round, along the paved areas. We set off then into the farther fields. I felt a bit like the amateur stalker I had once been, starting around age ten. Sure enough, after awhile we saw one, then another, then two more, then one more, again two, and finally an eighth deer. It was even more exhilarating, once we were successful, to have had to search for them. One was only about twenty feet away. We heard what must have been a couple more, crashing through the brush near us.

11/12/99-Fri.-Up today for a regular workday. Stayed at it till 4:30 PM. Home from the usual commute by just after 5 PM. Looked after the dog. Checked e-mail. Frances arrived home while I was deleting old e-messages.
We went for supper to Tien Jin, our favorite close Chinese restaurant. After we'd gotten home, Frances went off to Barnes & Noble for some secretive purpose. I think she may have been working on some project for a present for me for Christmas. Whatever it is has been taking up a lot of her free time. I romped and engaged in keepaway games with Pepper, who was acting play-starved, finally getting her (and me) well worn out.
We have been pleased with the stock markets' performance recently. In the couple weeks previous to this one, we've been able to convert about $11,000 from stock assets to bond or money market reserves or to debt retirement, without decreasing our equities from an already achieved year-end target of $345,000. Now, this past week, the market is again up, so we expect to once more be lowering risk in the same fashion, while keeping equities at about 60% of the total current assets portfolio. In addition, there are anticipated retirement benefits, if I can just last a little less than four more years at my state caseworker job.
This past week, Mary's father, Jim's other grandfather (besides my dad, who died in '95), passed away. He had had metastasized cancer as well as pneumonia. Mary commented that he had been a loving father and a man of significant dignity and that she appreciated having had so long a time with him. I believe he was in his 80s. She added that, in thinking of her own relationship with her father, and reflecting on Jim's situation, she was filled with anguish that her son would not have the opportunity for such a fine bonding with a loving dad as she had had. He barely remembers Ralph now, she said. It is, indeed, tragic, for if ever there were two beings made for bonding with one another as father and son, it would seem to have been the case for Ralph and Jim, up till Ralph's cancer intervened, when Jim was only seven. And now, as Jim goes on to splendid performances, in several ways, one cannot help but feel that Ralph should have been here to see, enjoy, and celebrate the achievements of this young man. Mary is managing wonderfully, despite great personal challenges, to handle the role of "dual parent."

11/16/99-Tues.-Sunday morning, Frances, Pepper, and I went for a long walk in our favorite deer-spying area and saw ten. There were also two hawks!
This evening, Fran is off rehearsing for the next Austin Lyric Opera production, "Don Giovanni." Pepper and I again went walking in our favorite area and, though after dark, saw four more deer!
Tomorrow I have a dental appt. I am afraid I have a cavity or two and may also need a root canal and crown. It is irrational, but I dread such dental visits almost as if each were a final sojourn to the grave.
The left shoulder problems persist, with no sign of abatement. Indeed, this evening it seems that, if anything, its ranges of motion have significantly decreased since the first acute phase, weeks ago. Nor has the pain seemed to lessen. Often through the day there are moments of strain and a prolonged dull aching. I suppose I shall have to consult a doctor or two and possibly have surgery. I feel caught in a trap from which there is now no escape. Anything I do seems wrong, with decreased function the almost inevitable result of any course I can imagine.
I find the various circumstances of my life now to be quite troubling. Only a few years ago, I confidently assumed I could live, in relatively good health, for several more decades, possibly well into my nineties. Now, it seems entirely possible the best years are behind me and that, even without a major disease or accident, I can only look forward to restricted capacities and an early demise.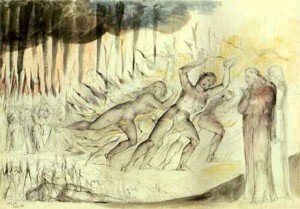 11/17/99-Wed.-Up several times during the night, needing to pee or having sharp pains from my injured shoulder.
The dental appointment went much better than expected. The dentist could find no cavities, serious tartar, or gum problems. Whoopee!
This afternoon I got a message at work from Mom, saying my sister, Alice, was admitted late last night for an emergency operation, something about an ovary lesion. I have heard precious little since then, except that she is out of surgery and back in her room. Reportedly, Mom is waiting for my brother-in-law, Ed, to call and let her know the biopsy results. But that was hours ago, and neither she nor anyone else in my family knows anything else. Mom had tried to page Ed, who must be exhausted, but he didn't answer.
I am hopeful that, with the surgery over, the emergency is now behind Sis and she just has a relatively short recovery ahead of her. The lack of communication from Ed could simply mean they are both wiped out from the stress of the last day or two and that he needs to catch up on rest before dealing with the concerns and well-wishes of friends and relatives. Fingers crossed!
11/25/99-Thurs.-Thanksgiving Day. Frances and I got up early and were out hiking by dawn's early light. We went to the favorite area and there enjoyed twenty-nine deer sightings. Wow!
Later, about 10:45, we headed off to Black-Eyed Pea for a Thanksgiving brunch. We brought leftovers home and each had an entree, drink, desert, vegetables, rolls, and/or cornbread. Service was great, the food delicious and hot, and the crowd light, since we'd gotten there shortly after they opened. The whole thing for both of us came to just $22.46, including tax and a lavish, appreciative tip.
We'd earlier planned on going up to my mom's in Waco for the Thanksgiving weekend, joining her and other of my relatives there. However, though Alice is OK after her surgery and without complications, she was tired, sore, and overwhelmed by the experience. With Ed having been completely spent from just having started a new job as VP of a small company, two days before Alice's emergency, plus helping deal with her problems (with which he had already been greatly involved for several days), in addition to having significant vet difficulties with their ten-year-old dog, Gollum, it was clear to Mom that Alice (& Ed) could use some help while Sis recuperated. So she volunteered to go out and be on hand, and paid Ernie's way to go out with her for a few days as well.
Ernie assisted with some of the logistical hurdles as well as aiding at Alice and Ed's place himself. He's back now, but Mom remains in CA. Evidently Alice has been having some emotional responses, is generally cheerful, but at times depressed, and still is feeling very much like an invalid. Mom may be out there awhile.
I'd hoped to get together, in Austin, for Thanksgiving and/or Jane's birthday, with Ron, Esther, and Jane for at least a mini-Thanksgiving celebration here, especially as Ron had e-mailed that he was now kind of at loose ends after Mom's change in plans. But calls and e-messages to him have gone unanswered.