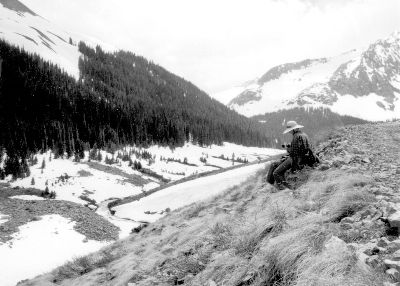 1/2/04-Fri.-Up a little after 8 AM. Fran has a new project, making shelves for our extra videotapes, part of my Christmas gift from her, and promptly headed off to Home Depot to buy some lumber. Soon afterward I went for my morning walk.
On the way I met a couple young men, also on foot, wanting directions to Brodie Lane, several turns and about a mile or two distance from where we were. As I was explaining how to get there, a big dog came up and licked my hand.
I told him several times to "Go away!" but he stayed close by, ultimately following me home. He was in good shape and well groomed but had no tags.
I tried to get him to our backyard, intending to put up "Found Dog" signs in the neighborhood, run an ad, and if necessary take him to one of the Austin Lost Pet organizations that look after animals till they find a new home, but don't kill them, as the Humane Society will one that is not more readily adopted.
He drank water and ate some of Pepper's reserve of canned dog food but was too skittish to go to the back or get in the car, so I bid him "Farewell," and he trotted on down the sidewalk for new adventures.
I spent most of the rest of the morning getting our investment records better updated. I went to Schlotzky's to eat lunch, having one of their low-fat sandwiches for which I had a coupon. Later I did grocery shopping at HEB, enjoying people watching at both these establishments.
Wednesday, on the spur of the moment, Fran went to the San Antonio Brackenridge Park Zoo for the day. I had year-end personal finance plans that would take most of my time then or it might have been a fun way to pass the hours. While there, she took over eight hundred pictures with her digital camera! That park has changed little (unfortunately for many of its animals) since I remember going to it perhaps a score times over several decades, beginning when Mom and my primary family lived in that city around 1953-1955. It and it's multiple small cages, for thousands of poor creatures, are part of my essential psyche.
In a way, the dog's behavior this morning is a metaphor for my own current frame of mind, casually interested in a number of things but not wanting just now to make new commitments or risk losing my current freedom.
But there's no cosmic purpose to be fulfilled, nor any compulsive rush. As Barry Stevens wrote, and I referenced in this journal over thirty years ago, Don't Push the River, It Flows by Itself.
Following about the third time I'd had to go to the bathroom in an hour or less, maybe the fifteenth time since mid-morning, it occurred to me that Hemingway, who died when not much beyond my age and whom everyone probably thinks killed himself with that elephant gun partly because he couldn't get it up enough anymore, perhaps did not have traditional problems with his manhood, his writing, or maintaining his larger than life image. It could be he just had a large prostate and that urinary frequency drove him crazy, or at least made life seem so much less worth living that, seeing it was his choice "to be or not to be," the dramatic exit seemed preferable to staring into toilet bowls a third of the time and dribbling his last years away.
I took a nap and, afterward, Frances gave me another tutorial session, once again on using the scanner. Then she left for an opera rehearsal.
I'm a fraud. I pretend to be this hard-nosed realist who is objective, rational, and atheistic, believing in nothing of any but existential significance. Yet I began this diary with years of wrestling over issues of divinity and meaning well outside my small self's notions. And even today I find that a simple but well written and acted TV program called "Joan of Arcadia" inspires me and even occasionally brings tears to my eyes, so moved am I by the message of a teenager's day to day encounters with life and God.

1/3/04-Sat.-It's 3:30 AM. One or more helicopters are quite noisily circling and/or hovering close to the ground somewhere in our general neighborhood, off to the east. News media? Police? Army? FBI?
I was awakened, though, by a bad dream. See today's Phil's Place entry.
Later. After I'd gone for my walk this morning, we went over to Trudy's for breakfast. Fran has two opera rehearsals, so it seemed best to do our restaurant tripping earlier. On the way into the parking lot, we spied a bright green Quaker parrot, or the so-called monk's parakeet, drinking from a puddle on the asphalt and, looking at the adjoining tree, saw another one there. When we left the eatery we looked for them again and found four, this time in another tree that was laden with some type berry they were eagerly picking off and gobbling down. Indeed, they were so intent that they were not indulging at all in their usually quite raucous social calls and also were not bothered by our presence nearby. As I've often mentioned before, these gregarious, usually noisy birds always are uplifting for me, making me smile and feel good. Today was no exception!

1/7/04-Wed.-Several months ago I got a free promotional coffee drink at a new Starbucks in our neighborhood. Now that location's been taken over by Seattle's Best Coffee, and through them I'm getting a promotional free mocha plus other gratis goodies, meanwhile perusing their no charge browser's library "USA Today" as I sip and contemplate life's fundamental issues.
One of the paper's articles stands out. If true, I'd have to classify as just plain weird the discovery that, in a letter apparently written to a confidant ten months before the crash in which she died, Princess Diana accused her husband Charles of planning to kill her in an auto "accident" involving brake failure. It seems to be just one of those bizarre developments that sometimes make reality more interesting than fiction and, again in this case, make the ongoing British royals' public relations challenges bloody hell.
For all the related tourist attractions and backward-looking British pride, the perpetuation of a tradition of sovereigns in merry old modern England seems as antiquated and vulgarly inappropriate now as that jaded aging whores, wrinkled, smothered in make-up, and with bleached gray hair, continue to ply their original professional trade on the streets of large cities.
I'm to be on the road again. Friday, 1/9, I head for Waco and a visit with Mom. The next day I'll drive us up to Fort Worth for a stay with Allen and Nina. Then, on Sunday, 1/11, we're to attend the "presentation" or christening of their daughter Sharon. Mom's hoping I'll join her as well in going to see her half-sister, Gertrude, and Gertrude's husband, Henry, while we're in the area. I'll be returning to Austin, where Fran's busy with an opera production, next Tuesday, 1/13.
I'm still receiving at least weekly tutorial instruction from Fran on our computer systems, web site management, and so forth. Yesterday I got my introduction to putting new journal submissions online. And, indeed, with this entry I've finally achieved this basic task myself.
Frances and I often as yet feel rather sad about Pepper, missing her a great deal. I'm sure we'll be getting another dog in the not terribly distant future. At the moment, though, it's hard for me to see that the next pet could possibly take the place of our recently lost "Texas terrier."
In lieu of sitting around moping about the mutt's absence, there is interest in short vacations or day trips. The latest idea is to go next month to Houston, Sea Rim State Park (on the Texas coast near LA), and New Orleans, perhaps also visiting briefly with some relatives on the way.
Fran's been talking frequently with her folks since her dad's cancer diagnosis. We thought at first we'd visit them over Christmas, but they weren't interested, saying they wanted to see first how Mike responded to his chemo. But he's been depressed, losing weight, and in ill humor, even driving away the friends who used to like to come by and see them. As of Fran's most recent call, Linda says the backup plan, for a visit by either both of us or Fran alone next month, also is now out, that they cannot deal with guests right now. At this rate, Mike will be dead before Frances gets to see them again.
This is just too much focus on death, dying, and associated unfortunate circumstances. I suspect we'll be soon looking for a lively young canine to help us dispel such dark clouds from our psychological horizons.

1/9/04-Fri.- I hit the road about 9:30 AM. Stopped for breakfast in Georgetown.
I used to teach Defensive Driving, and pride myself on promoting and exemplifying highway safety. Yet in the first hour of my trip I committed two serious, hazardous traffic violations, both from having to make split-second decisions in heavy traffic while confused by new highway construction and detour areas. Luckily there were no consequences.
Frances and I realized New Orleans will be in the middle of Mardi Gras festivities next month, so it may not be the best time to visit, given that this aspect of the city has no appeal for us and would likely raise rates and interfere with things we do like.

1/10/04-Sat.-Things are going well enough so far on the visit. Mom's friend, Alexis, invited her, and then me too when she'd heard I'd be here, to go to a movie with her. We wound up going to see "Mona Lisa Smile," with Julia Roberts among others. We all arrived by separate cars since Mom had a class she was teaching just beforehand.
Though not particularly pleasant, it was a thought-provoking movie that I liked well, about the McCarthy era and living then in a terribly conservative New England college community, and how one woman made a difference in several bright young ladies' lives, but later she was more or less forced to resign from the faculty because she was independent and wouldn't conform with stifling, outmoded, hypocritical traditions. (Reminded me of the earlier "Dead Poets Society" movie, starring Robin Williams, a well done male version of a similar theme.) Perhaps not surprisingly, the (stodgy?) local Waco paper's critic did not have much good to say about this latest example of the genre.
After the film, Mom's friend went home to be with her invalid husband, and Mother and I were off to Ryan's Steak House (in walking distance of the theater) for good vittles.
I got a disturbing e-mail, at Mom's, from Frances last night, indicating AT&T had sent a message that there was a discrepancy with our account and we must re-input our personal information. She said she had done this, including giving them again my credit card number and expiration date. This morning while I was showering it suddenly dawned on me that the request for new account info from AT&T sounded rather fishy, and I e-mailed Fran back that it might be a scam, and asked if she could confirm it definitely was not. But Mom and I were leaving right away, so I was still wondering while in Fort Worth if Fran and I might have let ourselves in for identity theft. If so, of course, we should alert the credit card company immediately and take other steps to protect ourselves.
Today we drove up there to see Allen, Nina, and Sharon, arriving a little before 1 PM.
They fixed us some good tofu, rice, and sautéed vegetables for lunch. Later, after our naps, Allen also served hot tea with banana bread. Perhaps against the odds, in view of their quite disparate backgrounds and personalities, from all appearances he and Nina are adjusting well to both parenthood and their domestic life together.
Next we went driving and checked out houses Allen and Nina might buy. It seems Sharon (no doubt with help from her mother) won the church piano in a lottery! The minister and music director had decided from now on they'd just use electronic instruments and sound systems, in lieu of the outmoded keys.
Now Allen and Nina are in the market for a house to buy soon, so they'll have a place for their piano. But since Nina also wants to bring some of her relatives to America from Ecuador, Italy, and perhaps also Spain, they are looking for a residence large enough to accommodate her intentions for a potentially large extended family under one roof.
Allen also took us to the nursery where our brother Ernie used to work, before being laid off by his former employer. After the incident Ernie had started his current, successful self-employment business, building greenhouses and other structures.
This evening, the plan is for Allen, Nina, Sharon, Mom, and I to drive over to a mall, between Fort Worth and Euless, and meet Mom's half-sister, Gertrude, and her husband, Henry, for supper at a Golden Corral restaurant.
First though, Allen looked up information online about a piano similar to the prize they'd won. From this their best guess is that it is worth around $1500-2000. It seems to need some work to have it look and sound its best, but with refurbishing might be a worthwhile addition to Nina and Allen's personal property. Neither of them play, but perhaps they hope Rachael will take lessons later.
Meanwhile, Mom and I looked at their collection of photos while Sharon was nursing and Mom and Nina talked about the latter's diverse and scattered family.

1/11/04-Sun.- I had strained my back just before the trip. That, the usual prostate difficulties, and the baby's full throated wailing have been making the visit a challenge.
Still, all things considered, I slept well (each time) last night. Today is beautiful, with mild temperatures and a sunny sky. We all were up by about 9 AM.

1/13/04-Tues.-The visit with Allen, Nina, and Sharon was successful and pleasant.
Despite a lot of hassle Saturday night finding the restaurant where we were to meet Gertrude and Henry, that visit did eventually occur and was satisfying.
On Sunday afternoon, Sharon received her presentation to Jesus (like a baptism or christening service) ceremony at Nina's church. Most of the service there is in Spanish, but I was able, I think, to get the gist of it. I felt detached from the emotional religiosity, but the congregation and minister were friendly. I was able to take some pictures and to videotape the rites themselves (using Allen's camcorder).
Mom had loaned the dress or gown that my dad had worn as an infant, which had been used too on such occasions by his sisters, including my Aunt Kim, the only one of the siblings still alive, for Sharon to wear on this occasion, and she looked extremely cute in it. She tends to be cranky and to cry a lot at times, but yesterday was very cooperative with the ritual.
One disappointment was that Allen and Nina hadn't realized they needed to make an appointment with a studio photographer to whom they'd gone after the service for more professional pictures of themselves and Sharon in her special, ninety-one year old gown. They would have to return another day, after making prior arrangements. Then Nina apparently felt she had to give the gown back right away. Mother found it in a little sack among things we were unloading from the van back at her place that evening.
Frances had another e-mail waiting for me on our return. It turns out the "AT&T" account query had been a scam. Luckily, by the time Fran tried to send in our account info. to the bogus site, it must have been shut down. Her message did not go through. A little later she got a legitimate message from AT&T warning of this same scam and that they would never ask for account info to be re-input in that way or without going through a secure log-in process. So, we were fortunate this time!
The rest of my visit with Mom was fairly innocuous. We chatted, and, as usual, she drank a great deal of whiskey through both evenings spent in Waco. I don't know how she manages so much alcohol consumption without major hangover difficulties, but she does, drinking herself to sleep most evenings.
I've mentioned here before that several on my mother's side of the family tree have had major problems with alcohol. There's clearly a genetic predisposition. Perhaps I'm especially sensitive to her behavior because I myself had significant difficulty with compulsive drinking. It is true, I think, that there are no reformers like the reformed.
I've tried several times to get her to address this addiction, to no avail. She'd have to really want to change. Instead she simply gives rationalizations. I've stopped either hassling her about it or encouraging her to do otherwise. She says she knows what she's doing and wishes to continue, fully aware that at some point she may suffer severely for it.
I got underway after helping her with a few chores the next morning, and my return to Austin yesterday was uneventful. Once back, I unloaded the vehicle, began sorting and putting away my things, and then took a nap beside Frances. We were glad to see each other, content with being together again after the short time apart.
This morning, Frances went over to the Austin University of Texas campus and took digital pictures of hundreds of intriguing subjects, from the Proctor Mustangs to Umlauf and other sculptures, carvings in marble or granite at the bases of buildings, fossils of flying reptiles in the Texas Memorial Museum, and so on.
I went for my morning walk and concentrated on more minor projects at home. Later we went to lunch together at the Black-Eyed Pea.
Fran went last Friday morning for more clarinet and flute practice (and hanging out) with musician friends at Sarah Reiner's place. She mentioned our interest in going soon to New Orleans but that we didn't want to go in the midst of Mardi Gras season. The other ladies, all comparatively well off and cosmopolitan, assured her that Mardi Gras does not really get going much until just before the main time for it, in this case February 24, so we might go ahead, if we wish, with our proposed trip before that.
Frances has been having happy dreams of puppies, though. These nocturnal entertainments began soon after we'd discussed going ahead with looking for another dog. (I've been having dreams of young animals too, but they have taken a rather different form. I keep seeing myself in a big house infested with rats, the babies of which are vulnerable and mildly cute, but with parents that are vicious, nasty, and at least twice as large as any similar rodents of which I've ever heard or had a glimpse.) If we find a little pooch we like and bring it home, we'll need to be involved for at least several weeks in housebreaking, looking after, and training it much of the time, making a trip soon impractical.
Early this evening Fran is to receive her latest long massage. The film we'll watch during the tactile ministrations this time is the romantic comedy, "What Women Want."

1/18/04-Sun.-On the radio the other day I heard a report on exercise and weight among the Amish, compared with the U.S. population as a whole. It turns out, if this analysis was correct, that the Amish women walk about 14,000 steps a day and the men average 18,000. Only 4% are obese. For our sedentary country overall, however, the average number of steps worked out to much less a day and, lo and behold, about two-thirds of us are either overweight or outright obese, a staggering, even scandalous level of excess mass.
Many in this nation are concerned over the double-digit rises each year in our medical insurance and treatment costs. Yet, our number one disease, obesity, which directly or indirectly winds up costing the greatest amount, clearly is for most rather voluntary and could be largely eliminated by lifestyle changes.
If we, like China and some other countries, were to put a lot more emphasis on physical fitness, to exercise more and eat less, we could probably regain control of our medical care costs in short order. As it is, no plan any politician can come up with for health care cost reform will succeed that does not address this "elephant in the room," that a majority of us are simply too fat!
It was pointed out that, if we want to eat whatever we wish, one solution to our weight difficulties would be to simply work as hard as the Amish. A more moderate and reasonable way of addressing our extra pound problems would be to walk 10,000 steps (or have other equivalent aerobic and conditioning exercise) a day, the amount suggested as ideal by health professionals for folks who consume a moderate amount of food and beverage calories, and to limit our intake a bit.
Rather than just decrying how terrible the above circumstances are, I intend taking responsibility for my own situation. I'm already walking an average of four miles a day, which works out to about 7900 steps (at 32 inches per average step), not counting the daily walking I do in the house and yard. But I can do a little better and get the total up to 10,000. Then, by watching what I eat, I should be able to assure a sufficient average total exercise per day.
Now, if the majority of the rest of our populace would just do the same...
Unfortunately, even such efforts as these, so I am told by various experts, will not result in my losing all the excess inches from around the waist. Nor will pushups or sit-up crunches, etc. It seems that kind of effort will tone up the muscles below the fat layers but not get rid of the unwanted extra girth, though in time a lot of diet reduction probably would.
So, I'm thinking of calling my next journal effort "Beer Belly and Love Handles."
Frances and I are continuing our search for a new dog. We're trying to have low expectations, realizing that at first it will be hard for any other canine to come up in our minds to the level of seeming perfection that Pepper had. She so suited us, and we were so well bonded with her! Nonetheless, after three trips in the past week to the Humane Society, no creature we've seen comes close to what we want. Nor have ads in the paper seemed interesting, except for a couple cairn terrier puppies that cost way too much.
Our weather has finally taken a decidedly positive turn. The parched yard received about three inches of rain over the past four days, followed by a cool front, which has temperatures still pleasantly lowered today.
Fran's folks have reconsidered whether or not she might visit. I am somewhat resentful, if not surprised, that they say they don't want me going on an upcoming trip. With a typical sour grapes reaction, I of course feel if they don't want me around, then I certainly do not want to be around them either!
Yet I had been encouraging Frances to go when at all there were an opportunity, even if I were not welcome, and though she had to sort of insist or persuade her parents it was a good thing, given that her dad is on chemo for a terribly aggressive kind of cancer, and they may not have that many more chances for quality time together.
Too bad her mom and dad have never taken to me. I've tried my best to be a friendly son-in-law. Don't know what is their problem. Perhaps it is as simple as that they could never accept that, by Frances being with me, she would inevitably not be as much with them. Maybe they think I'm not good enough for her. Whatever! Clearly at this late date they aren't going to start liking me and wanting me around. Must simply deal with it. And each time they make it obvious they'd rather I stayed away, I feel even less inclined to regard them favorably too. I suppose it also does not portend very amicable relations later between Fran's mom and me once Mike, all too likely, succumbs to the current illness.
Anyway, since they are at least finally encouraging Fran to go see them soon, she'll probably be heading east to FL in early February, perhaps staying a week to ten days or so besides her travel time.
Meanwhile, Fran and I are presently in the middle of preparing our latest newsletter. It should go out in the next couple days.

1/23/04-Fri.-Fran's folks have completely changed their tune, after confirming that, per their wishes, I'll not be going on the upcoming visit with them. Whereas in December and up till a few days ago, Linda, Frances' mom, was saying they definitely did not want us to go see them, now she's been attempting to persuade Fran to extend a more than two-week visit into a full month, objecting that the shorter time doesn't give them a chance to do much of anything. The reaction reminds me of their irrational but marked prejudice as well against Blacks, something that is just there, unquestioned. I now feel like saying to Fran that her parents are also no longer welcome in our house. They are so consistently and transparently antagonistic toward me without legitimate reason that the feeling is contagious.
That Fran has never stood up to her folks over their, to put it mildly, blatant discourtesies toward the son-in-law they acquired when Frances got married, as I certainly would if Fran had been treated in this fashion by my parents - indeed did when initially Mom simply tried to tell me Frances might not be right for me - occasions some bitter feelings.
Somehow, though, Fran is able to mentally keep her relations with me and those with her mom and dad in completely separate compartments. It is as if she knows that to push much at all in attempting to get us all on the same wavelength is so doomed to failure that she never tries. If anything, she caters more to them. She's now, for instance, bubbly and excited about the upcoming trip, set to begin on 1/25, and, to her mom's urgings that she stay an extra couple weeks, merely suggests that she cannot because of my wishes, thus encouraging her folks' antipathies, rather than telling Linda that, since I cannot be there too, she'd rather not be so long away from home. (In fact, she'll be gone from early 1/25 until late 2/18, spending about six days on the road, taking in such interesting attractions as the New Orleans Audubon Zoo and Aquarium or Florida's St. Joseph Peninsula park, besides three weekends - and of course the two weeks between them - with her parents.)
My thought concerning a trip now was for Fran to have good times with her parents, particularly Mike, while her father is still relatively active despite his pancreas cancer, but it turns out that the ladies in question intend instead to spend several of the days and even some of the nights away from home, leaving Mike alone and going off for camping vacations together or to see distant museums and parks. It seems that, notwithstanding severe illness, both Linda and Frances feel free to leave their hubbies in order to do their own thing together. Of course, after a few months of being with Mike most all the time, chances are Linda really needs to get away for awhile and just have fun! (Maybe, though I'm not sick, Fran feels the same about taking a breather from life with me. This is perhaps understandable!)
I wonder if Linda and Mike will arrange for professional home health care once he begins to get worse or if, like Mary with Ralph, she'll alternately try to do it all and get fed up with him, then merely wish to escape.
Frances and I bought a couple pedometers the other day. One didn't work and had to be returned, but the other is OK, and we've taken turns using it to measure how many steps we take in the normal 24-hour period. So far, it appears that, with my walking four miles daily, I'm easily exceeding the 10,000 total steps goal, but Fran, who usually goes on a two-mile daily walk, is coming up a little short of that level. However, if her many long hikes on trips, such as the one beginning in two days, were counted into the average, she'd be well ahead of the game. Similarly, once the weather encourages more of her yard and gardening activities, it's likely she'll push over the 10,000 steps target with no trouble.
Frances and I enjoyed salad bar lunch buffets at Jason's Deli and then checked again for dogs at the pound, but "no joy."
This afternoon she began final preparations, and even packing, for her trip. She's organized this venture in only two days and plans to either sleep at rest stops or stay at night in a tent at parks for the whole way to her folks' place in Ocala, FL, over 1000 miles away. She's quite talented at this sort of planning and the associated arrangements, and should have no trouble unless there is a traffic mishap or another major car breakdown. I've asked her before to stay in motels at night when on these trips by herself, in lieu of just snoozing in her car, however she has an obstinate streak and usually declines to follow such suggestions.
Meanwhile, during some of Fran's time away, I may be gone for a few days myself, visiting again with some of my relations. On the other hand, I've a big backlog of paperwork, to ready the tax time records for our CPA. I'd like also to concentrate more on my meditation while Frances is gone. So, by one means or another, the next three or four weeks are likely to pass quickly.

1/25/04-Sun.-Woke up this morning remembering a color dream in which I was getting, and then had gotten, married to a lovely woman but a lady who was a surprise to my friends, who had thought I'd be wed to Eva, a slightly older southern lady, "played" by Julia Roberts, who also lived in the same town and whom I would see often in the normal course of things. Somehow Eva had not learned yet of my new matrimonial state, and there was some concern that any feelings remaining between us not interfere with my relationship with Rose, the relatively bland young woman whose hand I took.
Then there was a sequence of color dreaming in which I helped a young man needing a greeting card. There were scores of them from which to choose but for some reason they were all mixed up with cards that were not appropriate. There seemed to be no organization among them all. In fact, they were not even on display, but shut up in several large wooden drawers. The aisle in which we were standing was too narrow, so that when a drawer would be opened, there was not really enough room for us as we stretched and strained around to see the contents and each card as they would be taken out, or were looked at still in place inside the drawer. Surprisingly, several of the cards were already written in and signed, as if they had been used. I thought they must be cards folks had sent in congratulation over our marriage. Where we were standing while searching for the right card was at some elevation. Our position was so awkward and precarious, it would not have been hard for us to lose our balance and fall.
Both the above dream sequences seemed to end in concern and confusion, with a feeling also that things were not right and could easily get a lot worse.
Last night Fran and I called about a wirehaired fox terrier puppy in Killeen. There were two females still available for a rather reasonable $300 price. After thinking about it for awhile, subsequent to hanging up, I had a lot of misgivings, feeling I really wanted a breed puppy that would likely be larger as an adult that this one, whose parents were only about fourteen pounds. It is a cute type dog, but I felt I wanted one closer to twenty pounds or so, like Pepper was. After some discussion with Frances, I determined to call the owner of the puppies back this morning and cancel our 1 PM appointment to go see the creature. Of course, since then I've been having new concerns that I was making the wrong decision in not getting one of these young dogs but instead holding out for one more like our dog of the past fourteen-plus years. Sigh.
As in the first dream, I kept wondering what would have happened had I made the other choice among the two potential females.
Fran leaves in a couple hours for her trip to FL and there seeing her folks.
Later. Stopped for a snack and restroom break in Georgetown, roughly halfway to seeing the puppies in Killeen. Obviously, I've decided to at least go see the pooches. My appointment with the ex-husband of the owner, he to serve as my translator, is at 1 PM. She speaks Spanish but is uncomfortable in English.
I've also arranged to visit with my mom for a couple days, as long as I'm going to be reasonably close.
Still later. Well, the deed is done. I liked what I saw in Killeen and put a $100 deposit down for one of the dogs, the larger of two female wirehair fox terrier pups. She is to be ready for pick up on 2/8, when six weeks of age.
I met with the dogs' owner and her twin, three-year-old children, and as well, of course, with her ex-husband. They all seemed very nice. And all the dogs, both parents and youngsters, are quite cute. A primary concern now, however, is that the kids were being allowed to handle the puppies quite roughly. Indeed, the male pup was dropped by the twin boy off the dining room table, about three feet to a hard floor (no carpet), while I was there, and the female puppies also were being almost constantly grabbed or passed back and forth between the children. When one dog was briefly taken away from the twin girl and put back in a kennel area, she threw a tantrum and then got access to the canine again. Wonderful! But if the puppy survives such treatment, I think she'll make a good pet for us.
This afternoon, after getting into Waco, I walked a couple miles in the Richland Mall, got some gasoline for the car, and then drove on over to my mother's where we had a quiet evening.
I'm very much enjoying reading a book I'd given Fran as a gift recently and that she's now finished, Charles Gallenkamp's Dragon Hunter, a biography of Roy Chapman Andrews, with a marvelously interesting account of his paleontology expeditions in central Asia during the early Twentieth Century.

1/27/04-Tues.-Last night, once Leila, Charley, and Keith had come over to Mom's place, we had supper, joked around, and then played some pool. It was a fun time. Charley quipped, after we'd been talking about what kind of puppy Fran and I may be getting this time vs. before, when from the pound we'd picked up Pepper, a mutt, half Schnauzer and half Scotty, that Pepper had been good enough by herself for a new breed of terrier, the "Snotty." His pronunciation or spelling might not have been the best, but it was funny and pretty good for a kid.
Today is Mozart's birthday.
During the drive home from Waco, I enjoyed the clear skies, cool temperatures, and sight of several flocks of blackbirds (grackles? starlings?) flying, their rapid motion transitions as if choreographed and synchronized. The individual fowl seemed not to matter, but the overall pattern effects, looking like beautiful firework bursts or time-lapse films of dancing amoebae, were mesmerizing, reminding me of the song "From a Distance" and its message that, from the right perspective, the artistry, even the soul, of existence comes through.
Once back in Austin I took a nap, unloaded the car, and put my stuff away, then went over with a coupon to a one-hour photo place to get the puppy and her parents' pictures developed right away.
This evening I scanned the best of the dog photos, saved them, reduced their total memory for use on e-mails, and then sent them out to most in the family, asking though that folks keep them a secret from Fran till I have a chance to surprise her after she finishes her trip and is settled for awhile in FL. The puppy does look darned cute in these pictures! Surely hope she'll be OK after her rough treatment from the children in Killeen.
Began another book, a present from Frances, Tumbleweed, by Janwillem van de Wetering.
I stopped for a snack supper at Randall's, while waiting for the pictures to be developed, and watched the people around me. An old man walked by with a limp. Then a fat young woman went slowly by. A little family trio ate sandwiches at the adjoining table while the sun set. They were well behaved and quiet, but the boy, about seven, seemed nervous. He suddenly rushed off and out the exit, as his presumed sister yelled "No!" to him, and the older man, apparently his father, watched but said and did nothing, showing no emotion. Where had the boy gone? Why did he leave? The traffic here was too congested, confusing, and intense now, during the rush hour commute, for a young lad to safely find his way home alone.