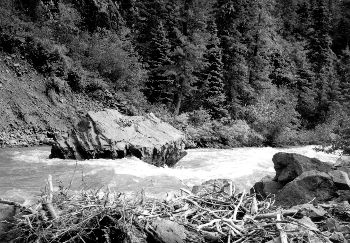 1/1/05-Sat.-Got up about 7:45 this New Year's Day. After she went for a walk with Fran, Puff took one with me. I found some neat close-up photography subjects on the way, first a tree bud (many of the trees here putting out blossoms and then leaves in just a few more weeks) with fall leaves in the background, then a diminutive slug on the sidewalk.
Last night, Puff was traumatized anew, this time by the New Year's Eve neighborhood fireworks. She stayed most of the time in her special security places, such as my closet's laundry pile (where she had first taken comfort, after I'd brought her home as a tiny puppy) and yet still was trembling a great deal of the time.
Now the beast is extremely relieved to still be alive, having survived the past evening's fearful ordeal. She has been quite manic, growling ferociously at joggers during our morning walk, leaping into deep, cold water and luxuriating in it as if she were a member of an ice hole polar bear swimmers club, and so on. All in all, she does make us laugh!
With plenty of help from Frances (my Christmas gift), I now have a new site, Phil's Landscape Photo Favorites. So far, it has Colorado and Enchanted Rock (TX) galleries, but several more will be added.
Our roof contractor as yet hasn't gotten in touch, after saying he would come by to discuss the job this past Wednesday. But he evidently sent some of his workers by to fix things up. They were still only the non-English speaking fellows who had been here before and did not bother checking with me or Fran on the deficiencies we had noted. They did correct one of about five things that were wrong. If we must, maybe we can live with the roof job as it is, but we are certainly not impressed! This situation is the latest reason (besides the deteriorating neighborhood, hot summers, and other things no longer right about the nearly twenty year old house) I am inclined to be moving before too much longer.
The highlight of our experiences this past week was a Baltic Buzzards holiday rehearsal and party at Matt and Glenda's place. Spouses or significant others of the musicians were invited. We had a good time, ate lots of things that were quite tasty, but mostly bad for us, including spiked chocolate candy, and enjoyed good Christmas music. Matt and Glenda's pet birds, cats, and dogs helped keep us entertained.
Today, I drove Fran over to Black-eyed Pea for a holiday meal. We were served their traditional free New Year's lucky black-eyed peas. Fran doesn't like them and so let me eat hers as well. I also got a full turkey dinner, bringing home another meal's worth of scrumptious leftovers. Frances wasn't that hungry and kept her victuals light this time.
I have found an interesting anti-Bush site, directed to the rest of the world, >Sorry Everybody. I certainly hope other countries' populations realize we are not all loyal supporters of this President! Instead, millions and millions of us are utterly appalled to be under his leadership.
A funny thing happened when Fran and I went to my mom's over Christmas. Even though the great majority of my extended family were Bush supporters in 2000, and have even been gung-ho Republicans seemingly forever, all of those present for the Christmas gathering this time were vocally anti-Bush. As this has lately also been true of just about anyone with whom I speak, I wonder where all the Bush voters are.
At lunch, though, Frances and I came up with a possible answer. We remembered that Dwight Eisenhower, evidently not having that good a grasp of statistics, had once been shocked to learn what it meant to say the average IQ is 100, that half of us have measurable intelligence lower than that mean value.
In an otherwise very close election, all it took for Bush to win the popular vote was for a small percentage of rather dull or dim "undecideds," who perhaps did not follow more than one news source (such as the clearly pro-Bush Fox Network), or who listened to the carefully scripted* "moral values" sermons pro-Bush church leaders were preaching, to turn the tide inexorably in his favor. Given that the average IQ is only 100, though, the future does not look particularly bright (no pun intended). Barring major failures such as brought Nixon down, the conservatives can now probably manipulate the masses, and successfully keep a winning hand, indefinitely. (*Contrary to the rules for churches' tax-exempt status, prior to the election reportedly thousands of pamphlets with pro-Bush sermon ideas, sent to church leaders by the Bush campaign, resulted in many pastors incorporating the obviously Republican messages into their sermons. Is this the kind of propaganda-led democracy Bush has in mind for the Middle East too?)

1/6/05-Thurs.-For about the past week or so, here in Austin we've had balmy weather, with highs close to 80°F and mosquitoes, once dormant, again taking blood samples. Yesterday afternoon a blessed cold front came through. Now the wind-chill temperature is in the twenties. None of us, Fran, Puff, or me, wanted to get out of bed this morning. Indeed, the beast, usually too hot thanks to her efficiently insulating wire-haired thatch, was shivering till Frances brought the dog in under the covers with her. Puff is now adjusting to her first jacket and is at least tolerating it pretty well. The passage of the front has brought intermittent showers too.
Meanwhile, the ordeal of dealing with the roof contractor continues. As mentioned in the last entry, he said he would make further corrections of problems with the job. It comes as no surprise that we are still waiting for the extra work to be done. Perhaps I'm cynical, but I think home contractors probably go to special schools on how to handle customers (known in their trade as "marks"). Rule one would be to tell the mark whatever he or she wants to hear, and then forget about it. It is sufficient that you promised. Maybe the customers will eventually give up and stop harassing you about whatever it was. Rule two is that, if they persist, any excuse for not doing what was promised before, however lame, is useful and will suffice. Rule three: while it takes some marks longer than others, almost all will eventually learn it doesn't pay to keep pestering you. You just don't give a damn! (Of course, just as there are prodigy politicians, some people are born contractors. They are simply naturals and don't require classes. They will go far at the marks' expense.)
Frances is busy these days with preparations for the soon upcoming opera production. This time it is "Elektra."
It looks like we may be going back to WI, and a visit with my sister- and brother-in-law (and their kids) there, later this year, but if so it will be for a winter rather than a summer experience. Should this work out, maybe we'll have our first white Christmas in many years.
Fran and I have begun shopping for a new vacuum cleaner and desk top computer. We have a good idea the kinds we want, but finding each is a bit more difficult, especially as inventories are low following the Christmas season. We'll persevere and shall buy online if necessary.
For some reason, I'm having a good bit more than the usual pain and other symptoms in the nether regions lately. As with a sore currently near the base of my tongue, a too vivid imagination often goes first to the possibility of cancer, but with luck all that is wrong is that some of my nuisance difficulties have been worsened by too much holiday chocolate and coffee. I'll give myself a few weeks of better dieting plus plenty of benign liquids, and hope for the best.
On a happier note, I've discovered that the main book stores fairly close to us in south Austin each have book discussion groups that would apparently be of interest for me. One of them concerns rather general interest fiction, while the other deals with mysteries. The former begins 2005 with a meeting to chat about Outlander. While I'm less into romance novels than mysteries, I think it likely the general fiction group will be focusing later on works of more appeal to me. Also, of course, I might be surprised and find Outlander better than I anticipate. Both meetings will afford me opportunities for interpersonal contact, almost as useful as salt for a social animal, even one as reclusive as me.
Am also looking forward to a dinner out tomorrow night with our friends, Glenda and Matt.

1/16/05-Sun.-Up a little before 8AM. It's been a hectic last several days. We completed and published our family newsletter's latest issue, meanwhile dealing with a more and more problematic PC.
We bought it in 1998, and in the last year it has shown glaring signs of age, becoming almost dysfunctional. We bought a refurbished Dell PC online a few days ago at a bargain price, and it arrived late last week. Fran, the techno-wiz of our household, has been configuring and loading it with software since then. Somehow, it quickly caught a virus, though, a set-back that cost her many hours of frustrated dealings with the new system, until it seems again safe to continue to load it, etc.
Tonight was Frances' turn to receive an hour-long massage. As entertaining background, we watched the action video movie, "XXX." The music was okay, in a kind of radical way, but I can't recommend the movie overall: poor plot and bad acting.
We found, by contrast, the "Arnold" movie, "Terminator 3 – Rise of the Machines," both a lot more funny and exciting. We'd not seen it until one evening last week. Arnold, in our view, makes a much better movie star than politician. He should stick with his "day job."
The pains in the nether regions come and go. Today they are again rather troublesome. Am still hoping for a holistically healthy solution and drinking more liquids than usual.
I took Puff on both morning and evening walks today. Austin is a little cooler than usual now for this time of year, with highs in the forties and lows in the twenties (F). Our constitutionals were thus particularly invigorating.
Fran had her last performance of "Elektra" this afternoon, with the Austin Lyric Opera. Though she didn't care for the music this time, which has a lot of difficult orchestration, she was quite pleased with one of the perks: Texas French Bread donated many good loaves as intermission snacks for the musicians. Much remained at the end of each performance, and the orchestra members were encouraged to take leftovers home. She brought back, altogether, about four loaves, and they are all proving rather tasty. Fran quipped that she's quite the breadwinner now. (Though it's only part-time work, her ALO checks, totaling about $2500 a year, are a most welcome addition to our total income.)
I called my brother, Pete, last night. He's still a mess. At 43, he's never even been close to getting married and has had scores or even a 100 or more liaisons with women, despite, in recent years, being often infectious with herpes. Over the Christmas through New Year's holidays, he flew to Brazil, intending another affair, this time with a Brazilian tango dancer he'd met in the U.S. but who'd had to leave due to a visa problem.
However, she wasn't as "into" Pete as he'd hoped, so he had a series of one night stands with other Brazilian ladies, claiming afterward that three now say they love him, find him exciting, handsome, etc. (whatever they think he wants to hear, to marry them and take them to our country?) He is delighted and says he expects now to spend a lot more time in foreign countries. He also mentioned he's heard, from other tango friends, that Molly, a lady he began sleeping with when she was only 15 (and he about 38), and whom he later jilted and threw out of his apartment after she had followed him from TX to CA at age 18, is now addicted to hard drugs, or, as he says casually, "may even be dead by now, from an overdose." He clearly feels little if any responsibility for the lives he is affecting as he lurches through existence.

1/21/05-Fri.-Frances and I are celebrating her birthday today, about a month early, since she'll be in FL and visiting with her mom on her actual birthday. (We plan to do Valentine's festivities ahead of time this year too.)
Things started off well, each of us taking walks, she before I was ready and giving the dog a thrill when they encountered some deer. She also got the grocery shopping up to date. When I'd returned from my constitutional, we opened the first of Fran's gift envelopes or packages, then headed downtown for a scrumptious breakfast at Trudy's.
Once we finished, we went over to Half-Priced Books, so I could purchase a couple titles for discussion groups, but both were out of stock. I borrowed a list of book titles and authors that Frances had typed out as potential gifts for me, a reading wish list accumulated over several years, with checks beside the titles that had already been acquired. I searched fruitlessly for about the next hour for any titles on the list, and then returned the paper to Fran as we were about to leave. She had managed to get several titles in subjects of interest to her, and at bargain prices, so the trip was not a complete waste.
Unfortunately, when I gave the list back to her, she noted that the second page was missing. I could not definitely remember ever having a second page, but she was certain I had. The only things we could do were look for it in all the areas of the store where I had been searching for titles (unsuccessful), ask at the counters if anyone had turned in such a sheet (no), and then leave a name and number, in case the second page were later turned in. I found the incident quite depressing. I had, several weeks earlier, asked Frances for a copy of that list, as it was better organized than anything I'd put together for myself, but she'd not gotten around to it. Thus there was no backup. Replacing it will be time consuming and doubtless not quite as accurate. Oh well.
On a happier note, I was quite pleased with the contemporary literature book discussion group I attended for the first time Wednesday evening. The rest of the group, four women and a man, the ages ranging from about late twenties to early forties, had been meeting together for several years, knew one another well of course, and were intelligent, enthusiastic, funny, and interesting in the talks on the well recommended book for the night, The Time Traveler's Wife. There was also a good measure of "hanging out" interaction, with casual chatting, socializing, or getting acquainted. They were welcoming and friendly. All in all, I felt glad to have found such a neat set of folks, and I shall definitely keep attending, and naturally also expect to keep reading the books we choose for upcoming months.

1/27/05-Thurs.-As unlikely as it might seem, the book list I'd lost, mentioned above, was located by the store staff, who called and returned it to me when I went by the next morning. Good!
Fran has completed the transition to our new computer. Because of some initial problems, it probably would have required two or three in-person consultations with a Dell tech wizard, at considerable extra expense, if not for her cyber skills. There remain a few minor glitches but, on the whole, it's working out well and functioning far better than did our last one in its final year or so. A concern though is that, despite our firewall software, we seem to be acquiring viruses much more easily and frequently than when using the older model.
Rain began here, for the first time in a few weeks, during the night. It continues to descend today, lightly but continuously and under a gray, featureless sky, reminding me of gloomy, cool, incessant winter precipitation in Tacoma, WA, when my family lived there as I began the awkward transition through puberty. These wet dark days are not my favorites, but we need the moisture for our yard and gardens.
Frances has gone off for a morning of volunteer work. I took Puff and myself for a walk and later did some business at the bank, refilled my car's tank at a handy station, and shopped for our weekly groceries.
Tonight I'll try out another book discussion group.
Some of us in my primary family have begun planning for my brother Ron's 50th birthday celebration. He achieves the half-century mark in mid-August, but various considerations make it probable the festivities will be held earlier. A major difficulty, though, is that Ron's current job, as a men's wear sales clerk at Sears, demands work almost every weekend, allowing him to be off just one Saturday a month. This usually must be scheduled a few weeks ahead. The hope had been to have his family reunion party as a surprise. But at this point we do not even know when, much less where, to schedule it. If he can be away from work for two or three days, we could hold it at a better place, but one involving a several hour drive from Austin. So far, I'm having my usual poor success in efforts to coordinate with Claudia, his partner.
Later. Well, the new discussion group was not appealing. There were four people there, besides me, but the first problem was that there was only seating for the others. Once I showed up, it took awhile to get an extra chair. The others included a young female leader and three much older women. Ironically, none of them seemed to have a spark of real interest or enthusiasm for books, or, if they did, it was not revealed in the talk tonight. They impressed me as complaining, passive, and relatively dull people who were not quite sure why they were there, not just for a discussion tonight but for existence itself.
The leader said she had chosen the book to be discussed this time, Outlander, because her sister had said she loved all the author's books. The others commented essentially that it was sex, sex, sex, plus violence, violence, violence, with the merest hint of character development or attempt to include the work in its historical context, implying that the lady's sister had no taste and, by implication, that the leader's selection criterion left a lot to be desired.
I agree and, further, do not feel the group has much I can offer it or vice versa. Accordingly, I'm delighted to have found the other, much more stimulating and intelligent group. I don't intend to go back to this one. Tonight I purchased and began reading the new book for last week's group, The Kite Runner. In tonight getting through its first few pages, I can already tell it is a far more relevant, intelligent, and worthwhile work than Outlander.
There was a bulk trash pickup in our neighborhood at the beginning of the week. Anticipating our getting a new vacuum cleaner soon, I put our old, liberally duck-taped Hoover (twenty or more years old) out for pickup. We also added a power mower that has big cracks in its chassis and an ancient, heavy microwave oven that no longer works to the scrap heap. Surprisingly, somebody (not the garbage collectors, who came later) took away all three pieces of junk. They're welcome to them! We, in turn, picked up a trunk load of discarded decorator logs put out a few doors down from us. This is all like a big white elephant gift swap!