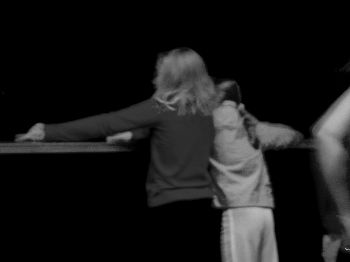 12/7/04-Tues.-Over the last several days we've gotten caught up in the business of obtaining estimates on new roof work and then arranging for one contractor to do the job, anticipated now for the last part of this month or in early January. We also put a tarp up, weighted down with flat rocks, bricks, and lumber, over the part of the roof most likely to be where the leaks are.
Frances has successfully urged her mom to share a February two-to-three-week camping trip with her in FL. Just as was true last year about the same time, I'll be "batching" it back here with the pooch. Once again, I was not invited. They both know I would prefer to be more a part of things with them, that they would just naturally include me in their plans. Yet they simply go ahead and do things on their own instead. When I make an issue of it, they act as though this is a bothersome interruption, but not one to be taken seriously. They used to treat my father-in-law the same way. It's true that I would not enjoy the kind of activities the ladies have in mind, or at least not to the extent they would, but it would have been good to have the option of going to visit too, perhaps staying at the house part of the time and joining them in some of the entertainment. However, that is just not how Frances and her mom do things. As mentioned here before, one often feels that theirs is an exclusive relationship. Where either my father-in-law (when he was alive) or I have been concerned, around Fran with her mom, three's a crowd.
This is certainly not how I expected such things would be when I got married. It's no longer a really big deal for me, just a nagging, resentment engendering, dissatisfaction. It's not worth our going to the trouble of getting a divorce. But neither, at this stage, does it seem likely there will be any significant change in their attitudes or behavior. Nor is such exclusion something I am able to completely accept.
I shall find plenty to do here, though, while Frances is away. Apart from walks and play with the canine and new friendships that may be developing, it could be a good period for fairly intensive meditation.
Like most folks, Fran and I are now experiencing the busiest retail phase of the year, the ever more frenetic rush to get gifts for and to people by the deadlines, cards out, decorations up, parties attended, and so on, with only a relatively few shopping days left till Christmas.
For most folks, buying presents online is probably wise. Around here, at least, at this time shopping the usual way can be dangerous for both one's health and wealth. Few shopping centers, even in the middle of the day on weekdays, when one would have thought most adults would be working, are not packed, and the drivers maneuver as though they are more than usually challenged in their capacities for multi-tasking.
Once we are inside the stores, the atmosphere is anything but serene. If one were to judge the spirit of Christmas from the harried way most shoppers earnestly or even grimly go about their business these days, it would appear reasonable to do away with the holiday altogether.
One of my nephews, Joel, is a Jehovah's Witness. I am not a believer in this faith. However, I do approve one of their principles, that people not give each other Christmas tokens. I expect that, overall, the J. Witnesses' yuletide festivities are more in keeping with a spiritual approach to the season.
Fran and I like giving each other gifts, though, and can shop at times when the stores are at least less crowded, like just when they open on Mondays or Tuesdays. Some of our shopping, for giving to each other as well as other relatives, has also now moved to the internet.
But we are just beginning our preparations. Thanks to Frances, the house is now well decorated. And I have gotten a number of gift cards and an ample supply of greeting cards. I've also decided what to get my mom, more than half the gift-giving task. But, with many nieces and nephews awaiting presents, plus Fran, plus our dog, and lots of cards to be sent out, there remains much to be done.
I am a traditional and sentimental man in some ways and quite like watching certain movies at this time of year. I'm looking forward, for instance, to an old video version of "A Christmas Carol."
Other things keeping us busy have included, for Frances, jury duty, which she was glad to discharge in one day this time, performing in a few music gigs, and completing obedience classes for Puff. The dog has now flunked both courses we put her through, still acting too manic and independent to be considered trained, though she has learned a few basic tricks.
I have been doing a lot more research than usual into potential value stock bargains, taking Puff for walks, trying out my new camera, and so on.
Here in central TX, some of the tree colors have finally been changing from greens to yellows or reds, and then the leaves coming down. We have also gotten our first (light) freeze. We hardly ever receive snow, though it frequently snows in northern parts of the state. When it occasionally does here, it then almost always melts quickly. I do not at all like driving in the white stuff, but really miss seeing and enjoying it in winter.
There was some snow in Yellowstone before I left there, a nice, if brief, change from what we usually experience now. But my sister- and brother-in-law who live in WI of course have more than their share of a winter wonderland and a large former farm on which to take full advantage of it. They are often writing of making snowmen, seeing northern lights, cross-country skiing, and so forth. I expect they'll soon be getting a snowmobile. The family includes three young children. I think urchins almost always appreciate snow in winter.
We are now just enjoying it vicariously, through their accounts of white Christmases. But Fran grew up near Chicago, and I in NE, WA, NY, and northern VA. So, we both have fond memories as kids of endless hours playing in or absorbing the beauty of the snow.

12/13/04-Mon.-A beautiful, blustery, cool autumn morning here in Austin. I got to sleep about 3:30 AM and rose around 7:45. Frances had already taken herself and the dog off for a walk. I got myself ready and went to the U.S. Post Office's local station, buying stamps and mailing Christmas cards (and gifts to several nieces and nephews), then to my bank branch for a little business plus free coffee, and finally to the Barnes and Noble book store, for some final seasonal shopping.
The weather and moon conditions are anticipated to be ideal for tonight's Geminid meteor shower, a favorite phenomenon of Fran's and mine. We have high hopes of a good viewing, though this time we may be cold.
I have a new earache, my second this fall. I'm treating myself but may, later this week, have to see a doctor about it. What I need are appropriate antibiotics.
Fran is assisting with a new site featuring my landscape pictures, that we hope to have completed, online, and linked here to The Vintage Diarist in the next few weeks. The effort is progressing well. Once that has been accomplished, I can get back to gradually transcribing and getting online the older versions of this journal, currently with the periods 1971 through 1979, and then from 1999 to the present, available.

12/15/04-Wed.-Monday night's celestial viewings were the most productive in several years. During my evening walk, I did not notice any shooting stars, but the moon, low on the horizon, with the merest crescent of brightness and the entire rest of the sphere's earth facing side also faintly visible due to reflected light from our planet, was quite impressive.
Later, though Austin skies were still a little hazy and bright from city lights, Frances saw two definite meteors and I one. Several others were "possibles," fleeting images noticed perhaps in peripheral vision, but without the certainty conveyed by a good central vision focus.
I went out again about 3 AM that night (early Tuesday). By then, even in town, the sky was much clearer, the stars now looking like tiny arrayed jewels. I just lay down on the cold ground (in a warm coat), looked up through an opening between our backyard tree branches, and waited. In about a half hour I saw six more definite meteor streaks plus several more "possibles." Most of the "definites" were rather bright, at least ten times the intensity of the stars.
By yesterday my earache was getting worse, to the point it was the most noticeable aspect of my experience. I kept trying to treat it on my own, with swallowed Contac capsules, rinses of the affected ear with a few drops of alcohol, and, for good measure, "Sweet Oil" at times, held in with cotton. No real benefit was noted from any of these efforts. In fact, by early this morning the pain from my left ear was even more troublesome, extending out to much of the left side of my face and keeping me awake. I was also having the worst cramps ever, including in my arms, legs, and up and down all sides of my trunk. What was that about!?
So, I called for an appointment and got in to see the doctor by mid-morning. She examined me, provided some prescriptions, and said there doesn't appear to be anything serious going on. Good! The cramps could be a side-effect of the Contac I've been taking for several days. There is one minor worrisome development. It seems I have caught a fungus which has caused a rash on my face, right where it can be easily irritated when I shave. The doctor gave me a prescription for it, but said sometimes such things are just never completely eliminated.
My weight was 157 lbs, slightly higher than I'd prefer. Blood pressure was 128/60, not bad considering that the antihistamines I've been taking tend to increase it.
This evening I've been bothered by chills, perhaps another side-effect of medication. Nonetheless, I took Puff with me on a rapid-paced walk in the neighborhood. I've also been working on essays or stories for the next issue of our family and investment newsletter, due out this time by 12/20 at the latest, a day early, as we'll be on the road on 12/21, for visiting in Houston and, right after that, for Christmas type celebrating with relatives in Waco. Surely hope I feel well by then.

12/20/04-Mon.-Tomorrow, we head over to Houston for visiting with Mary and Jim. Then, on Friday, Christmas Eve, we expect to be traveling north to Waco for time with relatives there.
Our weather lately has been gorgeous, with sunny, windy, cool morning conditions and cold (but not freezing) nights.
We have completed most all of our Christmas purchases and arrangements, which is just as well, for the shopping centers and roads are now clogged and overflowing with frenetic, last minute revelers.
Over the weekend, Fran and I finished the holiday issue of our family newsletter and got it online.
I'm a little too busy today for a nap and still need to get caught up before we leave on pen pal replies and investment tasks.
My ear infection is much improved. Yea!
We have a crew supposed to come and replace our roof next week. The work may be traumatic to our pooch. We might put her in the vet's kennel for that day or two. She has gone completely berserk with fear when others in the neighborhood have been having new roofs installed. The nail or staple guns terrify her, for some reason, even when the work being done is two or three blocks away so that Fran and I barely notice the distant sounds.
The creature has been bad lately, chewing things up she knows are off limits, emptying the contents of special jars Fran uses for preparing specimens, and then trying to bite when scolded. She's acting more like a mischievous puppy, but actually has her one-year-old birthday the day after Christmas. Much of the time, though, she is amusing, playful, and affectionate, so is easily forgiven.
During our out-of-town visiting, we'll make a stop for two or three days in Houston and see relatives as well as our pick of museums, a zoo, and/or a butterfly exhibit, favorite targets of Fran's on such occasions. There should also be at least one fine restaurant stop, and perhaps we'll see the new movie, "The Polar Express."
We've cut way back on our greeting card mailings lately. There are too many non-responders. Even with our sending about half as many as before, it seems we get cards from only around 1/3 to 1/2 as many as we send.
Have another minor difficulty, a cracked tooth that seems to need a crown. Don't even know how this one came to be that way. It was as though the problem commenced while I was sleeping. Oh well. These things keep life interesting.
We've just gotten a new issue of our family newsletter online. Work on it occupied quite a number of spare hours in the past few days.
Fran is fairly busy with the Austin Lyric Opera orchestra, rehearsing for the ALO's next production, "Elektra." She also hopes to lead several younger relations in a quartet, during the family gathering at Mom's at the end of the week. Should be fun if it works out.
We're looking forward at least as much to a party/rehearsal of her Baltic Buzzards music performing group next week. The spouses or significant others of the musicians are invited, so I'll be welcome. Besides the wining and dining, there will be lots of good musical playing (as well as the beastly butchering of the notes I do, in attempts at singing along [smile]).
I've learned of a couple book clubs in our area and will be checking them out early next year, hoping to join at least one. Sounds fun. One is on good mysteries, a hobby of mine.

12/21/04-Tues.-An uneventful trip, except for a little bickering between Fran and me the last few minutes, over directions in the final miles to Mary and Jim's house. I had gotten to sleep only around 3 AM and so was very tired. Don't know Fran's excuse.
We all had a pleasant afternoon, starting with a really delicious buffet at a Middle Eastern restaurant. While we were eating, Jim entertained us with a hilarious account of his flamingly gay Black roommate, with whom he doesn't get along at all. Yet the self-absorbed fellow is unaware how much Jim detests him. Considering that they are both there for Juilliard music studies, it is ironic that this roommate, a singer - who just naturally sounds great - hates anything to do with musicianship (theory, history, coordination with other than vocal music disciplines, etc.).
Once back at Mary and Jim's place, we looked after the dog, and Fran and Jim played duets (or instrumental duets, plus Mary sometimes singing along) while I took pictures or looked after the dog further or, a little later, rested for a few minutes.
Still later, Mary and I plus Puff played dog games while the duets continued, Jim on piano, Fran on flute.
About mid-evening, we had snacks and then watched a funny, irreverent movie, "Dogma."
Mary went to bed early, but Fran, Puff, and I stayed up an extra hour or three, then retired for the next "shift." I believe Jim hit the sack last, in the wee hours of the next (Wed.) morning.

12/22/04-Wed.-Yesterday the Houston weather was muggy, but today a cold front came through, with thunderstorms and a strong breeze. Nonetheless, we had an interesting, pleasant day.
Frances and Mary set off for downtown quite early. Mary chauffeured. Frances got in first at the Cockrell Butterfly Exhibit. Once she was through, she went to the Houston Museum of Natural History, but did not finish there by the time she was to meet the rest of us for lunch.
Meanwhile, as Mary was returning from the main part of the city, I looked after Puff's morning needs, took her for a long walk (where I saw a common egret and several killdeer in a flood drainage bayou), and had a snack breakfast. Mary returned by about 9:30. I did the rest of my morning ablutions and took Puff out a couple more times. Jim (the real night owl among us) got up about 11:00. We were all ready and headed back to meet Fran about noon, leaving the beast in her kennel. On our way, we had plenty of heavy rain. We decided this perhaps was not the best time for going to the zoo (our prior plan for after lunch).
We went to an Indian food buffet for our meal. Once again the vittles were great!
The consensus was to spend the balance of the afternoon at the museum. This was fun, and both Fran and I took pictures with our digital cameras. Indeed, she snapped over 900 photos! I took more than I usually do but nothing like that. Of course, Fran pretty well knows what she's doing with her photography hobby, but most of the time I'm merely hoping for the best and enjoying when a few come out fairly well.
Back at Mary and Jim's, he gave us some marvelous mementos from New York: dozens of old (1920's through 1960's) Broadway show programs, for Frances; and an autographed movie music CD, from the Academy Award winning composer who wrote the score, with a greeting to me. Wow!
Fran was a little snappish toward me for awhile this evening, just because she felt in a bad mood and I was handy, a more acceptable scapegoat than our hosts. She does this sort of thing too often when we're on trips. When we're around others she knows I won't call her on it and seriously object to her rudeness, as I don't like arguing in public. Indeed, I figure one would need to be already near divorce to be fighting in front of others, not that I have not on such occasions thought it better if we were no longer married! (I have no respect for her taking advantage of a situation that way.) Within a few hours, however, she seemed to be feeling better and was courteous once more.
Tonight, the rain has stopped, but a quite strong wind is blowing. The mercury is falling. A low of around 20°F is predicted for Houston. It seems likely it will get even colder in Austin. Hope our pipe-protective precautions there before leaving were sufficient.
Later tonight Mary fixed popcorn and offered other snacks. We watched another fun movie on video, "Bowfinger."

12/23/04-Thurs.-On reflection, there should be no sense of disillusionment that our marriage turns out, too many times, to involve conflict and to be less than "all that it can be." After all, Fran and I are both oldest siblings, and oldest children seldom get along swimmingly with each other if at close quarters for long. Further, both for Frances and me, our backgrounds and main formative year examples involve parents who argued with each other a great deal and tended not to give in or compromise, each feeling sure he or she was right and that fighting was preferable to being nice when differences inevitably arose. This is all the more true for Frances since she identified much more with her mom, whom she saw as in the right more often than not in battles with her dad.
On a more general level too, we ought not be surprised that marriage is fraught with enmity. This is consistent with our training in Imago Therapy, which teaches that, beyond the infatuation phase, virtually all such intimate relationships involve unresolved issues, that necessarily come to the foreground if a marriage is ever to grow beyond that stage. Of course, the conflict stage simply is the dominant one for most of us, and going beyond it is not realistic. Instead, we break up or get a divorce or adjust to a relatively unhappy marriage (or go crazy or die) before we learn to live with each other in a fairly conflict-free way. There are a precious few exceptions, mostly in the movies.
Later. Fran's period, yesterday and today, no doubt played a role too in our recent lack of rapport. Wish I'd known or thought of that earlier. This morning, Mary went in to work for a couple hours and Fran, Jim, and I slept somewhat later. (I got up about 7:30, Fran around 8:30, and Jim at 11 AM.) Mary, Frances, and I went out to Denny's for breakfast and had an interesting conversation about religious upbringing and views, before Frances and I headed back with the beast to Austin.

12/26/04-Sun.-This is Puff's one-year-old birthday. We have yet to finish getting or making her gifts, as we do like any excuse for another special day celebration. But Mom, Allen, and Nina gave her a total of about eight toys or chew-things!
We've had a pretty good, low-key visit in Waco, though the Leila and Horace (my brother) family, living only a mile from Mom, pointedly stayed away. Reportedly, Leila and Horace, who are quite happy, always at their convenience, to let Mom treat them, their five children, and their family friends, to fine free wining and dining experiences downtown, use the rationale that Mom accidentally did some minor thing to offend them several years ago as justification for their refusing to join in get-togethers at Mom's place now, year after year, on special holidays. Ironically, they also are very in-your-face about what good, evangelical Christians they are and that others are not nearly so devoted and righteous religious zealots as they, completely ignoring Christ's teachings about forgiveness and love. Oh well.
On Christmas eve, those several of us who were enjoying the time with Mom watched a very fun video movie, "Oh Brother, Where Art Thou?"

12/2704-Mon.-Bizarre dreaming last night, and I was awakened several times with bladder difficulties. Then I arose for good about 7:45 this morning, later than intended when, about 2 AM, I had gone to bed. I rushed through getting dressed and then drove Fran's car down to the service station where I take our vehicles for their annual state safety and pollution control inspections. l left the car with the staff there for that purpose and also asked that they do an oil change and lube. Both services were completed without ado by the time I had finished breakfast at the Kerbey Lane South restaurant.
I then drove over to our postal station and picked up the mail held for us over the past week.
I'd anticipated afterward having a fairly relaxed day. However, this notion was put to rest as I got close again to our house. Workers were on our roof, with a contractor truck parked in the driveway, blocking my passage to the garage. The band of Mexican American roofers would be creating a great din through much of the rest of the daylight hours.
I was glad we were getting the repairs done, that hopefully would correct the leaking from above or the likely expansion of water damage in new storms if the work were not completed. Yet I was exhausted, needed a nap, and meanwhile found that my prior concerns over the efforts of poor quality workmen, over their carelessness and overall lack of reliability, were being too clearly realized. And our previous negative experiences with generally low-paid Mexican American workers had not led us to have much confidence in this crew.
One can take all kinds of precautions, and we had done so, making sure the contractor we chose came with abundant good references (many of whom we called, getting only glowing reviews!), was a member of the Better Business Bureau and of the local organization of professional roofers, that we had a good feeling from meeting one of the managers and his wife, and so on. However, in the end, just as a well researched company may let one down and its stock price plummet after purchase, so too with dealing with contractors and their crews, folks who generally belong in their own special hell, near the sections reserved for most lawyers, politicians, car repairmen, and salesmen. At least some of the time one is likely to have bad experiences with them.
Our esteemed workers had gerry-rigged a tap into our electrical box, without asking, to power their generator, ignoring that we had perfectly good outlets available in the garage. (I suspect the generator needed a 250V plug-in location, while we just had 120V receptacles, so, rather than powering their generator with gasoline, they just took matters into their own hands without permission.) That we have repeatedly had house electrical problems and certainly wanted no alteration of our wiring, much less added drains on our system, was of no concern to these yahoos.
Nor, it turned out, did they give much of a damn about the manager's promise they would be nailing down the shingles, not using short staples. Staples, of course, are faster, so staples, for most of the job, it was. Instead of providing their own liquid refreshment or asking for some from us, again without asking they removed the cloth with which the faucets had been wrapped against the cold and just used our water as and when they pleased.
It should surprise nobody that they also apparently were not properly supervised by the managers or anyone else with whom we had contracted the work, that they were extremely thoughtless about simply dropping or throwing down heavy loads of tiles, tools, or materials onto the roof, shaking the house so violently it would not have been unexpected to see things crashing through our ceilings. As it was, flakes of ceiling plaster came down, and the lights in one room briefly flickered out under these onslaughts.
Nor was the job even accomplished with a semblance of professionalism. The rows of shingles were noticeably not even as they were finishing one side. I was all for confronting them or the manager in question about these various deficiencies, but Frances, who often cautions me to reign in my initial reactions (lest I do more harm than good), in this instance too counseled a more diplomatic approach, accepting the job more or less as it was, and so having a better hope of remedial work, should it later be needed (once we have a good test of the new roof, from heavy winter or spring rains).
We had originally wanted to go for our roof work with a big international home repair company, but it cost about $1000 more for an equivalent job, and so, once we had all those positive recommendations in support of the folks we chose, the cheaper approach seemed better. In the future, though, I'll certainly be more inclined to pay a little more to assure that a good job is done!
As it is, we can hope for the best. Maybe we'll get out of this deal with a somewhat better roof in terms of the weather, and without serious harm to our electrical system or the rest of the house, yet with a not too serious dent in our budget, though we shall doubtless for awhile be smarting aesthetically at the fairly shoddy look of our new tiles.
As Warren Buffett is said to have advised equity investors, in this venture too it may be best to have "low expectations." In any case, I shall be quite pleased to be rid of these awful roofers! As too often before when I have had to rely on others for help with our abode, it is with a feeling almost like being blackmailed to see them so expensively and sloppily intruding themselves into our lives and property.
Meanwhile, as we had expected, Puff was rather traumatized by the loud commotion from above and was frequently through the day trembling with fear. I took her on several walks to relieve the extreme tension. Each time, she was quite reluctant when our steps would head back homeward. Frances fixed her a "stress shelter," of cozy, soft pads, in the room where she was doing various projects at the time with her laptop computer or a paper cutter. The beast then remained in there for hours between her walks.