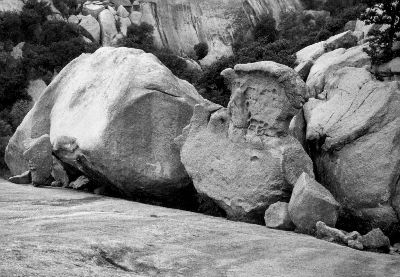 1/2/06-Mon.-Saw a roadrunner in our neighborhood the other day.
There is a major, though false, controversy extant. By maintaining it in its phony form, both sides of the issue feel better about themselves while the status quo is sustained, achieving nothing for anyone, but doing much harm instead. Folks on the left irresponsibly cry for the abolition of all commerce and industry that can do injury to the biosphere, without regard to economic interests. Folks on the right like to frame the debate differently, naturally, to couch the claims of their opposition in wild-eyed radical terms and so completely dismiss them, while having virtually no respect for the environment. One side gains a little here, the other a little there, but basically no victory is attained by either, the battle raging on, as did trench warfare in Europe for years, at tremendous overall cost.
Meanwhile, other things are occurring, almost unnoticed by either contentious cause. Just as, in the Pacific Northwest, there has been much sound and fury over the protection of endangered species, on the one hand, and the needs of lumber companies and workers, on the other, few seemed to note that the forests upon which the labor depended were disappearing and quite soon would have ceased to be, so too with the worldwide diminishing supply of oil, while demand is rapidly rising.
In a very few years, the question will not be whether or not environmental crazies are trying to destroy our economy with hoaxes about global warming, but how to survive economically, whether liberal or conservative, when petroleum is so scarce, in relation to the need, it is no longer cost effective to use it. By then, of course, much of the long-term damage to the biosphere will have been done, and its consequences will inevitably, devastatingly, be around for hundreds of years. On a geological time scale, our species' burning of fossil fuels, that nature took eons to create out of the cells of countless trillions of tiny organisms, will have been so rapid as to seem like the blast of a firecracker.
Then, because politicians and mainstream journalists have been focused on the debate instead of genuine solutions, the controversy will come to an end only as we collectively realize, probably too late, the quarrels were mute, and that a crash program was needed, beginning decades ago, to attain sustainable independence with energy in our lifetimes, benefiting the economy, the environment, and, incidentally, both sides as well in the heretofore ceaseless altercation. Of necessity, sustainable energy independence will have to involve major increases in conservation and in the use of renewable energy sources, pleasing the liberals. It will also challenge the best our scientists and companies have to offer, creating many more jobs and enhancing the wealth of the businesses that best answer that challenge, pleasing conservatives. Like it or not, modern nuclear plants will almost certainly have to be part of the overall answer. Let us hope our nation, which has successfully met crises in the past, though sometimes only reluctantly and after much delay, finally finds the courage, genius, cooperative spirit, and real grit, to do what is required, and steps up to the plate in time.
Meanwhile, back in Fran's and my far more modest and mundane existences, we completed the process of repairs and inspections for her Toyota, so she may keep driving it despite the emissions testing difficulties of the past couple weeks. And my Social Security benefits have now begun. The monthly annuity increases my retirement income by 60%.
Highlights of the last few days have included further volunteer sessions for the library, a most interesting and inspiring tour of the Harry Ransom Center Ansel Adams exhibition, on Saturday, 12/31, and a New Year's dinner. We have had a tradition of going for brunch on New Year's Day to the Black-Eyed Pea restaurant, where I like to get their free New Year's servings of black-eyed peas, along with nice holiday dinners for each of us. However, when we arrived this time, just at what would have been their opening time, we learned the south Austin location has been closed for good.
After searching for a good alternative, we happily settled on vittles at the Fire Bowl Cafe Asian food restaurant, in the south Austin Barnes and Noble shopping center (across the street from Home Depot) on Brodie, near 290 West. There we were quickly served quite delicious and ample portions, enough to take home large doggy bags (cartons) of leftovers.
Am reading C. J. Box's Savage Run.
Our drought persists, and yesterday, in honor of the commencement of 2006, we had a record high temperature of 82°F.
As the global warming world turns, I'll not be surprised if in another two or three decades many new places, including ours in the southern US, much of Australia, and several additional areas in Africa, shift into an "endless summer" state, never or almost never getting temperatures low enough to be regarded as true alternatives to the sizzling days of summer, their "winter" highs staying warm enough that they would be considered summer-like in our northern latitudes. Indeed, here we are too close to that situation already.

1/5/06-Thurs.-How about those Longhorns!? Austin is shaded orange again, and fans all over town are giving each other "Hook 'em horns!" signs today after the UT team last night won its national title for the first time since the heady football championship seasons of Coach Darrel Royal (1963, 1969, and 1970). And for me personally this is the most football excitement since my interrupted undergrad years at this campus had included both the 1963 and 1970 UT super successes.
Less dramatically, tonight I'll be watching the Austin Lyric Opera's second dress rehearsal performance of "Lady Macbeth of Mtsensk," for which Fran is once more an orchestra member.
Frances and I have finalized our WI visit planning and, unless last minute weather news indicates a blizzard anticipated in Frances' sister and her family's neck of the WI woods would make travel then too hazardous, we'll leave on 2/2, not expecting to return till quite late on 2/13. It should be a fun, if tiring, trip. Among other things, we are both looking forward to taking hundreds of snow covered vista photos, something we seldom if ever have a chance to do in central TX.

1/10/06-Tues.-Up until now, each day in Austin this winter has been abnormally warm, often in the 80°s F, just as in autumn we experienced many record mercury climbs, starting with 101-108°F temperatures the first fall week. Since August, we have also had no significant precipitation.
Notwithstanding a brief, mild cool spell currently, expected to stay with us only a couple days and not to relieve the drought, it is an issue of no little import whether the recent meteorological patterns are simply normal weather variations or represent a climate shift related to global warming. Of course, it is way too early to tell. Central TX may wind up having weather more like that of Baja, CA, more like central FL's, or tending to fluctuate, in cycles of months or years, between the two. But at present we are clearly in a Baja phase.
This morning, I have again been following the Senate hearings on Judge Samuel Alito's nomination to the Supreme Court. I recognize that, almost certainly, he will be approved for and then sit on our highest court, tilting that body even farther to the right and increasing too the power of the executive branch at the expense of the individual citizens, the legislative branch, and the states.
Our nation has been in a constitutional crisis since the Supreme Court intervened in the 2000 election process and since its then conservative majority decided in favor of George H.W. Bush becoming our 43rd President, virtually assuring that yet more conservative Supreme Court judges would be nominated and confirmed. As it transpired, then, the court's intervention was particularly fateful and also has had the appearance of a less than unbiased decision, one that will have promoted the Right's dominance, likely for decades to come.
The outcome of that election might well have been the same without the court's 2000 intervention, but, in its absence, that body would retain a greater claim to independence than is now the case.
Since a Republican-controlled Congress appears on many issues to have abdicated its traditional and constitutional role as a check on and balance for the natural trend of an executive branch for greater hegemony, there seems little hope now for avoiding additional erosion of liberties and protections upon which our country was founded, ones that heretofore have demonstrated the wisdom and preeminence of the American political experiment.

1/17/06-Tues.-There's not much to report. Up at 7 this morning, we left soon after for the Laundromat, our monthly ritual. Fran's now stalking the washers, ready to pounce on any that do not perform as she wishes.
I've begun a reducing diet, needing to lose about 5-10 pounds, for greater health and comfort in my clothes. Ironically, I "let myself go" through the Halloween to New Year's holiday period after getting a good report from my last annual physical exam. Also, I have been making great salads for myself, but evidently not cutting out enough other vittles to compensate for the calories they add.
We're in the midst of preparing another online family and investment newsletter issue. The research for it was interesting. Have found about ten more companies whose stock seems worthwhile to purchase for the long-term.
Last week, we finished getting forty of my better Christmas in Waco (at my mom's place) pictures processed, selected, and online for viewing by relatives. One cannot do this sort of thing with any expectation of gain. Usually there is no response. It could be worse. In some families there would be abusive, negative replies. (We're now working on a new CO pictures gallery.)
Tonight, I'll attend the mystery book meeting. Although I had joined this one as an afterthought, once already in a general literature group, it is proving to be the better organized and more reliable of the two, the literature one too often attended by only one or two others and not coordinated by its leader with the hosting book store, so that arrangements for our chairs and meeting location there are left till after we've arrived, causing delays and confusion. At times, though, we have good discussions. Maybe we can work through these adjustment problems. Right now, several members are preoccupied with newborns, grad school, mishaps, or busy spouses. The mystery group folks are older, on average, more settled in their situations.
The library volunteer work is ongoing. Generally, I'm doing a couple shifts a week. Last Wednesday, there was a community meeting. Attendees talked about plans for that location, including a new library branch there, in lieu of the donation/sorting/book sale operation we have now. Once ground is broken on the building-to-be, unfortunately a new site for the work we do will be required, probably not as convenient for several of us.
Only about two weeks remain before Fran's and my trip to WI, to visit in the frigid air there with her sister, Trudy, and her family on their farm. I still need to find more warm clothing.
This coming weekend, I'm off for a short visit with Mom. Then the following week, besides the library work, I'll again be doing volunteer work for KMFA, which is having a fresh fund drive.
We finally, last night, received a small amount of rain, more than a sprinkle but far less than the drenching we need. Long-range forecasts are for the drought, already several months long, to persist well into the spring. Our emergency watering must go on. We are grateful, though, to have running water plumbing and the wherewithal to use it for such non-essential purposes.
The latest opera production ended Sunday. The next, and last for the performance season, is not till May. Frances for awhile had a number of good gigs in a quintet with which she performed in area schools. These were a hit and seemed to have a lot of promise. But the efficient person who had coordinated them went on to better things, and nobody has taken her place. Fran's Baltic Buzzards group also has been relatively inactive of late, its founder now interested in other musical activities.
The current printer, almost always, in our experience, the weakest component of a computer system, has broken down completely. We go through about one a year.
More pleasantly, we are going again today for a buffet brunch at Indian Palace. Good eats! Must adapt my diet for the balance of the day to accommodate this luxury.

1/21/06-Sat.-On Wednesday, at the library facility, the volunteer supervisor insisted on needing help getting a heavy table moved off the top of his car and over to the shelving area where it would be set up for extra books. I explained, not for the first time, that I have a back problem. However, there was no gracious way to avoid assisting him. He said with some impatience he could assure I'd not have to strain my back. It was a three person job. There were just three of us there. The table by then was already partly off his car. So, trying to be protective of my lower spine, I reluctantly lent a hand. Of course, I exacerbated my condition and now am in pain once more, despite the home physical therapy exercises I've resumed since. Next time, I'll just have to be ungracious when others are insensitive about needed back restrictions.
After today's library shift, I drove to Waco and a visit with Mom. There was some delay on the trip. The main thoroughfare, I35, was closed down for awhile in all north lanes, a not abnormal situation. We went to the Bangkok Royal Thai restaurant. Mmmmm delicious!
Later, we went grocery shopping and then watched a good foreign film, "The Postman." It was in Italian, but had English subtitles. A rather well done, beautiful, sad, thought-provoking movie.
Mother and I discussed a bit of politics. I believe this country's major international challenges today are Iraq, terrorism, global warming, the potential for a pandemic, and China's rise, and its greatest domestic ones are the recovery from Katrina, a long-term energy crisis, poor education, fiscal challenges, inadequate health care, racism (still!), and the ballooning of executive branch power. It seems to me that, as a nation, we are failing in all these areas.
Late tonight, in Waco at least, we're getting rain. Surely hope it's falling at home too!
Since things are cool and wet here, we did not go on a "field trip," as Mom had originally proposed, to check out a place where we might have the 50th birthday bash this year for my brother, Allen, but, instead, have been enjoying a lazy time indoors, except for my walks.
In extra time, I've been getting our financial records fairly well up-to-date.
Allen called here and, after talking awhile with Mom, asked to speak with me. We had an unusually long and chatty conversation. Also spoke briefly with Nina. Their infant, Seymour, was also "on the phone" while I talked with Allen, saying "Bababababababa..." I gather he is much more vocal than his sister, Sharon, was at the same age. Mom has admitted she was convinced for awhile Sharon was retarded, due to her slow start as a motor-mouth. My stereotyped thinking about that had been that the relative initial quietness was due to her American Indian genes, for which I was appreciative. I did (and do) not care for her later much more "screamy" persona.
Poor Allen cannot get out from under severe money difficulties. The latest reasons: major new bills from his lawyer, after that worthy had already been told his services were no longer required, quite expensive new repairs needed on one of their SUVs, and "maintenance fees" on the oil well that he'd invested in through Horace a generation or so ago, that has yet to provide any income. Two others were dry holes, and he simply lost all his multi-thousands of investment in them. But somehow this one has still been drilling all this time, without result, but he has been charged for ongoing costs, if I understand right. It is an entertaining, but sad, even pathetic, situation. Mom attempted to give Allen sage advice on how to be practical about cutting his losses, but got yelled at by a very frustrated Allen for her troubles.
Nina is now working at a flea market, grossing several hundred dollars per weekend, but who knows how much her costs are for inventory? Allen admits the net is much less. She is selling shoes and clothes, and she has many sizes for both genders. Allen looks after the kids on Saturdays and Sundays so she is free to do her enterprise. She told Mom it never worked out when she tried to get a regular job, that she made no headway because people were looking for someone who speaks English more clearly than she does.
In view of my back situation, I'm getting to bed early tonight. Mom retired by 10:30. I'm hitting the hay soon afterward.

1/22/06-Sun.-We saw a Peter Sellers movie tonight. It was amusing, I suppose, for the 1970s when it first came out, but strangely plodding and too predictable for today. "Young Frankenstein" was done in much the same way, that is, based on the same overall silliness of plot, but seemed much faster and funnier. There was a spitting image of Puff in tonight's movie, though, quite cute!

1/23/06-Mon.-After a generally pleasant weekend, except for Mom again drinking herself to unconsciousness each evening, we parted about 8:30 this morning.
Despite mother's alcohol problem, she has an amazing schedule for an 83-year-old woman who broke her ankle in two places eight or nine months ago and who has serious knee and back deterioration too. She leads, on a regular basis, four water aerobics plus four chair aerobics classes per week, in addition to: subbing for other teachers, about once a week on average; coordinating trips and activities for older citizens; and heading up charitable and/or social projects for a local service organization. She also, of course, does most of the arrangements for get-togethers among her large extended family and keeps up with a wide circle of friends, reads voraciously, and still has the time and inclination to dabble in management of a million dollar portfolio of stocks, bonds, cash reserves, and real estate.
During the evening last night (after the Peter Sellers movie) and while eating supper, we watched the PBS performance, the first in a series, of "Bleak House," a dark, suspenseful, and captivating drama based on the book by Charles Dickens.
My health is improved. Not only is my back pain greatly diminished from a few days ago, but the diet must be working: weight is down from 162 to 157 pounds.
I returned to Austin this morning without incident. Frances tells me we received at least a half-inch of rain here while I was away. Terrific!

1/27/06-Fri.-Yesterday, I awoke, minutes before time to actually get up, with memory of a fresh dream, that an advance party of intelligent, hostile aliens, intent on remaking our world to suit their needs (similar to those of crocodiles and palm trees), had found a creature here whom they had conditioned to create enough methane and carbon dioxide gases, which they would in turn release into the atmosphere, to result in the raising of the average Earth surface temperature by several degrees (F) in only a few generations, rendering the globe inhospitable for most current species but ideal for the invaders, masses of whom would be arriving just as the transformation would be in its final stages. While the implications of this were dawning, I became aware of feeling quite bloated and that some of a quantity of digestive gas, with a rather noxious odor, had begun to leak out of me in little and large farting sounds. Soon I would drive off in my carbon dioxide producing vehicle to do volunteer work at our local classical music station...
Less than a week remains before our planned trip to WI. Several things still need to be done for us to be ready in time.
Today I'll do a little shopping, as I have twice before, seeking adequate warm clothing and other gear. Thus far, I'm not able to find a ski mask. I suppose that, in this part of TX, about the only use for one is to rob banks.
I got up this morning at 7:00 and by 7:30 was driving Fran's car over to Wal-Mart for an oil change and lube.
I'm reading a couple new books: The Time Traveler's Wife, by Audrey Niffenegger, and Peace Like a River, by Leif Enger. I like both, but the former much more than the latter.
Frances and I are quite hopeful today of a break in the area's drought. Tonight and tomorrow, Austin has its best chance of significant precipitation in several months.

1/30/06-Mon.-We did indeed get a good drenching the other day, an inch of downpour, possibly even more. While this does not put much dent in the area's drought, along with watering Fran and I had already been doing, with sprinklers or by hand, there should be enough moisture in the yard for our lawn and gardens to be alright during an almost two-week holiday to WI.
I went to the bank this AM, deposited a check Frances had received for a music gig over the weekend, and made sure a 4% cost of living increase had been reflected in the latest Social Security benefit deposit. (It had.)
I see that the current Bush-in-a-China-shop approach to foreign policy is having predictably negative results. Our very publicly Christian president likes to tout his idea of spreading western democratic principles around the world, particularly among Islamic and Arabic peoples. Since he first voiced this ideal of global transformation and began pressuring for its implementation in vote after vote, there have been democratic elections in Afghanistan, Egypt, Iran, Iraq, Pakistan, and among the Palestinians. In every case, militant and/or religious factions have gained in power, making major electoral headway relative to the situation before Bush's rhetorical, military, and diplomatic initiatives began.
The weather now, though (if taking the long view) worryingly warm for our winter season, possibly another sign of global climate change, is nonetheless gorgeous and ideal for outdoor activities, sunny, a little breezy, with lows in the 40s or 50s and highs in the 70s or 80s (F).
Speaking of things external to one's abode, last night I again noticed a "Who Who..." noise from the trees around our house. Frances and even Puff noticed it too. The pooch found it distressing, but Fran and I were intrigued. She looked up the call in one of her reference books and determined it to be that of a great horned owl. Then Fran noticed a second, answering series of "Who Who" sounds coming from nearby as well. It is possible we have a mating pair of the majestic birds in our close environs. They eat all sorts of prey, including cats. Maybe the felines will be less inclined to hunt doves and other fowl in our yard for awhile, or will pay dearly for the privilege if they persist. Puff's nervousness may be appropriate. She's not much bigger herself than a large cat.
It is such a cliché, but also still so true: getting old is an undignified and disheartening way to achieve aged status. Not for the first time, today I accidentally chipped a tooth. I was just chewing a bit of food, noticed a scrape between my upper and lower teeth, and then felt a newly sharp surface at the bottom of one of my formerly impressive "two front teef." Looking in the mirror, I noted that both of them are now "indented." I've had at least ten such incidents. There are also about five teeth with one or more small cracks. They could thus give way and shatter at any time. I'm sure a dentist would tell me I need to have all these crowned, along with any in danger of becoming less appealing from such losses as occurred today. I've already had five crowned or capped, at not insignificant expense. A small fortune could easily be lost in getting the still at risk next 10-12 treated in this fashion. Sigh.
Fran's rather pleased with a recent development. A few weeks ago she was interviewed by a newspaper reporter who then mentioned Frances and her garden web pages in an article. Even though the reference was brief and unremarkable, the garden site since then has received many thousands of hits. Even now, about half a month later, it seems to be getting 100-200 hits daily. I'm glad too. She has a great site and deserves more recognition.