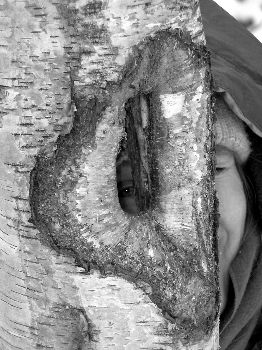 2/2/06-Thurs.-Anticipated for months, our first winter trip to WI began this morning at 8:15. Like a couple cantankerous lions snarling to express transient distress over some minor matter, but sounding briefly ferocious, Fran and I too easily once again fell into a vacation-related pattern of dispute, though free of argument for days or weeks beforehand. I know how and why this occurs, yet feel powerless to prevent it.
In less than an hour, we were both at least acting as if the bout of temper had not marred our preparations.
In spite of such rough spots, we often wind up having good times on our extended outings. Chances are we shall on this occasion too. Humor, for us as for so many others, sometimes at last saves the day.
We stopped in Belton about 9:30. Then in Hillsboro around 11. Next in Denton, 12:30. Several red-tailed hawks were seen along the way.
About 2 PM, in OK now, we began to encounter rocky hills and a few small streams. Mostly, everything was terribly dry. There were many burned areas from nearby grass fires. Lots of the younger juniper trees were dead. There had clearly been recent rains, yet the whole region remained blighted. A grass or woods fire had burned at least one house down that we passed. We saw digital highway signs still warning of "Extreme Fire Danger."
By Oklahoma City, a little before 4, the vast stretch of sky was interesting, with cauliflower-shaped dark clouds overhead and to our north, while along the horizon in other directions there were patches of blue interspersed with lighter, higher clouds.
Once beyond Oklahoma City, traffic was light compared with our usual I35 experience in the Austin area. We still likely have another 4-5 hours on the road before reaching our motel for the night.
The weather forecast for our WI destination includes a good chance of snow. We'll probably be getting in late tomorrow at Fran's sister's (and her family's) place.
Am reading Faceless Killers, by Henning Mankell (translated by Steven T. Murray).
Later. We reached Emporia, CS, and checked into a motel by 8:30, then had dined by an hour later.

2/3/06-Fri.-The big Weather Channel news this morning was of the cleanup in LA again, now after tornados had gone through areas already devastated by the Katrina or Rita Hurricanes. Hmm. Tornadoes in February. In more ways than just this one, the supposedly colder seasons are now bringing anomalous phenomena. In Canada, folks were celebrating the arrival of birds and of blooms of buttercups in early January, that normally would not appear until March. Yet in Moscow and Siberia, people are bemoaning record or near record lows, in some cases 50-60 degrees below zero (F). And, of course, a record hurricane season was capped with an Atlantic tropical storm well over a month later than that season is normally expected to run.
Weather here in northeast KS dawned sunny and cold, the sky almost cloudless. More hawks were spotted overseeing a generally bleak, tan-and-brown landscape as we got underway about 8:30. We also saw Vs of ducks or geese in the distance, possibly heading for a nearby lake.
I was extremely tired last night. Though usually a light sleeper, I soon was snoring after we began watching a classic movie, "Sabrina," one of the last Humphrey Bogart and first Audrey Hepburn films. I don't usually snore much, if at all, but had fallen asleep on my stomach, which for some reason facilitates the noisy log-sawing.
I'd gone to bed in a lot of pain, yesterday's long drive and sitting in the cramped car having exacerbated the disc problems for which I was in physical therapy last year. This morning, the pain was worse, and at first I could barely walk. A shower helped, the water fiery on my lower back, as hot as I could tolerate. Then I used a pillow behind me for today's journey, hoping for the best.
By my current age, my father was no longer fit to make long drives. Indeed, by then he seldom ventured off his property.
We traveled close to 650 miles on the first day of this excursion. The dip stick had showed oil up to the full level when we started, but the car has taken three quarts of lubricant since, still using it excessively despite December's expensive maintenance.
In WI today, the forecast remains wintry, cold and overcast, with snow likely. Oh boy!
Approaching Kansas City, by mid-morning we saw several hawks and one or two eagles (golden or bald).
We stopped at Olathe, KS, at a Cracker Barrel. As on our last FL trip, I got the oatmeal breakfast, the best deal around, so much food for $2.99 that I needed a to-go container!
Puff is quite playful now that we are in a colder area.
MO proved to be both wetter and colder than KS and, along with plenty of hills, had abundant ponds and creeks.
As the day progressed, my back got worse. There seemed to be almost nothing to be done. In mid-afternoon, I took an Ibuprofen tablet with my leftovers.
As we had been leaving MO, we saw ducks on a pond and wild turkeys in fields near the interstate.
We reached IA about 1:00 and Des Moines a little after 2 PM. Conditions were sunny, cold (about freezing or just a little above), and very windy. The area was comparatively moist, in contrast to most of the acreage we had passed in our trip so far.
At 3:20, we saw our first snow of the journey, but just a few patches in shade.
We reached Mason City, a few miles shy of MN, at 4:20, with approximately 245 miles then remaining for today's quota of driving.
We talked about the merits of Iowa over Texas, should we ever agree on the advantages of moving. I thought the cost of real estate was in Iowa's favor, along with it being generally cooler and wetter than TX. Fran thought Idaho would be better for a combination of climatic and geographic factors. I agreed, in spite of the likelihood of property being more expensive there, and added that, just across the state line, in Washington, those conditions would prevail too and one would not have a state income tax.
Of course, all this is quite hypothetical. It may be years before we both feel like leaving Austin and yet we have plenty of nest egg resources to afford a really nice place in Idaho or the Pacific Northwest. And much may happen to change our circumstances or the relative merits of one place or another before the time may seem right for a transition.

2/4/06-Sat.-We got in at Fran's sister's place last night about 9 PM, had a good time visiting till about 11, then unpacked, got ready for bed, and managed "lights out" by awhile after midnight.
Today we did several fun things, such as taking live scorpions, that Fran had caught and brought up from TX at Scott's request, for the sons of Chris, one of his vet partners, and getting a tour of the vet clinic.
Scott and I then went shopping at specialty butcher, beer, and cheese shops. There was more snow on the ground and ice on the streams, ponds, and lakes than we've seen anywhere else on this trip. And Trudy and Scott's place, here in Clear Lake, WI, is one of the most beautiful farms/ranches around, for showing off pristine, snow-covered hills and meadows which are rather photogenic, even though this has been a much warmer winter, with less snow that stays on the ground, than usual.
After lunch (beer, WI cheese snacks, sausage, and pieces of apple), there were efforts to restore a "killer" sledding hill, and then everybody tried it out. Temperatures were cold, so I was still chilled even with long underwear, triple shirt layers, a borrowed ski-mask, and two coats. But the highlight of our day was the ride down the sledding hill itself. As it happened, I went the farthest, roughly a hundred yards. It was a fun thrill going down. I had been worried about my spine condition, especially as there was a several foot drop off at one point in the sledding. Yet I was not so concerned as not to try the little adventure. (Later, I learned someone else nearby, on a similarly constructed sledding hill, had in fact snapped her spine at the drop off, when her conveyance had turned under her before the impact, leaving her completely vulnerable to the crash.) I went down twice, holding my breath each time at the crucial moment of "flight," but, if anything, I believe the impacts somehow released my back's tension. Afterward, I felt better than I had in days! Go figure.
After a delicious supper that Trudy fixed, Scott made a big campfire, he and the kids set up lawn chairs near it, Trudy found marshmallows and the metal "sticks" to hold them for roasting, I did the dishes (Fran having done them after lunch) and put on really warm clothing again, and we all enjoyed sitting around the warm blaze. Later, there was more visiting among Fran, Trudy, Scott, and I, after the kids had gone to bed. We got to bed ourselves a little earlier than the night before.
In the first part of the evening, Fran, Jay, and Violet had practiced violin together, and I had also played a game with those two older children, six and four years of age, respectively.
Throughout the day, Fran and I took a number of photos.

2/5/06-Sun.-Lots more photography. This morning, the sun was gleaming through as snow flurries fell, each ice crystal shining like a floating diamond in the bright light.
We looked over the pile of books (from my library book sale picks) brought as Fran's and my gifts to Trudy, Scott, and the kids.
After breakfast and everyone bundling up, I helped a bit with Trudy and Scott's getting some hay out of the barn loft and Trudy's trying to tame one of the still fairly wild ponies. Puff "helped" by rushing in and barking at it. It's offspring, brother and sister ponies, rushed to her defense and they all made united stands against the dog.
Meanwhile, young Jay continued to give Fran lessons in cross-country skiing and proved to be as apt a teacher as she was a pupil.
Following lunch, we all went to an indoor swim entertainment center. This was in a motel about an hour's drive north of where Trudy and Scott live. The kids thought we were going somewhere else and kept pestering Trudy that she was headed the wrong way, but she was not spoiling her surprise and did not let on the true destination till we got there. Once they understood, though, the children were delighted.
The water center had a Jacuzzi, a sauna, a shallow pool for little kids, and a deeper pool, complete with two water slides, for everyone else. Cheryl did not accept any limitation and, indeed, at just two, was far more courageous on the slides and in the deep water (with a small inner tube) than six-year-old Jay was. All in all, we had a blast, staying around two hours. Everyone swam except Fran. Her choice instead was to take scores of pictures of the rest of us. Many of these came out rather well.
Later I kept Scott company for the early evening hay feeding of the horses and, still later, for their late evening watering. They required 29 five-gallon bucketfuls.
On the way back from the swim center, we stopped at a supermarket and bought fried chicken, pizzas, oranges, bread, oil, and potato salad. I paid this time, and for a big hunk of fudge. We had a great junk food supper and then, when otherwise free, watched the second half of the Pittsburgh Steelers vs. Seattle Seahawks Superbowl Game.
Once the children had gone to bed, Scott, Trudy, Fran, and I chatted awhile, then generally got ready for bed and retired by 11 PM.

2/6/06-Mon.-Scott and Trudy were up early, got the kids off to school (the bus picking them up, almost on their doorstep, at 7:30), and Scott went off to his vet clinic. The rest of us went in midmorning over to a county-sponsored "Shake, Rattle, and Grow" children's exercise, education, singing, and storytime program led by their friend, Kim. She welcomed me as a "male model" guest. Except for me, there was only one other set of male chromosomes there, a two-year-old boy (well, perhaps two, for I could not tell the sex of a precocious infant there who, amazingly, took an eager and very engaged interest in everything, despite a quite young age!) .
On the way back, Trudy took us by some pretty areas and pointed out a bald eagle eating something on a frozen lake adjacent to the road. It took off and flew away as we watched. On the same drive, we saw a flock of wild turkeys in a private yard near the road. They then ran (or flew) across the road to yet another frozen lake.
This afternoon, while the older two kids were still in school and Scott working, Trudy, Cheryl, Fran, Princess, Puff, and I went on a hike across part of the farm, stopping along the way for numerous landscape photo shoots. On our way back, at a small stream, still not frozen (no doubt spring-fed), or rather along its snowy banks, there were tracks which might be from a little otter. There were also many deer tracks noted on parts of today's hiking.
This evening, after supper, Trudy and Fran went to a community orchestra rehearsal. Fran thus had a chance to play violin with an orchestra for the first time since in high school or her early college years. She had lots of fun. Meanwhile, I did the clean-up of dishes, pans, etc., and then helped Scott with child care and getting water to their horses. (On this horse ranch and farm, a man's work is never done! Ha, ha.)
I arranged to join Scott on his vet duties, a herd check, on Wednesday, when he'll be examining dairy cows owned by a British couple. He thought I might enjoy chatting with them.
There were rings around the moon tonight, which Scott said indicated ice crystals in the atmosphere. However, snow is not considered likely till Thursday.

2/7/06-Tues.-Nothing in particular was planned for this morning. Scott is on a half-day schedule. He also wants, with Trudy's help, to get at least one of the two horse water tanks cleaned. In mid-afternoon, Jay will be picked up from school by Trudy. Fran and I, along with Cheryl, of course, will tag along. He needs to go to a violin lesson. Later, all of us will be brought back together for a wrestling lesson for Jay and Violet. Scott will be getting Violet to the lesson. The rest of us will stay with Jay the whole time, possibly going out to eat at Dairy Queen between other activities.
After an early lunch, we found there was extra time. So Trudy, Fran, Cheryl, Princess, Puff, and I again went for a hike on Trudy and Scott's place, in a new (to Fran and me) location. We saw and photographed many attractive scenes, and also flushed out well over a dozen wild turkeys (in three different sightings) and saw three bald eagles.
The late afternoon through early evening involvements were fun and/or rewarding too. Fran got to play several violin tunes at the music teacher's place. In his lesson, it was clear Jay has been making good progress considering his young age. He and Violet were quite energetic in the wrestling class too, Jay impressively so after his face and another boy's head had impacted dramatically at the beginning of today's lesson. Violet has been taking formal lessons in wrestling for less than a month, but is more than able to hold her own in her age group. Even though only four, she demonstrates great confidence and no self-consciousness, though she is the only girl in a quite large class. She won first place in a wrestling tournament earlier this month! (Of course, she has been competing with and wrestling Jay for over a year.)
A fly in the proverbial ointment here has been Puff's growing feistiness and aggressiveness, both in reaction to some rather rough and incessant, unwanted attentions from two-year-old Cheryl (snapping at her after the child has continued to harass our dog, despite mild, ineffective attempts by her parents at reigning the youngster in) and in frustration that Princess does not play with her as much as she'd wish (even after they had another two-hour-long, chasing-each-other, free-for-all hike and run this afternoon), growling at her and rearing up onto her back with her front legs and feet, while nipping toward the back of Princess' head, outrageously provocative behavior that Princess, far better disciplined and trained, simply ignores, frustrating Puff all the more. Princess is two also, but much more mature in behavior, less inclined to play. Trudy is hoping she's pregnant, following artificial insemination a few weeks ago. The larger dog is so high that Puff really cannot either do her harm or even force her to take any notice. Our pooch is nearly beside herself with tension over this circumstance. They had been inseparable and insatiable playmates when together the last time, and Puff clearly cannot understand or accept that this has changed.
I'm inclined to keep Puff in her kennel more when we cannot directly supervise her carefully. I'd hate to see the already unfortunate situation with Cheryl become still worse, perhaps resulting in Puff becoming a habitually snappish pet or actually biting Cheryl. But Fran wants to be lenient and do little or nothing different, only mentioned to Trudy and Scott her growing concern about Cheryl's pestering of our pooch, apparently pinching, pulling the dog's hair, even biting her.

2/8/06-Wed.-Up today at 5:40 AM. Scott and I went through a fairly typical vet day together, three herd checks, two surgeries, a lot of driving here and there, misc. other animal husbandry services, and several on-call phone chats through the evening after we were home. I took lots of pictures. Hope several come out all right. We got home between 6-7 PM, then had a relatively relaxed few hours before bedtime.

2/9/06-Thurs.-Up at 7 this morning. The sunrise out our bedroom was gorgeous, so I woke Fran up, and we both took a number of photos. When we went downstairs, where the kids, Scott, and Trudy had already been up for awhile (eating breakfast and getting ready for school, work, etc.), we found that Jay had been taking lots of sunrise pictures too, out the kitchen window.
I snapped photos again of Jay and Violet waiting for the school bus and then getting on and leaving.
Later, we all rode over to a nearby community, Trudy taking a scenic route. She left some homemade bread yeast starters with the ladies at Scott, Erik, Harold, and the others' vet clinic. Along the way we saw more beautiful winter scenes plus about eight white-tailed deer and ten wild turkeys.
We also got Puff some Frontline-Plus at the clinic and did some grocery shopping. On the way back, we saw many crows. I also noticed a bald eagle, its white top at first so blended into the background snow that it looked headless.
After lunch, we went for another hike on a new part of Trudy and Scott's property. We saw no fresh wildlife. However, Fran found a still in use hole and thought it was a fox den. I discovered a second hole fifty yards away or so.
About mid-afternoon, snow began to fall, something for which we'd been hoping. But I was in a bad mood. A variety of things were getting me angry. Yet it was necessary to not react as I felt in the presence of Trudy or Scott. All things considered, it seemed best to retire to our guest room and rest till time to order and get some pizzas I'd promised for everyone's evening dining.
Later. The snow has continued, light but steady, and by time to get the pizzas about an inch had fallen and was sticking on walks and roads. The landscape aesthetics were extremely kind to eyes and brain. So far, winter is definitely my preferred season for visiting WI. I drove cautiously over to the pizza place and returned without problems.
Everyone seemed happy with the take-out dinner, and there was plenty for micro-waved vittles later.
A downside of our eating get-together for me was the girls' frequent misbehavior and Scott's (particularly) and Trudy's putting up with, or even condoning and encouraging it. Where the youngest, Cheryl, is concerned, he especially feels she is innocent most all the time, despite her habitual harassing of our dog and, if he had to choose, clearly feels Puff is at fault in reacting defensively (aggressively, from Scott's point of view) around Cheryl, now with fearful, high pitched screaming or else even snapping at her, when Cheryl again and again keeps coming, and then apparently hurts her when she can stealthily do so without being seen.
In any case, from our point of view, the unfortunate interactions, whatever they are, keep Puff scared and overly stressed most of the time. Tonight, Scott loudly and angrily yelled at Puff, grabbed her, lifted her and shoved her away, for snapping at his "sweet innocent little girl" whom he claimed was doing "nothing" to the dog (except, I note, terrorizing her for the hundredth time). He seemed so angry there was some question in Fran's and my minds whether he was going to dash our pooch against the wall. Fortunately, the incident ended OK, though Puff is now afraid of him as well as Cheryl. We put the canine in her kennel, rather belatedly from my point of view, and later she at first did not want to come out into such a hazardous environment.
I've for 2-3 days been insisting that the immature two-year-olds, Cheryl and Puff, be kept separated, lest things get more out of hand, but had gotten little cooperation in this, either from Fran or from Cheryl's parents. Sure enough, the difficulties have become significantly worse.
When Cheryl and Puff are in the same room, it is a rare five minutes when Cheryl does not have to be told at least once to leave Puff alone. Puff never approaches Cheryl, but is leery of her. And the adults are so often distracted from watching Cheryl that her intimidations or abuses of the pet all too many times are repeated. I've now emphasized to Fran that we must keep the two apart during our last couple days here, even if it means only letting her out of her kennel when precious Cheryl is in bed, when the dog is to be outside, or if she'll be right with us and on a short leash, so Cheryl will be less likely to pester her.
Late this evening, I learned Fran had told Trudy we'd be leaving Saturday, instead of Sunday as we'd earlier arranged. It was her view this would facilitate our return home, since we'd not then be going through rush-hour traffic on the way back. But she hadn't let me know of her discussion about this with her sister till after Scott had asked when we were going, and I'd indicated he was correct that it would be Sunday.
In view of the mounting difficulties between Cheryl and Puff, and the relative blame being cast toward one or another of the two by Cheryl's parents or Puff's owners, I think all but Jay would actually be relieved by our making an earlier departure. However, since Scott is under the impression we'd be going Sunday, Fran has reluctantly agreed we'll leave then. I thought it not too late to simply let Scott know of the change in plan, as Fran probably assumed Trudy would have already done, but I suppose it was felt best not to rock the boat, as Scott does sometimes take things the wrong way, become defensive (aggressively), or otherwise react out of proportion to the situation.
Regrettably, although our dog originally, up till this visit's encounters with Cheryl, was always submissive and totally affectionate, never threatening toward children, especially little kids, now, due to inadequate supervision or responsibility on the part of the adults here, a deleterious situation has been allowed to get so bad that she has, in only a few days, become what she was not, a snappish bitch around wee ones. Hopefully this will not generalize beyond Cheryl!
As things stand, I'm inclined to leave Puff in a commercial kennel or with a reliable pet sitter rather than take her with us the next time we visit Trudy and Scott.
Besides the issue of her reaction to his youngest daughter, Scott is impatient with our need to take the dog out for pee or poop every couple or three hours when awake, saying he's never heard of a canine with such a weak bladder. Yet she has occasionally peed and pooped in the homes of people we are visiting, indeed pooped in the basement here, unused at first to the absence of grass and the need to relieve herself on snow. I have not yet thought of her as an adequately trained or housebroken dog, in any event, and believe it is asking for trouble to visit others with her and not assure she does her business at least every 2-3 hours.
Fran has not wanted to pursue better training for her, even though her responses to our own efforts have been insufficient. This is all the more reason to leave her in a kennel rather than ask our friends or relatives to put up with her peculiarities and limitations. We may love her the way she is, but it can be asking too much of others to tolerate either defensive snappishness or indoor soiling behaviors. In saying this, though, I am aware of wanting to go overboard to accommodate an unfortunate circumstance, aiming to do everything reasonable, and more, to stay on good terms with my sister- and brother-in-law, though it really is their responsibility to have better control over their youngest urchin, the original source of tensions now.

2/10/06-Fri.-Up a couple times during the night with the plumbing and got a late start this AM. However, I was barely ready in time for leaving with Scott at 7:10. We went to two or three farms, and I chatted with his clients while the vet work was being done.
I asked to be dropped off early, though, back at Scott and Trudy's house, so my stint of accompanying the large animal veterinarian lasted just a half-day this time.
I had a light lunch and then went outside. The snow has continued. The trees and white-blanketed ground are stunning. I took a couple hundred or more pictures.
The devil-girl, Cheryl, has now been caught hitting Puff and sticking a finger up her rectum. Just what beyond this that she's done, over and over, to cause the dog to scream is not yet known.
Scott continues to think of her as his perfect little girl, the last lavish lovely of his loins (after whose birth he had a vasectomy). Of course, he also has some of her traits, if tempered somewhat by socialization and maturity. If there is a controversy, he's much more likely to be the aggressor than the defender, and if he finds a weakness, he picks at it, except claiming only to be "teasing." He demonstrates this on Trudy frequently. He definitely sees it as his right to be a "top-dog" and often each day compares himself favorably with others, whose faults he is happy to detail.
An amusing incident involving Cheryl: Trudy and Fran were playing duets while also babysitting the little girl. Just as she's done with the dogs, while playing with a doll, Cheryl stuck her finger into its butt several times, then smelled her finger. The adults cracked up.
Later. Cheryl, the perfect child, cannot now pester Puff because we are protecting the pooch most of the time when she's around. But she seems addicted to sadistic behavior and so has started attacking Chief, a very arthritic, 12-year-old dog who mainly just wants to be left alone, hitting him, falling on him, and kicking him. Her parents do nothing effective to prevent this either.

2/11/06-Sat.-Scott, Trudy, and I were together getting the horses' water job (mainly Trudy, with my company) plus tractor snowplowing of the circular driveway (Scott) done till late last evening. Jay read a story to Fran, and then she took a shower. Earlier, she and the rest of us had watched the opening ceremonies of the Winter Olympics, in Italy. Jay stayed awake much later than usual, finally getting to bed around 11:30, after having me read a story to him. Fran followed soon thereafter. Scott, Trudy, and I chatted awhile, had ice cream, and then went to bed too, about midnight. Scott's vet day had been extremely long, not ending till close to 8 PM. In the last call, he had saved both mother and calf after a calcium deficient, very pregnant cow had developed a twisted uterus.
The kids (ages 6, 4, and 2), through this visit have been at times terribly sweet and at others extremely whiny, cranky, stubborn, noisy, fighting with one another and with their mom, generally just making themselves and everyone else miserable. But perhaps this is only natural for young children in our culture, as opposed to, say, what is common among the young in Japan. I do not know. Certainly when my own siblings and I were growing up there was plenty of loud friction and chaos, except when Dad was around and folks were afraid of him.
This morning, after we'd enjoyed another great breakfast fixed by Trudy, Scott went for his AM vet duties and the rest of us got ready (the children with much meanness toward each other, tantrums, loud screaming on and on, and at times total refusals to cooperate) and then went out for photography, sliding on a small hill (amid renewed yelling, screaming, and tantrums from the kids), feeding of the horses, and burning a big pile of dead burdocks. The acrimony at last ended briefly. We saw a small rabbit hopping away from the growing conflagration. Jay and I played in the snow, having a lot of fun together, but Cheryl and Violet soon were back to noisy fighting. I wanted almost nothing so much as a day off from their nearly endless, unhappy screaming. Fortunately, we leave early tomorrow. Moodiness in the face of enforced extroversion and spoiled, cranky children is beginning to threaten my pleasant guest demeanor.
Next, we went to Storytime at the library. Fran and I checked internet messages while the kids listened to stories told with humor and entertaining drama, if not with very much literacy: smudgy was pronounced "smud-gy," the "g" sound hard, as though the reader had never encountered this word before and had just sounded it out at the time. Violet threw yet another noisy tantrum while we were there. These kids are so spoiled.
Lunch was yet a new occasion for childish fury at high volume. Such a joy.
Tempering my negative reaction to the kids' bratty behaviors is the recollection that I felt the same way about my friends' (the Whites) first daughter, Denise, and my niece, Esther, or nephew, Jim, when they were young. Yet they in early adulthood have turned out better than average.
So, perhaps the main issue is simply my own tolerance, or lack of it, for highly obnoxious but normal behavior in youngsters. Maybe at one time I would have been easygoing about children's less than ideal habits, more disposed toward relating to or playing with them than being judgmental. But, for whatever reasons, at this point I am too quickly bent out of shape by whiny, argumentative, highly competitive, self-centered little demons, or by anything with many decibels and a complete lack of interpersonal cooperation.
This afternoon, very much against my better judgment and though the kids were still being quite "naughty," the decision was made that we'd go on a complicated, strenuous afternoon adventure with them. I wanted to simply take a nap, and the cranky kids needed one too, but felt I had to go with the flow, especially as the outing had been arranged for our benefit.
The plan was to have Trudy and Fran cross-country ski, dragging Cheryl behind on an inner tube, two dogs coming too, over from the farm to a nearby frozen lake, and then for Scott to take the rest of us via an all-terrain-vehicle (ATV) and its trailer, using a different route, then take us back by the same means, ignoring the fact he was on-call for vet duties.
Sure enough, once Scott had gotten Violet, Jay, and me over to the lake, with the ladies due on their skis (along with Cheryl and the dogs) a few minutes later, he got a call and had to leave for a milk fever cow check and treatment. First, he did hook up a small sled behind the ATV trailer for the kids and briefly pulled them over the snow and ice-covered lake (16 inches thick in places, but still unfrozen here and there), much to the children's delight. They were not easily accepting, though, and felt very disappointed when he left. Though by then Trudy, Cheryl, and Fran had arrived, and we did an interesting ski/walk circuit along part of the shore, across the lake, and back beside a residential area on the other side, the freshly disheartened youngsters were easily discouraged, with Jay repeatedly lying down on the ice, dramatically saying he was too tired to go on and resisting his mom's frequent urgings to "Come on!" Violet, meanwhile, also stopped on the ice, only continuing when promised a ride on "Cheryl's" inner tube. But once she was on it, increasing greatly the drag for her mom (already functioning with a bad back, knee, and elbow), the two girls fought over space on the inflatable tube with much new angry shoving, wailing, and tears.
Being as usual a "safety first" kind of guy, when I saw open water near one shore, Puff chasing distant snowmobilers, and then the proximity of big private homes and yards, I several times urged Fran, who had brought Puff, to tether the beast with the leash. This was not done. Puff then ran off so far and fast it was uncertain if she would even notice us calling to her. Soon she was entirely lost to view. In increasing frustration, with no response to the dog's name being yelled, Fran said "She's gone!" She then removed her skis and hiked up into the residential area searching for her pet. Puff fell halfway into some open water, when at last found and on the way back, adding further to her encasement in water, ice, and muck.
She had earlier found a muskrat hole. At its entrance the creature itself had apparently met its fate, a victim of a fox attack. It's blood was spattered on the adjoining ice. The grisly scene must still have had enticing odors, for Puff quickly began rolling in the residue, smearing it over her, then played like an otter, tunneling into the snow.
While trying to retrieve the errant creature, Fran too came close to falling into the freezing water.
I'd suggested we go back by way of Scott's previous ATV routes, as they would be better walking paths and easier to follow. However, Trudy and Fran preferred their different ski route, as an advantage for that type conveyance, and asked Scott, if he got back in time, to rendezvous with us on that trail. Exercising her prerogative as a woman to change her mind, however, Trudy now said, as we were indeed heading back, Cheryl already quite cold with strong breezes coming across the lake, that we'd follow the ATV paths after all, saying that Scott, if he came in time, "would just have to figure it out."
Soon, besides the two screaming girls on the inflated tube sled, Jay was saying he simply could not go on and insisting on riding and being pulled too. As she so often does, Trudy gave into him, just as she had with Violet, and now she was dragging the three urchins behind her, all screaming and struggling for the diminished space. I appealed to their shame, pointing out they were taking advantage of their mother, when she had sore back and other joints, just because they did not feel like walking. To our surprise, after several minutes four-year-old Violet got off, started walking, stopped throwing a tantrum, and began helping her mother pull the tow rope.
Next, Princess, the dog Trudy had brought with us, also not on a leash, ran off and disappeared, then was heard barking the way she does when she's cornered some intriguing wild thing. Once again, the rest had to wait in a cold wind while the pet owner sought to regain control of her canine. Princess was finally more responsive than Puff had been. After a few minutes, she came running, before Trudy had to leave her skis too and go after her.
By the time we had variously trudged or been pulled about 2/3 of the way back, Scott did show up again with the ATV and took me plus the kids, now including a quite cold Cheryl, most of the balance of distance to the house, giving Violet and Jay another sled ride in the process, while I sat backwards, watching and yelling "Stop!" when they would have a spill.
Fran saw a pileated woodpecker from about 100 feet during that return trip. Earlier she had also heard a great horned owl (the night before) and seen tracks of wild turkeys, weasels, and mice.
She had said on our drive up to WI that Trudy and Scott would not get her up onto skis (having only a little prior experience with cross-country skiing, when a small child). However, our six-year-old nephew, Jay, volunteered to giver her lessons and, indeed, proved quite an able instructor!
Altogether, during our visit, Fran skied several miles. On the return from the frozen lake, she even skied without problems down a fairly steep hill.
Once folks were inside, the first priority was warming up the two-year-olds, a rather uncomfortable Cheryl and an ice-covered Puff pooch.
There was yet more fussing to come, with Cheryl dropping her first plate of supper on the floor, apparently on purpose, Trudy and Scott's three big dogs quickly dispatching the dish's contents, which ironically resulted in Cheryl's wailing her displeasure, but then she would not eat the new plateful she was given, resulting in no dessert and yet further waterworks. Afterward, she was harassing Puff, even as the latter creature was "safely" upstairs in her kennel. When a stop was put to that, Cheryl began torturing again the old dog, Chief, instead.
For once, Violet and Jay were eating well and in good spirits, though having been in on a big "surprise," birthday iced cupcakes in honor of Fran's turning 48 a bit later this month. When these were brought out and the birthday song sung, it was a sweet and happy moment. Violet had made a special cupcake in her Easy-Bake oven and shared half with Fran, who showed her appreciation with a hug and bright smile.
The evening before, Jay had gotten a hug and smile after giving Fran a Valentine's card and long-stemmed carnation. We were careful to take these with us, however forgot the extra cupcakes reserved for us. Oh well. Though the kids may be disappointed at our oversight, I'm sure they and their parents will know what to do with the added sweets!
Overall, despite hassles due to Puff's difficulties with Cheryl, an angry Scott grabbing our dog and bellowing about anyone objecting to Cheryl bothering our pet, given that he had seen the beast snapping at his precious "for no reason," or all of the kids being little monsters at times, I'm glad we made the trip. All things considered, we enjoyed it. Though Fran had been afraid conditions would be too cold during the WI winter, and so had been very reluctant to make the trip at this time of year, she found instead that she could usually remain warm enough. She also definitely had a good time. Perhaps one day we'll do this again.
After getting up today about 6 AM and sharing a fine pancake, hash browns, and sausage breakfast with all our hosts (and privately marveling at how uncharacteristically well behaved were all the young ones, Violet and Cheryl even contented to share a chair, showing no distress whatever), Fran and I loaded up and then set off, around 8:00.
We left WI, crossed MN, and reached IA by about 1:30 PM, then stopped for "lunch" in Bethany (420 miles) about 3:45, there also adding a quart of oil for the second time today.
On our trip back so far, we've seen several hawks as well as Canada geese (in MN), the latter perhaps already migrating again. In any case, they were flying north.
In the very south of IA, just before crossing into MO, we saw an Amish buggy pulled by a two-horse team. By coincidence, Scott's thinking of buying one for a pair of their equines.
Partway through MO, just past Bethany, we saw about 100 Canada geese at a pond near the interstate.
In Kansas City, the sunset (about 5:45) was quite stunning. Meanwhile, we saw several more Canada geese, heading north, passing above.
A half-hour or so after that, a little outside Kansas City, we saw a number more Canada geese. This time, they were flying south!

2/13/06-Mon.-The temperature in Emporia, KS, dropped to 17°F last night. We stayed again at Motel 6 in the same room (over the office) we'd used last time. We enjoyed good, inexpensive dinners (shrimp and trimmings for me, a fish sandwich for Fran) an hour or so after we'd gotten checked in. It was sunny, the sky cloudless, as we left this morning at 7:45.
It was disconcerting during the visit a couple times to be talking to Jay and hear myself call him "Jim," another nephew. Even though I corrected this right away, it indicates gray matter short-circuiting. It must have been off-putting for Jay. He politely showed no reaction.
We saw lots of Canada geese on icy ponds near the Haysville, KS, exit off the I35 toll way.
A little farther along, after a breakfast break, Fran saw a hawk carrying a branch to a nest. Many more geese were again seen on a pond near the Guthrie, OK, exit from I35.
Shortly before the TX border, Fran spotted an armadillo, in a burned area near the highway with new "spring" growth.
A bit after 4 PM, we stopped for gasoline (and more oil) in Grandview, TX, having cleared Fort Worth in advance of most rush-hour traffic for a change. Now, if all went well, only 2-3 hours' driving remained of our journey.
We took a record number of pictures in documenting the WI trip and visit, over 3000 between us, roughly 400 for each full day we were with Trudy and Scott. From what I've seen of them so far, at least half have turned out well enough to keep. We plan to put all the keepers on CDs, one set each for Trudy and Scott, Fran's mom (Linda), my mom, and ourselves. We'll also select from these some very good images to put online in galleries for family viewing. And, with Fran's aid, I'll add one or two galleries of my best ones to the landscape photos site. Am a little behind with the pictures processing, but intend also soon a couple galleries there of 2005 CO and FL photography.
If I live long enough, perhaps it will be amusing in about twenty years to compare my notes on Trudy and Scott's kids, during this just completed visit, with the doubtless charming and successful young adults they'll be. They may even have children of their own by then and be worrying how to get them to behave better.
We arrived safely back in Austin about 6:30 PM and were home by 7:20 (a long rush-hour). A check of our house revealed we had lucked out once more. All seemed as it should be, at least as much as possible with a run-down, aging, not very well constructed abode!

2/19/06-Sun.-It has been a rich six days since the last entry, the time filled with meditation, walks, eating out, Valentine's Day celebrating (besides my gifts to her, Fran fixing us a couple great meals in honor of the occasion), library volunteer shifts (getting ready for a "monster" book sale in early March), book group meeting and readings, communications with relatives and pen pals, preparing our next newsletter issue, processing thousands of pictures taken on the recent trip and visit, playing with our pooch, dealing with her diarrhea (no doubt from her "northern exposure" feasting on vast quantities of flavorful frozen deer, horse, and other dogs' poop snacks, deposited beneath the thick blanket of white that lay everywhere outside, for her to sniff out and dig up), and so on.
Though it is but a hint of WI's frigid winter beauty (the temperature range for Trudy and Scott's place yesterday ranging from -15 to +9 degrees F), we are enjoying at present what may be the last bit of cold weather for Austin before late next fall. This morning, during my walk with Puff, I slipped on an icy sidewalk patch and nearly fell. I was delighted and wished for even more such hazards. All too soon the muggy or stifling hot days will commence anew in our area. For the time being, though, things are quite pleasant.

2/26/06-Sun.-Fran has been talking with her mother, still in a nursing home/rehabilitation facility after knee surgery on 2/10, on a daily basis since just after we returned. These approximately hour-long chats seem now to be the highlight of Linda's days. Evidently, and this hardly a surprise, institutional life can be depressing. Her physical therapy is coming along, but it still will be several weeks before she can resume normal activities.
I note that bird flu has now reached France. It is probably a matter of time before it is affecting domestic and wild fowl here. It seems to me wise to secure a quantity of surgical masks and other means, like antibiotic wipes, to quickly disinfect hands and common use areas. When and if the flu becomes readily transmittable between people, there will be a run on masks and surgical gloves, etc., as occurred in Asia during the SARS epidemic. This crisis could be worse.
Of other current events, it is evident that concerns expressed, since well in advance, about the wisdom of the latest Iraq invasion are being fulfilled. A number of folks are now seeing the light. Too late.
We have had another full week, capped by the celebration of Frances' 48th birthday anniversary today. She has also done volunteer work at one of the city gardens and continued her close-up photography projects through a few field trips. She's been building up her taxonomy references and guides. In fact, most of the books I bought her, in recognition of today's chronological attainment, were comprehensive specialty works of natural history that she'd had on her wish list. I also attended another of my book group meetings this week. And I did some valuable investing research. Yesterday, I did my second library shift of the week. Happily, while there I chanced to find several great bargain tomes of interest, two of which I'd had on my own wish list. All were in good-to-excellent condition. The total charge for the two most sought was just $3.
With Fran's help, I now have my Colorado 2005 gallery available at the Phil's Favorite Landscape Photos site.
As usual, we have often lately had meals out at good eateries. A couple days ago we tried one new to us, South Congress Cafe and had quite mixed reactions to it. I am a loyal and long-term fan of the Trudy's restaurants around Austin, since in 1980, freshly arrived here again after getting my master's degree, I first discovered their great fare when they had the original little shop in mid-block, right on the Drag, near 29th and Guadalupe. This South Congress Cafe location is their latest offering and apparently is intended as an upscale version. The decor is classier and the prices higher than at the other of their establishments where we have eaten.
While I had reservations about the cost, the changes worked for me, and I thought the meal overall a pleasant experience, except for Fran's carping. She had an extremely negative response, questioning whether this really was part of the Trudy's chain at all and saying over and over in various ways that it was outrageous the management was charging so much and giving so little value for our money.
Well, I think it good to try out new experiences, but, when one does, there are bound to be times when things are not what one had expected. Even then, the time and money investment can have a positive outcome. But my wife was in no mood to give either the cafe or this opportunity any slack, and I later overheard Fran telling her mom on the phone what a rip-off she felt it had been. Oh well. One cannot please everyone.
However, to me it seems the kind of place where one could be proud to take friends or relatives one wishes to impress a little, or where one might enjoy having good food from time to time at medium (but neither cheap not top) rates. We split their migas plate for brunch, plus coffee (the beverage just for me). The food was delicious. So was the coffee, though just a regular cup of java. The total came to about $9, before a nice tip I was happy to provide. The service was efficient and friendly. I can recommend the South Congress Cafe particularly for folks whose expense accounts still cover business lunches, or who already are in that area (1600 South Congress, Austin), for jobs or otherwise, and would like a great little retreat for awhile, alone or with company.
Tonight, during my long massage, we watched the closing ceremonies of the XXth Winter Olympic Games. Spectacular.