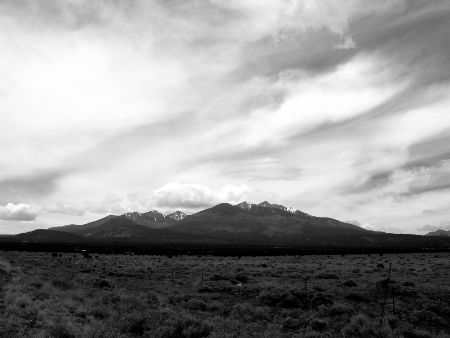 3/11/13-Mon.-Have stopped in Georgetown on my way back to Austin from a visit in Waco with Mom, Allen and family, Horace, Leila, Keith, Carol, and Martha.

3/12/13-Tues.-Before 10 this morning, started on a trip to Port Arthur, TX. Traffic was more congested than I had remembered it between Austin and LaGrange. It took me then till after 1:00 to get past Houston. Interstate Hwy. 10 was relatively light, though, heading east. On the other hand, heading west out of Houston it was shut down completely at one point, with multiple emergency vehicles on hand.
I enjoyed brisk temperatures and breezes during the morning as well as seeing bluebonnets and other flowers along Hwy. 71, east of Austin.

3/14/13-Thurs.-Day before yesterday while on I-10, I accidentally ran over a steel reinforcing rod that hit the car's undercarriage hard, and afterward have smelled a lot of vehicle fumes. Normal? Indication of expensive repairs needed? Don't know. I also got really lost between Orange, Nederland, Groves, and Port Arthur, and only found my way back to my motel with the kind help of strangers. Instead of at Sea Rim, I inadvertently wound up in LA by a different route than I-10.
Yesterday, things were not that much better. Despite poring carefully over my maps, I got confused by some of the routes here that go in multiple directions, then got caught in two big traffic jams. When I finally reached Sea Rim State Park, I discovered the ranger station and 90% of the boardwalk were gone. Where Fran and I had enjoyed seeing a mink, lots of birds and water moccasins, now the ocean reached into much the former marshland and building structure area. The canoe/airboat rental operation was closed down. Money for park entry was being "taken" on a self-pay basis, but the box for it had not been emptied in so long that one could not stuff more of their envelopes into the slot! As at a beach I wound up seeing in LA on Tuesday, few if any other people were around. This, at least, was a plus.
Today has been different, not because I avoided getting lost. I did not. Maybe I am just becoming used to this and figure on it taking an extra 30-60 minutes whenever I want to go somewhere here.
Tomorrow I shall do without an itinerary entirely and simply explore. Low expectations.
Despite several wrong turns taken and a number of disappointments, have snapped around 700 photos so far on this trip. Hoping for 1000 or more. Figure with that many there is a decent chance of 50 or so being worth the final cut and getting posted in our online galleries.
I was dialing back the anticipation today as well. I had at first hoped for a nice seafood restaurant lunch. After many miles of looking, I gave up and satisfied a growing hunger at Whataburger.
Perhaps the secret of contentment is not "positive thinking," religiosity, wealth, kids, etc., but merely reducing to the maximum degree practicable what is wanted. Cynicism, sarcasm, cursing, tantrums, emotional sighing, depression, and other signs of upset or less than happy spontaneous responses demonstrate that we had best accept things as they are, not how we may prefer them to be. Easier said than done.

3/15/13-Fri.-Watched classic thriller movies last night till late, "Ice Station Zebra" and "Triple Cross." Up today about 8 AM. The plan is to go to Port Arthur's Pleasure Island and check things out for awhile, then rest, meditate, exercise, and pack up during much of the balance of the day. If lucky, I shall also have lunch at a decent seafood eatery.
Later. Finally found a good seafood place and enjoyed an all-I-could-eat fish and shrimp dinner plus drink for under $15, well, $17 with the tip, but still... I even got to take half the food back to the motel for supper. Cool. Also got a tank of gasoline at $3.29 a gallon. So, it has not all been bad fortune during this trip. The motel deal was good as well.

3/16/13-Sat.-If all goes as intended, I'll head out by mid-morning today and be home by late afternoon to early evening.
Yesterday I finally began to get the hang of driving around in this area, just in time to depart. Also found more middle class to upper middle class neighborhoods, in contrast to the really poor ones I had seen exclusively the prior few days. I drove over to Gator Country Adventure and there saw and photographed dozens of alligators plus a few snakes and turtles. The gators were surprisingly alert and active. I had taken an umbrella to help avoid too much sun exposure. The alligators, apparently reacting to this perceived threat, leaped in a flash off the sides of the ponds and into the water. I got the message and put the umbrella away, after which several of the reptiles came out again and reacted to me and others with the usual ruse of torpor and semi-consciousness.
Later. Have stopped for lunch in Silsbee, TX, roughly half the distance need to drive today.
On the radio, I heard about a fellow who averages $500 a day from an combination of cards gambling and operating a limousine service. I am not interested in the means he uses, but it occurs to me I could likely do at least that well through regular investment trades. So now I have been trying to think what are the safest, most reliable ways to accomplish it. The biggest hurdle is averaging that high daily profits considering that every now and then the market (and our portfolio) will be down big time. Yet I think it can still be done and in fact may not be that great a stretch for Frances and me to "grow" our overall portfolio around a quarter-million a year in bull markets and lose a like amount (in paper value) in (hopefully less frequent) bear markets. If that is done, the greater odds of bull market gains than bear market losses, combined with Fran's earnings and our portfolio dividends, should put us over the $500 a day net average gain. It should be interesting, at least, to give this a shot!