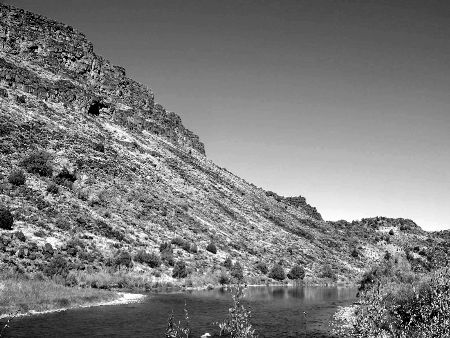 4/3/13-Wed.-Over this past (Easter) weekend, I began seeing a lot of flashes in my left eye vision field. I called my eye doctor who said it might mean a detached retina and advised taking it easy till I could go in first thing Monday to be evaluated and then possibly referred for emergency treatment to a retina specialist. I was rather worried. Fran drove me over, in case any treatment might further affect my vision and so I could avoid much movement of the eyes, as this was still causing flashes and possibly new small tears inside the eye. Happily, the staff saw me right away, and the resulting diagnosis was not as bad as feared: a vitreous detachment which should heal on its own. There is an increase in "floaters," but no retinal damage, and vision is still OK with glasses for both reading and driving.
Meanwhile, I have had a left ear and hearing problem for about two weeks, despite all my own corrective efforts. Will call today for a doctor appointment about this.
Frances is doing our (roughly once a month) laundry job this morning, and I am keeping her company. Austin is at or close to a "minority majority" status now, and typically the TV blaring at the laundry establishment is set to a Spanish channel.
We got a (last gasp of cooler weather till late next fall?) cold front through yesterday, accompanied by - for a change - lots of rain, maybe three inches or more. Terrific!

4/17/13-Wed.-A very interesting PBS program (on the gut) was aired on our public television station this evening. It mentioned various things which can shorten our lives. In the past few weeks, a friend in my book discussion group lost his wife to a relatively sudden and unanticipated lung problem, not cancer but another abnormality for which there was no ready correction. My mom also now often comments on many of her friends passing, and the mother of one of my cousins, almost 20 years younger than me, just lost his mother. A number of well known artists, actors, musicians, etc. are already dead though younger than I when they ceased all living functions. And of course my brother Ralph died at age 38, my dad is deceased, as is Fran's father, and most of my aunts and uncles. Naturally, all of my grandparents and great grandparents have, as they say, left this world.
I turn 70 this year. Though I normally think of myself as at least 10-20 years younger than my actual biological age, the reality is that I am either in or approaching my final phase of existence. The normal life expectancy of a white male in this country is about 76. Even for someone who has managed to remain among the living this "long," seven decades, from an insurance actuarial standpoint odds are I shall not remain vital for even another generation. In fact, most men my age do not make it past 84. (My dad died at 83.) At the extremely outside range of optimistic consideration, I may live at most for another 30-35 years, though to do so I would need to have far more luck than it takes to win one of those big lotteries. My mom, at age 90, has in a sense already won a nice little lottery: only about one in five white women in our country make it to that milestone.
Meanwhile, I have been having a variety of eye, ear, prostate, thyroid, foot, wrist, shoulder, back, and other physical difficulties, not to mention that my memory and other mental functions are not quite as marvelous as once they had been. All of which is to say it is apparent that time is precious, and mine on this pearly world is clearly quite limited both in quality and quantity. How shall I spend my remaining hours or years? Where shall I put the primary focus? Hardly minor issues at this stage.

4/27/13-Sat.-Am enjoying reading Start Where You Are, by Pema Chodron.
Drove up here to Woodway (TX) this morning for a visit with Mom. Nina, Sharon, and Seymour are also here, and Allen arrived (from his latest visit and volunteer work in Houston at the large new Lifestream Way Center being built there) this evening.
It's been a good, though hectic and noisy get-together, with Seymour and Sharon often fighting, yelling, complaining, rebelling, etc.
Shortly after I left for a nightly exercise walk, Horace, Keith, and Charley showed up for a brief stay at Mom's. I got back just in time to say "Hello" and to hug Charley "Goodbye." He is expecting to fly off to Seattle, WA, tomorrow, possibly for a summer stay, but perhaps for a permanent move up there. His brother Chris and Chris's wife Helen, plus their kids, are already living in Seattle, and Chris is the regional operations manager for a company there.

4/28/13-Sun.-Up before 9 AM today and visited with folks here in Woodway this morning. Watched "Face the Nation" with Mom after Allen and his family had left, heading home to their place in Fort Worth. A leisurely, low-key rest of the day. Did separately call my sister Alice and my brother Pete as well, and with Mom watched "Call the Mid-Wife" this evening on PBS. Cool.