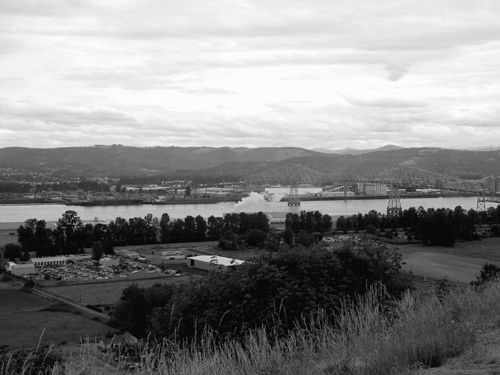 6/1/10-Tues.-Yesterday, I was practically falling asleep while driving the last 60 miles or so, but safely reached Tusayan, AZ, about 5 miles from the South Rim part of Grand Canyon National Park (GCNP), and got a motel room there before they had sold out for the day.
I did a minimum of car unloading and went to the 1:30 IMAX showing of their Grand Canyon movie. The IMAX/National Geographic Visitors' Center is only about 300 yards from my room.
Even closer, in fact just across the street, was a bus stop for the free shuttle bus to, through, and from GCNP. So, I got my camera and umbrella (to protect against too much sun), climbed on the next bus (and they go by about every quarter-hour), and headed off in comfort and convenience to see what this wonder was all about.
Sure enough, even more so in reality than in movies or photos, this is an awesome natural phenomenon! I alternated between simply gawking at the marvel of it and snapping pictures. I took over 200. Happily, many of these, when I checked them on the lap-top back in my room, had turned out pretty well.
Up today at a leisurely 7:45 (and we are on Pacific Time here). No complimentary food or coffee at my motel, so I started the day across the street at a McDonald's. Here it really pays to ask for a senior coffee. It costs 69 cents. The regular price for the same size cup is $2.19 (both prices before hefty sales taxes), and of course the senior coffee is not on the menu.
I had a pleasant chat with Fran last night. It felt almost like a "phone date," such as we had from time to time while courting.

6/2/10-Wed.-Called a couple of my Alanon acquaintances and had good conversations. Also my male sponsor, but no answer, and he has not yet returned the call.
Up today about 7:30.
Mailed to Fran the latest in a series of listed things I appreciate about her, in honor or recognition of our upcoming 25th anniversary (6/22).

6/3/10-Thurs.-Up about 6:30 A.M. Stopped again at McDonald's for coffee and a biscuit. Am leaving the Grand Canyon area today and heading generally west. Expect to call my nephew, Chris, this evening and let him know I am where I intended to be and confirm I shall meet him in Las Vegas tomorrow.
Frances called me, a surprise communication, last night. We had a good conversation.
About noon, I stopped for lunch in Kingman, AZ, less than 100 miles from Las Vegas.
I also went to a nearby Wal-Mart and purchased additional long-sleeve work shirts for this trip and afterward. They are great both as sleep-wear and to help avoid too much sun exposure.
I had reached my male sponsor by phone yesterday. We had a good, though shorter than usual chat.
Overall, my Grand Canyon South Rim visit went quite well. Besides the many great views, I saw both deer and several elk. I also went on an interesting tour led by a ranger, took close to 1000 pictures, many of which came out well, and got plenty of exercise but (thanks to precautions) without getting a sunburn. I also went to some interesting museums. Then, yesterday, I had a regular restaurant meal for lunch at the CGNP's Bright Angel Lodge.
I hope to see Hoover Dam next, but a sign on the way said to expect construction delays.
Later. It was kind of a madhouse at the dam, with construction, bumper to bumper traffic, folks parking every which way in a variety of lots, pedestrians weaving in and out of the vehicles, and security personnel inspecting cars before letting them proceed from AZ into NV. I snapped a few pictures only from the Lake Mead side of the dam, went on into NV, rented a room at a cheap hotel just inside the new state (the hotel evidently making most of its profits off folks' willingness to gamble, so the total after taxes for the room was an enticingly low $25!), and called Chris to let him know I was nearby and would see him tomorrow afternoon.
Meanwhile, I shall tomorrow make one more attempt at checking out Hoover Dam, hoping for a "dam tour" and a chance to take photos from an observation deck Chris had earlier mentioned.

6/4/10-Fri.-I lay down to rest briefly last night at 9 PM and woke up at 4 AM this morning. Evidently my sleep deprivation on this vacation was catching up to me. Just as well it was dealt with so benignly. I was falling asleep on my last leg of the driving yesterday and only just caught myself before going off the road a few times.
Later. The flood of other tourists made it rather hectic at times, a little boring while we waited at others, but overall the Hoover Dam tour was good. Hope my photos came out. I stopped for a bite of lunch and then drove over to where I was to meet Chris at his workplace.

6/6/10-Sun.-Except for the heat (106-108°F outside and in the 80s in my upstairs guestroom, where the A.C. is not working properly), am having a great visit with Chris, Helen, and Dwight. Besides neat conversations, playing with Dwight and with the three cats here, on Friday we went to "In and Out" (a burger joint that has pretty good food).
Yesterday, Helen needed to work. Chris and I had breakfast and then took Dwight with us and drove over to, then explored/viewed/photographed Red Rock Canyon. A cool place!
While Dwight was resting in the afternoon, I too lay down for awhile, getting in a nap of about an hour. Chris fixed us all a gourmet supper. Later, Helen stayed with Dwight, and Chris drove me downtown to one of the bright Las Vegas casino areas. We made two parking stops. I took oodles of pictures, a few of which came out rather well.
At the Bellagio Casino, there are new exhibit motifs every couple weeks. The one last night featured a lush looking set of environments with enormous ants, bees, frogs, and mushrooms. Outside, this same casino had spectacular fountains that were turned on every quarter hour and rose, swayed, or fell in time to music, the piece varying often.
Today, once we were all ready, we four went to a Mexican food restaurant and enjoyed delicious lunch buffets, including beverages, each for under $13. In recognition of their super hospitality, I treated the others to this meal (except bottle-fed Dwight, still only seven month's old, who, however, is a very easygoing baby and seldom gets cranky, even during long restaurant outings).

6/8/10-Tues.-Left Chris and Helen's place at 8:45 this morning. Except for a heat wave in Las Vegas, their upstairs A.C. system problem, and so the indoor temperatures at times being in the high 80s or low 90s (F), the visit, since late afternoon on 6/4, has gone very well. This could hardly fail to be the case, for all three, Chris, Helen, and Dwight, are very nice people with generally upbeat dispositions.
At Helen's urging, last night we all went to a good, though moderately expensive Spanish restaurant, Barcelona's, where we sampled and shared a number of the gustatory delights. Then as well as earlier on their visit, a number of photos were taken.
This morning, on Facebook, there was indication that my niece, Diane, who was officially due on 6/1, was about to give birth. Her water broke yesterday evening, but evidently it was also felt best to induce labor, which would be done today. No further news by the time I had left Las Vegas.
I am now on the way to Springdale, UT, where I have a room reserved. After checking in, if all goes well I plan to do a bit of exploring at nearby Zion National Park.
Have, meanwhile, stopped at Mesquite, NV, on I-15, partway to Springdale, for a break.
2:10 PM (Mountain Time again) - Arrived in Springdale, UT. I had pre-paid for a night at the Pioneer Lodge. The staff appeared not to have anything to do, and the rate ($156 for one night with tax) hardly seemed meager. However, they insisted check-in time was not till 3 PM. Since checkout-out is 11 AM, this means their hourly rate for lodging is about $8. Of course, most folks don't check-in till the late afternoon or evening and leave by 8-9 AM, so one is really paying at least $10/hour for the charms of this wonderful establishment.
Oh well. Complaints aside, I stopped at a nearby deli for lunch and to wait till time to get into my room, after which I plan to go on to Zion National Park, a few more miles on down the road. Grumbling aside, must admit that, for at least the past hour of driving, the views have been majestic.

6/9/10-Wed.-I had a good time yesterday exploring part of Zion National Park and taking plenty of photos.
Today, I got a leisurely start, between 9-10 AM. Construction in Zion National Park made direct progress toward the Grand Canyon North Rim (GCNR) problematic, so I backtracked to Hurricane, UT, where I picked up Hwy. 59 and then headed southeast after a break. Expect to reach today's destination by early to mid-afternoon. Once again, I shall not be able to check-in at a pre-paid motel till after 3 PM. I have reservations at Jacob's Inn for two nights. This GCNR visit is my last scheduled sightseeing of the vacation. After it, I shall just be doing my best to put the pedal to the metal and get home by 6/14.
Later. Got to GCNR at 2:00 PM. It is about 8000 feet elevation here. There are still a few patches of snow!
Still later. Back from GCNR about 5:30. Feeling wiped out. I think irregular sleep hours and durations must have gotten to me.
I rested about an hour, then tried calling an Alanon member. No answer. Went over to the Lake City Inn for a sandwich.
Called Fran, but then remembered she is busy with Gilbert & Sullivan rehearsals or performances. Left a message.

6/11/10-Fri.-Am on the way home. Hope to get out of AZ and into NM before stop for the night. Left this morning about 8:45 from Lake City, AZ, and am having lunch in Holbrook, still in the same state.
Yesterday, I completed my visit to GCNR, packed up, and called an Alanon friend as well as Frances. Later, I also called my female Alanon sponsor. Had good conversations with all three, except that the connection with Fran was cut off for some reason.
The scenery on the trip this morning, particularly near the Vermillion Cliffs and Marble Canyon, was spectacular. I also stopped near the San Francisco Peaks and took a few photos. At one point, I crossed the Colorado River, surprised by how modest a stream it appeared to be then, though obviously sufficient to do significant cutting down through the rock (nearly two billion years of deposits) within the Grand Canyon.
Later. Crossed into NM at 3:20 AZ time. It was, however, 6 PM NM time by the time I had checked into a Motel-6 in Grants. I went shopping for supper at a nearby Wal-Mart, then watched the balance of "Men in Black" on TV while I enjoyed some of my vittles.
I called my male Alanon sponsor and left a message, but received no reply.
Meditated for a half-hour.
Did my exercise.
Worked out my driving route for tomorrow.
My sponsor got in later and did wind up calling me back. We had a good phone visit.

6/12/10-Sat.-At 4:16 PM local time, I drove back into TX.
Leaving Grants, NM, this morning, I saw a prairie dog, active close to the road, quite cute.
Later I passed a black lava field, one that Fran and I had briefly visited on our honeymoon.
8:30 (Central Time) - Have gotten settled in my motel room in Lamesa, TX, about an eight-hour drive from Austin, having made faster progress than anticipated. If there are no serious problems, I may get home late tomorrow.

6/13/10-Sun.-Had a nice chat with Fran last night. It turned out she had called me back after our conversation was disconnected the other night, but kept getting a busy signal, evidently a difficulty with the motel's front desk.
I got a moderately early start today, but felt I needed more rest. I kept having to fight sleep while driving. Accordingly, this may be a long day. However, I checked my remaining mileage on the map this morning and received good news: it appears, after a coffee stop in Big Spring, I have only about five more hours of driving ahead to arrive home today. Guess I can manage that alright. After this, I believe I am through with major traveling for awhile.
Excited about getting to Austin, seeing Fran and Puff again.
Also expect to resume, shortly thereafter, my year-long investment goal, to raise our nest egg to a million dollars or more.
1:45 PM - Have stopped in Brady for a snack lunch at a (smoky) Dairy Queen.
4:15 - Arrived home. Fran was away at a Gilbert & Sullivan performance. Puff was there and glad to see me. Final trip odometer reading: 94,465. So this has been just over a 4000 mile jaunt.