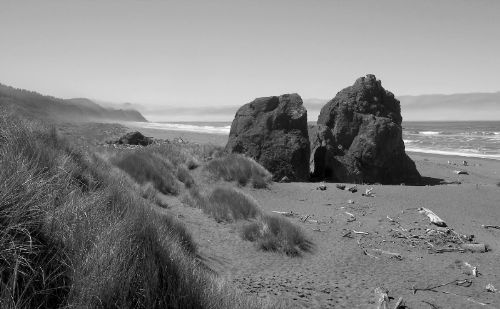 8/24/09-Mon.-Tonight I accompanied Fran to a talk she gave at a local nature club. As usual, it went well and was much appreciated. There were not many questions at the end, but from the several comments, it was obvious folks were impressed. Of course, Frances plans for this starting almost a year ahead and knows her subjects as well as or better than just about anybody else around, at least in the local area.
This past few weeks, the arborist I hired to advise us on our oak wilt problems came by and treated our largest live oaks, each probably at least 100 years old, with anti-fungal injections. We are hopeful this will help us save the trees. The one that was dying, in the front, has now been efficiently removed, leaving quite a hole in our landscaping there. The total cost for both tree services was just under $1500.
Austin has continued to experience almost record heat, with already close to 70 triple-digit days this year, along with quite a deficit from the normal rainfall here. Though disagreeing on how much moisture each area of our yards and gardens need, Fran and I concur that, under the current water conservation regimen from the City of Austin, we are unable to keep up with the drought's effects on our various growing things, the grass, shrubs, and even trees. Almost everyday we both do some hand watering. Yet more and more of the lawn and surrounding border plants are simply dying. It is disheartening.
I am as yet not really at ease in my new role as co-leader (more like a leader intern) of a dream group. So far, I have been in this capacity through three meetings. For the last one, yesterday, I had also organized a small party, since we had several members' birthdays to celebrate.

8/25/09-Tues.-I went to my first Al-Anon meeting last Friday. Of course, my mom is an alcoholic, two of my brothers are recovering alcoholics, and my maternal grandfather and uncle were alcoholics, plus I had a period in my youth for 2-3 years of serious problems with alcohol abuse. But the main reason for going to Al-Anon now, and intending to stick with its program, is that I have (finally) noticed I have a tendency to take on more responsibility for things than I am really responsible for (one common symptom of growing up in a dysfunctional family and especially typical when a parent was an alcoholic), and this skews my lifestyle otherwise. I have, for instance, little opportunity for genuine play, lightness, or amusement and am prone to a lot of burn-out as everything is so intense, serious, driven, and duty-bound. Life, as is said, is too short to be only this way for whatever time I have left of it. Ironically, the idea is, by going through a rather sober, not so light or playful 12-step process among like-minded friends, to re-discover the joy of simply being!

8/26/09-Wed.-An apparent transvestite with "his" apparent mom just walked by, here at Kerbey Lane South, and even for this hip place it was a bizarre enough looking duo to turn heads and bring smiles. The odd thing was that at first the "fellow" looked, in the face, just like a younger version of my brother, Pete.
I was up about 7:30 this morning. I shaved, etc. and watered some in our front yard before taking off for this brunch. Next, I am going a movie, "District 9."
Am reading Silent Sea by Harry Homewood, a pretty good World War II submarine yarn.
Did my library bookstore shift yesterday.
I'm cutting out coffee this summer. Just a few weeks are left for enjoying my favorite beverage. I think I've been hooked on Java since my early teens.