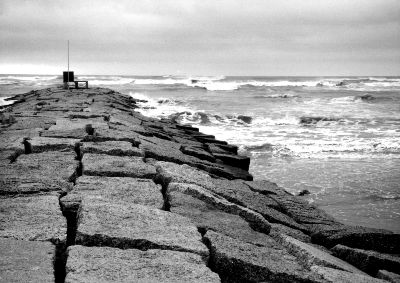 7/30/09-Thurs.-Although we have continued for the most part to have record high temperatures, particularly in aggregate, over the past month, we have at least had two or three interludes of rainy weather. These have certainly helped our lawn situation and made it less imperative that I water as much around the house foundation to prevent it from cracking. Fran has also taken over some of the watering in back. So, overall, less time has been required for essentially emergency hydration of the lawn and the areas under our trees. Good!
On the other hand, we had an arborist take a look at our oaks, since some have looked as though they have the oak wilt infection. He advised that a neighbors big live oak, that previously had provided a great deal of cover and shade for our front yard, plus the smaller but still substantial live oak of our own in the front, are definitely infected and should be removed. He said the infected trees will likely also pass the fungus on to more trees in and adjacent to our yard, up to 8 red oaks and 4 other live oaks, including, if nothing is done, our two largest live oaks, which are in the backyard.
At his suggestion, we are having our dying live oak in front removed and the two big live oaks in back given anti-fungal injections. This will cost us around $1500 altogether (with tax) and will not assure we are out of the woods. It will just give us a little better chance that some will manage to survive. He was pessimistic about any of the red oaks making it.
We have been even more saddened by this overall circumstance than by the steep losses we suffered due to the financial meltdown last fall. And, of course, once the total extent of the trees' devastation is behind us, there likely will have been a drop in the property's appraised value of several tens of thousands of dollars. Too bad, but impermanence is the name of this game, per Buddha and other wise folks. We may as well get used to it and just appreciate what we have while we have it! Meanwhile, we are considering what type young trees to plant in place of the ones we lose.
My acid reflux problems are about as problematic as when I first noticed them, over a year ago. They do not trouble me at all in terms of indigestion, but I notice the aftereffects in excess inflammation and mucus of my larynx area. Of course, though I have cut way back, I have not yet completely ceased drinking coffee or other sources of caffeine. Supposedly, that is one of the things that aggravates the condition. I have my next annual physical in about a week.
My dream group friend, Janet, returned rather abruptly from NYC late last month after she and her fiancÚ of over a year had broken up. She has a house here, but it is rented for about another year. Accordingly, she has taken a room in Sonya's house for at least the next several months. Meanwhile, though, her work is keeping Janet out of the country a lot of the time (one of various issues between her and her fiancÚ). As a result, she only had about 2-3 weeks to get resettled in Austin and see a number of friends before heading off to Brazil. I was fortunate, in view of how large her fan club is, to see Janet three times while she was in the area, once in dream group, once for lunch with Frances (and they met then for the first time), and once for a one-on-one meeting for breakfast at Kerbey Lane South.
That last visit was partly marred by my car battery being completely dead immediately before I had planned to drive over to the eatery. I called for a taxi instead and got there in time anyway. Janet drove me back to my place. Then, with Fran's help, I got the car jump-started and took it over to Wal-Mart, since the old battery was theirs and less than a year old. After Fran - who had followed me over, just in case - and I had had a bit of a wait, the battery was replaced without cost. Just as Fran's car is having more things go wrong with it, now my car is also showing signs of other electrical and possible transmission difficulties.
Janet and I have been corresponding by e-mail frequently over the time since around September of last year, particularly with an exchange of dreams to be interpreted. And it was she who had encouraged me to give the Sonya-led dream group another try, so that I resumed attending its meetings in about late April to early May.
Now Sonya has designated me a co-leader of the group (and available to open and close and to facilitate when she is occasionally not there). It is not a role with which I am comfortable yet, but I am determined to see it through, and the other members seem so far to be fine with this change.
Fran met new friends while in Kerrville for three or four gigs, to play for a musical there not long ago. One of the women invited Frances and me to a birthday and pool party at the house where she was staying for the duration, in north Austin. About ten days ago, we went for this event and had a fine time, swimming, eating, relaxing, and visiting.
Frances and I are thinking about trips. Next year, we have our 25th wedding anniversary. In honor of that milestone, we are hoping to visit Yellowstone (with Puff) next May. The reservations should be made soon.
Due to our yard and trees situation, we expect not to go to WI this September, as I had earlier expected, to see her relatives there (including a nephew who lost most of one leg due to bone cancer last year, since our last visit). Instead, we are now planning to go in late December or early January.
I am myself also expecting to be going, around next January or February, to the Grand Canyon plus Hoover Dam, and to see relatives in Las Vegas.