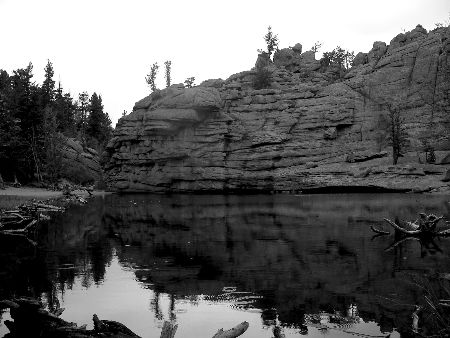 10/7/12-Sun.-Last day of a family reunion in which we celebrated my mom's 90th birthday this month. Mostly, all went well. Today we had some hassle, a long line at Panera Bread's and not enough seating together. Still, it was not too big a deal. Yesterday, we had a good time. The tributes were well received, and the entertainment pretty good. No major downsides.

10/8/12-Mon.-After loading the car, checking out of our motel, and buying some gasoline, we left for Austin a little before 9:30 AM.
I had gotten away from it in the past several days since my CO trip, but now hope to return to noting and recording at least one interesting, remarkable thing a day.
Later. We got home about 11:30 this morning. So far, the most notable thing today was the profusion of growth seen in the landscape while on our way back, and of this the most beautiful for me was a field full of blooming broomweed, bright green as seen from a distance, this effect created by both the natural hue (in response to the rains over the past month) and the broomweed's small yellow blossoms that from afar seem but to lighten and brighten the plant's green still further.

10/9/12-Tues.-Went for my first session with my second grade reading students for the new term (10/9/12-5/7/13), volunteer work for a well organized Austin non-profit. There were just two girls (both age seven) in my team this year, and I seemed to develop good rapport with them in short order. A notable thing today was how quickly and easily we went through the sessions' tasks, a getting acquainted exercise, plus setting rules for our team, and then picking its name. Including myself, four of the volunteers from last year, plus the coordinator, were returning this time, so we had a pleasant little reunion.
Later, I shopped at H.E.B., meditated for about half an hour, worked on processing photos, and went out to eat with Fran to Tres Amigos.
This evening, I drove over and attended my men's group Alanon meeting. It was speaker night, and tonight's talk, given by an eloquent, moving, and funny gentleman, was the next especially notable thing of the day.
Afterward, my walking buddy and I chatted for a few minutes while, as usual, making circuits of the church's parking lot. I did not really feel like meeting with yet another person and so had not arranged to go to a yogurt shop and visit there with a second member of the men's group, as I had done several times previously in the past 2-3 months. I need to contact him and let him know not to expect me to join further in these late stops at a yogurt eatery (which, it is my impression, he is not really into either, doing them more out of a sense of commitment to what he'd agreed to do, rather than because he wanted these meetings).
Back home, I got my laundry ready for us to do tomorrow, went for a longer walk, and processed photos from either the CO trip or from the more recent reunion in Waco. Also did investing analyses.
Have been feeling sad this evening. Do not know why.

10/10/12-Wed.-Puff was up twice this morning before Fran's and my time to arise, necessitating my getting up each time, plus letting her in again after the first time. She did a similar trick a week or so ago. I believe it likely she is getting too much water to drink late in the evenings and/or not enough times out to pee before the rest for the night. However, it is also possible there is a medical problem or simply a behavioral one, so she is learning to manipulate us with indications she "urgently" must go outside when in fact she just feels like having fun and does not want to stay in bed anymore. Hopefully there are no serious difficulties.
We took our dirty clothes to the Laundromat before 8 A.M., then were home by about 9:00. A little later, we went to Jason's Deli for brunch.
The most notable thing today was how smoothly things have gone. I notified an Alanon friend I do not want to keep trying to meet at the yogurt shop after my time with a walking buddy, that it is too late for me then, but I appreciate his willingness to do so.

10/11/12-Thurs.-A couple or three notable things today: 1. a violent dream last night, demonstrating quite a schism within; 2. awesome images of mountains, from my CO vacation last month; 3. a good beginning this evening to a do-it-yourself insight meditation workshop involving 18 hours of meditation, between today and Sunday evening.
My nephew Keith, Horace's youngest, underwent emergency surgery today for a leak in his dura (allowing spinal fluid to escape into his body and risking infection, such as meningitis, if not quickly corrected).

10/12/12-Fri.-A remarkable observation this morning: how much I obsessed about things perceived negatively, even though they were only potential problems, not real ones at all. For instance, I imagined ill intent and got angry and resentful about calls I might have been receiving from a member of the Alanon men's group to which I belong, asking me to attend a men's retreat on his property this weekend. Calls had come in, but I do not have caller I.D. and do not know who made them. Since I was busy and unable to reach the phone just when they came in, I let the answering machine get them, and no messages were left. They could have been wrong numbers for all I know, yet I went on and on this morning in a negative inner rant about these "solicitations" from a supposed fellow men's group member, even composing in my head a variety of concise, pointed answers to put this alleged caller in his place for bothering me this way!
In another instance, I wasted time, emotion, and energy fretting over funds supposedly being taken out of one or more of our brokerage accounts, due to a simple opening bell computer delay at the brokerage, which meant that available funds in one account were not updated in the first few minutes after I had made a trade. A short time later the added amount was correctly shown, but meanwhile I had imagined and emotionally reacted to a whole slew of negative scenarios to which I then was mentally preparing a variety of defensive responses.
Interestingly, I doubt I had temporary insanity this morning. Rather, I think that my increased meditation has merely given me a chance to see a bit of the craziness that is there more or less all the time.
On a happier note, in a few areas not mown often, adjacent to my walking route this morning, there were many beautiful flowers and tall grasses seen.

10/13/12-Sat.-Not without difficulty, I completed six hours of meditation today, having done four the day before and two the day before that. This meditation regimen is itself notable, but I also had a dream, which I'll record in my dream journal. Completed initial processing of the reunion weekend pictures. We had another good rain today. Up in WI, our relatives have had a recent frost, and they said it was cold there all day today. Once again, the seasons, the seasons!