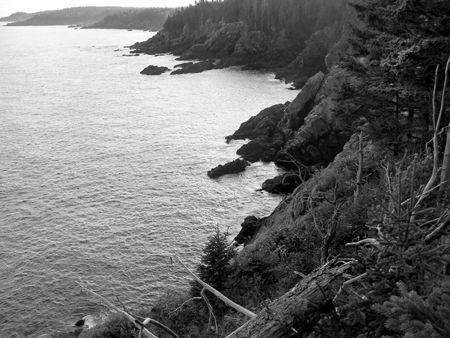 10/1/13-Tues.-Up about 7 AM. Out to car by 7:30, but first took a few photos of the river/bay out back. Three low flocks of Canada geese flew over. Stopped at McDonald's for coffee and a sausage muffin.
Today am switching rooms at the Machias Motor Inn. When I checked in, a "king room" was the only one available, but starting today it was already booked. Now I'll be in an equally nice adjoining "double queen room."
Temperatures remain fairly ideal here, high 60s or low 70s F for the high, in the 40s for the low at night.
Acadia National Park is closed, since there is now a partial government shut-down (94% furloughed) due to ongoing idiocy in Washington, D.C., so I'll not be stopping back there to further check out some beach areas. However, I did get to a neat beach at Roque Bluffs State Park yesterday. This was only about eight miles southwest of Machias.
Folks around here sound pretty angry with our politicians, "all of 'em, all of "em," as the whole region depends on Acadia N.P. as a tourist draw, and, once nearby, people (like me) would look at other attractions and spend money the locals need.

10/2/13-Wed.-Last full day right on the ME coast. Yesterday I went to the Culter Preserve, hiked in, and enjoyed seeing and photographing the ocean crashing on rocks and cliffs, quite as beautiful as one might imagine. Altogether, I covered 4 1/2 miles. Also had stopped at a swift, rocky old mill stream and taken more pictures.
Today went to a state park in Lubec. There was cool scenery plus a lighthouse operating since 1859.
Also stopped at Moury Beach, another area preserve. Hiked about a mile and enjoyed a long boardwalk.
Next, to an old cemetery where some of the headstones date back to the early 1800s. Stopped for more pictures as well at a couple scenic spots on the drive back to my Machias motel.
This vacation (combining flying and use of a rental car, reserved by AAA) has been so much less an ordeal than was the case with several of my long driving trips, and yet so relaxing, interesting, cool weatherwise, and generally enjoyable, that it seems a good model for get-aways in future.

10/4/13-Fri.-Last full day of this vacation. Got back to Bangor yesterday. Hiked and took pictures at a couple scenic attractions. Did light shopping, washed some clothes, checked back into Day's Inn, meditated, and e-mailed Frances.
Today, plan to drive to Castene and to a bridge over the Penopscot River. It has a new tower with an elevator that swiftly shoots visitors up 45 stories and provides a great view of the region.
Once back at the room, need to pack up and do a little planning for tomorrow, to assure getting through security and to my flight on time, after returning the rental car. Decided what I shall have to throw out that cannot be taken on the plane (in case it is useful to terrorists) or won't fit in my two small carry-ons.

10/5/13-Sat.-Flying out today, heading home. Despite getting lost several times up here, I have had a good, relaxing, cool, interesting, fun time, and have taken over 2500 pictures, from which hope to select the best 100 for online galleries to show family and friends. Fran may assist with the culling of not so good photos as well as creating the online site for viewing the better ones.