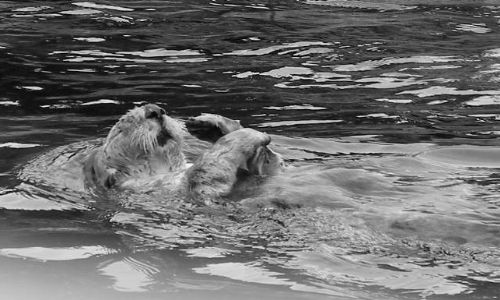 12/5/07-Wed.-Got to sleep about 3:30 AM; up then this morning around 8:45. All going about normally except for my late slumber habits. Off this morning to the bank. Next, filled the car tank with gasoline and went for a haircut.
The library volunteer operation shut down a week or so before Thanksgiving, but likely is opening again at a new, temporary location by this coming Saturday.
For the past couple weeks, have been dealing with a clothes moth infestation in my closet. So far, three or four T-shirts (all 100% cotton) have been made "holy." I had not known cotton fabrics were at risk, previously having only heard of wool being eaten this way.

12/7/07-Fri.-Up early, drove over to my usual service station for such things, and left Fran's car for a state inspection plus oil change. Walked to Kerbey Lane South for a tacos breakfast. Yesterday, Frances and I went for lunch to an Indonesian restaurant on east Oltorf, Java Noodles. Excellent!
Last night, I went up to Sonya's place to watch a Joseph Campbell DVD (on myths, symbols, Jung, the self, and the ego) with her and Carl, long-time dream group members. Quite interesting. Afterward, we chatted awhile. The only downer was the hour and a half commute from south Austin. On the way, a local radio commentator said there was a vehicle on fire at 183 and Mopac. I was half an hour late. It's always something. At the same time, there were the usual, similar problems with both southbound and northbound traffic on I-35. Joy.
Puff threw us for a loop the other night, wetting our bed. Now we don't know if she has a medical problem, just pees in her sleep, or what. Bother.
The Christmas season is in full "flock." We have yet to decorate our little artificial tree (though it is out, ready, and sitting in its corner to help remind us) or get the seasonal card and gift matters taken care of. I have mixed feelings about all the commercial attempts to manipulate us into buying more. To a point, I like this annual time of decorations and cheerful music, though it is often rather crass. I even break out some favorite Yuletide videotapes and watch them during December. Last weekend it was "Miracle on 34th Street." My devotion to these sentimental classics is all the more surprising since consciously I am not much of a believer in anything beyond science and psychology. Of course, I also love literature. There we may find spiritual themes galore and not always in an established religious context.
I went to the toilet here at the restaurant. A large man was just walking out of the ladies' room as I left. Hmm.
An acquaintance of mine and his wife are in couples therapy over their sex lives. She is no longer interested, and he is impotent since having surgery several months ago. He is also experiencing other genitourinary difficulties and diarrhea since the operation. Under the circumstances, I think they could simply agree not to be sexual anymore. He has enough problems without their having to stress themselves over that one now.
As it happens, Fran and I are almost asexual now as well. She is no longer aroused by amorous attentions (at least not by mine). I still have sex in dreams and waking arousal at times, but a long walk plus an almost daily hot bath seem to be sufficient that sex now seldom if ever significantly intrudes. If I'm lucky, the residual libido might stimulate further meditation awareness. We'll see.

12/11/07-Tues.-Up at 6:45 this morning. Got ready and took Fran's car in for repair of a tire leak. Last week, we lucked out, and I was able to get the older vehicle to pass inspection after just paying about $200 for a new catalytic converter. But it's likely we should trade in this set of wheels on a new car, or at least a later model used one, next year. Already, it uses too much oil to be practical transportation for longer trips, really for anything out of central TX.
Tonight, we are both going to an Austin Symphony Christmas Sing-along Concert. Frances is subbing in the orchestra and got me a comp ticket. Should be fun.
We have passed a milestone. With the averages' recent upswing, on paper our net assets have passed $900,000. It's nothing special with all the millionaires around these days and doesn't buy that much, given the falling dollar, but it's nice to see the nest egg up this much despite the big bite a bear market had taken just as we were retiring. Over and above our expenses, the net assets have risen 60% during the six years since I departed a state job. (And Fran had left music teaching a few months after my retirement.) The gains are equivalent to a $100,000(+) annual income since giving up the daily grind. Knock on wood!

12/26/07-Wed.-Fran, Puff, and I drove up to Waco Monday morning (Christmas Eve day) to begin our holiday visiting at Mom's with she and other relatives there.
Mom put us up this time at a really nice motel the first two nights, rather than having us stay at her house, since she had several other guests there: Pete, Mary, Allen, Nina, Sharon, Seymour, Ron, Esther, and Jane.
Monday afternoon we all (except for Ron, Esther, and Jane, who did not arrive till that evening) went over to Horace and Leila's place for a little visiting and gift exchanging with them and their muliti-generational family: Chris, Helen, Tess, Roger, Raemia, Virginia (and her friend Abel), Charles, and Keith.
We had a nice, low-key Christmas yesterday that included a fun white elephant gift exchange, watching the movie "Forrest Gump" on television, enjoying a good Christmas dinner, my playing a couple chess games with Allen, taking pictures, and going for an energetic, long walk with Mary, Pete, and Puff.
Since I had last seen them, Allen, Nina, and their kids have had some bad luck. Someone, apparently Nina, left some grease heating on the stove. It caught fire and the flames spread to the rest of the kitchen, with smoke then also filling the rest of the house. Fortunately, Nina got herself, Sharon, and Seymour out OK. The fire department responded quickly but the kitchen was a total loss, and the smoke smell is throughout the house and its contents. Allen has hired a company under contract to restore the house and do what they can to get its contents free of the smoke smell. He hopes much of this will be covered by insurance. Meanwhile, Nina took off for a week or two of vacationing with some of her relatives in Spain, leaving Allen to deal with both their kids and the aftermath of the fire, in addition to his regular work duties. As I have noted before, Nina is an expensive hobby and leaves the bulk of the chores and child care to Allen, while contributing a rather less substantial amount to what has to be done. However, he is so glad not to be lonely, and he dotes so on the kids (though, as is normal, they are constantly testing his limits, for which he has even greater patience than for his spouse) that he seems happy to deal with the whole situation, whether it is what I might regard as the "bad" or the "good."