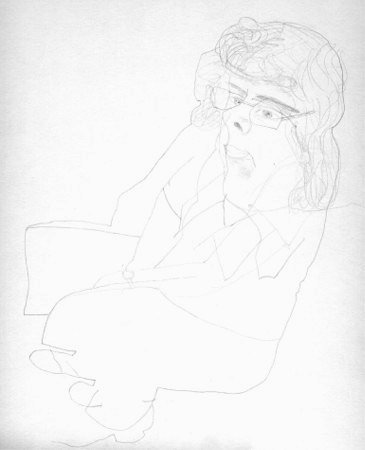 5/1/00-Mon.-May Day. Have continued with daily meditation, but am still mainly experiencing great fatigue at such times.
The fleas in our house are much reduced in number but still not eliminated following sevin dusting over the weekend.
It will probably be a few more days before "Vintage Diarist" officially begins as a functioning site on the web. In preparation for this, the journal has had to have a few alterations. But, thanks to Frances' magic touch, it should be creative and interesting beyond simply the dry text.
Last night and today we've finally gotten a good drenching amount of spring rain. Yea!

5/22/00-Mon.-Very busy, even at home, for the past three weeks, getting this journal converted over to the online site, complete with graphics, some of my primitive art attempts, and scanned photos, accomplishing the insertion of the visuals only through Fran's self-taught expertise.
The past twenty days or so have also been taken up with work on the latest Wagnerian Express newsletter and a couple tongue-in-cheek pieces to hand out and read at a graduation roast for our extended-family's two high school graduates this spring, Jim and Tess. We'll be honoring them over the Memorial Weekend family reunion, in Waco next Monday.
After coordinating further with Mary, I'll be flying into Houston on the 26th to be on hand for Jim's formal commencement the next day. He's been selected, among his other accomplishments, to be part of a trio of seniors singing a hip rendition of our national anthem on the stage, to open his school's festivities that evening.
I've again been having quite a problem with the fleas. Luckily, they don't bother Fran. But, despite sevin dusting and other in-house treatments, they manage to persist, multiply, and keep biting me. I don't want to put so much insect killer out that it seriously threatens our doggy.
5/25/00-Thurs.-Too tired to pack tonight, I'll rise early tomorrow and get my things together before the flight. At the other end, my brother, Pete, having flown in himself from CA and already rented a car, is to pick me up from Hobby. Then we'll both go over to Mary and Jim's to begin our weekend time together, first in Houston, then in Waco.
The paresthesias - or whatever they are - in my fingers have been persistently troublesome lately, causing renewed concern about possible early symptoms of diabetes. Must get this checked out at my next annual physical.
5/26/00-Fri.-Am at the Austin Bergstrom International Airport's Southwest Airlines terminal, Gate #10. It is 11:30 AM. My plane leaves in about three-quarters of an hour but begins boarding in only fifteen minutes. I'll be among the first aboard, guaranteeing a window seat.
Fran and I had a delicious Trudy's breakfast before she dropped me off here at the airport. Later today she plans to add a third web site to our online inventory, this one exhibiting her creative visual arts products.
Have been experiencing way too much stress these last several months. I've decided to simplify and focus:
1. At work, I'll concentrate on just one thing, to clear four cases per shift, or as many as are necessary to assure open claims don't exceed eighty-nine, a comfortably manageable level;
2. Away from the job, each day I'll make certain to do some meditation.
I'll order the rest of my life toward these two objectives, considering everything else relatively optional, however important it may seem in its own context. I like the aphorism, which may be anonymous, that one should not sweat the small stuff and that, by the way, "everything is small stuff." (However I'll have just these two exceptions to that maxim.)
Later. It is now about 7:30 PM. Pete and Molly picked me up from the airport. In the past Pete has often been late for appointments, but this time they were not only on time but actually had been waiting awhile.
We went over to Mary and Jim's, arriving around 2:45. Pete took a nap. I meditated. Mary rested and then worked on reweaving a chair for my mom. Jim was first doing stuff with friends away from the house, but later he returned and hung out with Pete and me. Meanwhile Molly, who is as beautiful as many a Hollywood actress, and indeed plans a career in dance or as a model and already has been in a TV commercial, went to a gym and worked out for awhile. She returned and got cleaned up in time for us all to go out for some great Thai food.
Pete, who never seems to keep "his" women for very long, confided to me later that, after over three years of intimacy with Molly, since she was fifteen years old, he's now decided she also is "not working out" and that he will have to find a way before long to tell her, hoping that she doesn't take it too hard. I think she is likely much the better mate of the two and, though less than half his age, she nonetheless seems the more mature. I can but rejoice for her that she will at last be rid of him. I wish it could be otherwise, that Pete would grow up, love her properly, and be less self-absorbed. I can't see that happening soon. Heck, I still haven't become a sensibly wise old fart, and I'm ancient enough to be Pete's father.

5/27/00-Sat.-Yesterday eve, Mary, Jim, Pete, Molly, and I hung out and visited for awhile, which was good fun. Eventually, Jim joined up with friends and left to play tennis, Pete and Molly went for tango dancing, and Mary and I were off to see a movie, "The Gladiator." It was an immensely entertaining adventure and had great music. The film should do well at the box office.
Tonight we all went over to a major civic center for Jim's graduation. He was in the top five percent of his graduating class of over five hundred. The ceremony was long and tiring, yet managed to be barely inspiring. The audience seemed rowdy and rude, perhaps befitting the athletic event setting. I was glad when the official recognitions had ended. Jim seemed unusually subdued. I wondered if he already were missing, in prospect, the many fine times he'd had through music and drama, and with a host of friends, during his brilliant high school career.
Still later we were introduced to his companion, Diana, a fellow actor. She came over to visit at his and Mary's place before leading him off for an all-night party.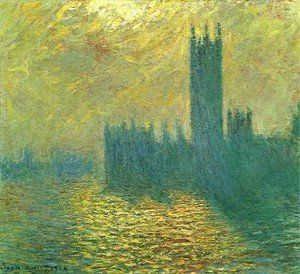 5/30/00-Tues.-We got back from Waco and the family reunion today about Noon, after dropping Joel, who rode back with us, off at his dad, Ron's, place. Joel will be flying home to CA tomorrow morning.
5/31/00-Wed.-This was another holiday for me. I had taken the extra annual leave to rest up after the long, extroverted weekend of interactions in Houston, Waco, Austin, and in between. Smart move! Now I'm better rested and more relaxed.
Arose early today, though. Fran, Pepper, and I took a walk in one of the mutt's favorite places and saw three rabbits, to her great delight.
This afternoon I watched TV, caught up on a few chores around the house, and had a nap.
Tonight I spent time with e-mail correspondence, read interesting annual reports, took a long, hot bath, and then sat for meditation, Pepper sharing the meditation room, lying on her own pad. I think she'll reach Nirvana before me. She must be one of only a select few canines who know the meaning of "Come on, time to go meditate!"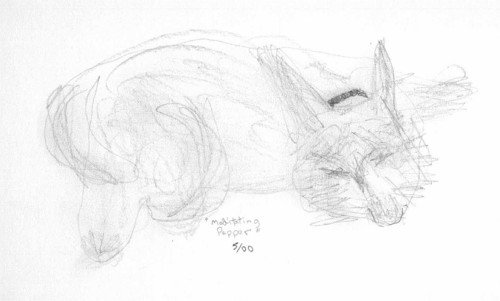 Frances spent much of her free time today watering the yard, which very much needs it, and playing around on the computer.