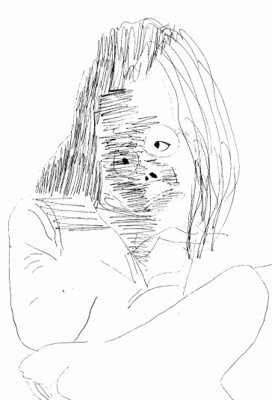 7/1/00-Sat.-Sitting in a remarkably uncomfortable chair at Wal-Mart this early morn'. I'm waiting for Fran's auto, which I brought in for an oil change and lube. I'm at the in-store McDonald's, sipping coffee and polishing off a biscuit with jelly.
As I sit here, scores of people, singly or in small groupings, pass by to one side or another. By his or her attire, physique, gait, interactions, face, gestures, etc., each one gives glimpses into the unique universe of experience which he or she represents and inhabits. Just as the bag-caterpillar drags around with it and looks out from its sack-like home, so each looks out through a facial window from a vast island of knowing, feeling, and being, which we take with us wherever we go. The best portrait artists and photographers, by their work, open the riddle of the face, revealing not just the public persona, but the vast lair within, where we really live. When someone dies, it is not simply an isolated death. It is as if a whole island universe had just winked out.
Last night, Matt and Sam joined Frances, at our place, for their regular Baltic Buzzards rehearsal. At Matt's suggestion, I did a frozen dessert run, bringing back pecan praline and double Dutch chocolate flavors from Randall's. After the music stopped, we had another ice cream social, topped off with witty, entertaining conversation and garnished as well with Pepper's always amusing antics. Based on the number and quantities of extra helpings consumed, I made good ice cream choices!
Later. The word so far from Fran's folks is that Mike's surgery yesterday was successful. Fran was on the phone this evening, a little while ago, talking with her mom. He's doing very well and is home, just very tired. He was sleeping.
I heard a book review this afternoon on the virtues of chastity. I became so passionately enthused with this idea that Frances and I wound up going to bed a little early, engaging there in some pleasant exercises, which, unfortunately, did not advance the author's cause.

7/4/00-Tues.-Independence Day. We got up about half past six. While I did a quick morning routine, Fran not only got herself ready to start the new solar cycle but also did a mountain of dishes.
We drove the 2-3 miles over to the Barnes and Noble shopping center and parked. Pepper was raring to go and would not hold still for her walking-leash, which, however, at length was fastened; and we set off. Frances had in mind a new (to me) way which, she said, always had deer.
We walked briskly past the Sunset Valley police headquarters trailer, on down a weedy dirt road along a tree line, and past a field, then beyond the trees, between them and another grassy field, with ridges. And there were the deer. First a group of five, including at least two bucks, their antlers growing in and as yet only a few inches long. Next, a doe and a fawn leaped out of a thicket, right next to us, and dashed off. Then, two more, who posed prettily for us, watching our steady, rapid march on past and out of their territory. Finally, we saw one more, which slowly walked out of sight into some brush.
Nearly back to a road, we saw a couple scissor tail flycatchers, the male quite vocal, as if urging us on.
Yesterday, returning in traffic, I saw another monk parakeet, over a busy bottleneck of big and little waiting vehicles, bestowing on us its low-flying benediction.
Fran and I dropped Pepper off back at the house, where she took up station, guarding our back yard from would-be intruders. Then we motored over to Kerbey Lane South for egg-and-pancake breakfasts. Mmm!
Nap time, soon after Pepper had gotten a fresh brushing.
Frances set off, about 12:30, for clarinet lessons she was teaching, even on this holiday, up in north Austin.
I went to a movie, "The Perfect Storm," a good film. But perhaps I am jaded. It did not do as much for me (or to me) as "Das Boot," by the same director, Wolfgang Petersen.
Reading Dashiell Hammett's The Glass Key and sipping coffee over at Souper!Salad.
Tonight, in the Austin heat (99° today), Frances is performing in the fireworks concert with the Austin Symphony.
She has a shot at a position in that organization, through auditions late this summer, and has begun practicing for them.
The dog and I should have a low-key evening at home.
Sunday, shopping at the H.E.B. pharmacy, I ran into the Golds, of whom I had dreamed, several months ago, that they'd fallen, arms clutching one another, off a high balcony to their deaths. So much for clairvoyance in dreams! They invited me over for coffee.
On the way home from the movie this afternoon, I had a rather existential notion. If the one, true, personal God is "dead," there is neither sin (against whom?) nor absolution from sin. We have only our own unreliable, highly subjective moral codes to give us an uncertain direction. And if we break those precepts, we've only ourselves to whom to turn for forgiveness.
We must come to terms with ourselves as imperfect beings in a far from ideal universe, from our small perspective anyway. Things simply are as they are, in process. There are not even any "perfect storms," much less supremely wrought and bestowed commandments for our day-to-day large and small decisions in this "best of all possible worlds."
Those, of whatever faith, who confess their "sins," to men (or women) who act as if they speak for a god, and who feel so redeemed thereby that they can go back to fresh new heights of immorality, are not merely fooling themselves but rationalizing away the knowledge of their all too barbaric behavior toward their fellow creatures, environments, etc. If there is a hell, we have fashioned it, here and now, out of our own thoughts, actions, and attitudes toward the essential reality, that which is.
Fran is now a self-taught internet programmer, able to make cute graphics and neat animations, to do trouble-shooting when there are problems with our PC, and to readily design and implement web pages of professional-level artistry and functionality. In addition to our original home page, created just 2-3 months ago, she has added three more, and has plans for yet another! One of her sites, which features essays and pictures on gardens, has begun to attract outside interest.
The meditation seemed very worthwhile today.
7/9/00-Sun.-Up today by half past seven.
Yesterday, I finished a short tribute, in memory of my cousin Stephanie, who died last month, for the next issue of The Wagnerian Express. I also picked out a couple pictures, that Fran will scan in and include with the memorial essay.
Sat. morning, Frances, Pepper, and I drove over early to Zilker Park. I took the mutt for our usual four-mile constitutional. She tried to chase each of the squirrels she saw. Fran gathered seeds and took pictures. She is now using many of her best photos in a beautiful, garden web-site she has created.
We are experiencing quite hot, dry conditions lately, with daily temperatures close to or above 100° F.
Today I'll mow the front, give Fran a massage, take her to see the new movie, "Chicken Run," complete my daily meditation, and get started on a change I need to make in how my 457 retirement plan assets are invested. About $150,000 is involved. It is now in a utilities fund. I expect I'll wind up transferring it to a plan through Charles Schwab, putting it all into Weitz Partners Value Fund, which likely will be just as safe but may perform better over the long run. I want, eventually, to have half of our investments in just five to ten assets, each carefully selected. This Weitz fund is one of them.
7/12/00-Wed.-Yesterday, at work, we had a "killer bees" scare. There was a swarm close to our cafeteria, in an area where several of us go walking for exercise on our breaks.
Yesterday too, I learned that a close acquaintance on the job is probably going to lose her husband soon to liver cancer. They were looking forward to retirement, starting in about a year. It's a sad thing! They are about my age, perhaps a couple years younger.
I am exhausted from last minute snafus in my usual attempt to get the casework in good shape prior to a vacation. No matter how well I am doing, something seems to always come up that prevents leaving with the work caught up. In this case, almost everything I touched today became a terribly complicated jumble that will take a long time to unravel.
Fran and Pepper had a great time this morning on their walk, spotting many deer at close quarters, including fawns and bucks. There was also a hawk.
There are now close to 1200 "hits" on the Wagnerian Home Page, thanks to all the neat links and additions Fran has been adding.

7/13/00-Thurs.-Up a little before six and off to work by seven, arriving a half-hour later. A fairly routine day on the job, with neither less nor more of the usual ration of frustrations and accomplishments. Am slowly whittling away at the stack of cases awaiting definitive actions.
In one of my consulting doctors' offices is a Paul Frederick Martin photography print, with a rather bleak view of a couple of the Grand Tetons. The caption reads: "'God bless Wyoming and keep it wild.' Helen Mettler, age 15. Last entry in her diary, 1925." I like both the image and the thought.

7/16/00-Sun.-Up about 8 AM, after getting to bed about 1:00 AM last night.
Friday night, Fran and I were joined at Tien Jin restaurant by Mom, Ron, Esther, and Jane. The food and conversation were good. We also had, at Mom's initiative, a pleasant little celebratory gesture for Esther's upcoming birthday, since Mom might not be seeing her again before the 27th, her actual birth anniversary.
Mom stayed over at our place Friday night. Yesterday, then, we got an early start in her (fortunately very modern and, unlike my vehicle, air-conditioned) van, en route to Houston and a leisurely weekend visit with Mary and Jim.
Neither Mom nor I, for some reason, got much sleep Friday night, but managed alright through Saturday despite this. In the afternoon Mary, Mom, and I went for various neat American Festival of the Arts student presentations at the Episcopal High School in Houston (which hosts their summer activities each year), including very impressive instrumental concerts and collaborations involving young composers (including Jim), choreographers and ballet troupes (or film directors), the AFA orchestra, which is superb, and the AFA faculty.
7/19/00-Wed.-Up about 6:45. Am still on vacation through the rest of the week.
If I can get my caseload down and stay caught up with misc. file actions needed over the next couple months, there's a good chance I shall be successful in achieving the stringent statistical parameters by which management governs our work and hence our lives. Success in that, in turn, more or less assures that I'll be able to stay on without further undue stress for the balance of the time I need to be there before retirement and its benefits can kick in.
This past week, I settled on our primary assets for our 401K and 457 plans and on our new health care plan. The latter needs to accommodate our needs after we retire (when we likely would be moving out of state).

7/20/00-Thurs.-Up a little before 7 AM. My brother, Ernie, and his son, William, are here for a visit, but due to head out before 9:00 this morning. Yesterday afternoon, they arrived from Galveston, where they'd been crabbing using only string, chicken wings, and a net. They'd gone to a place recommended for this purpose and caught fifteen of them in just forty-five minutes. Not bad.
William is somewhat hyperactive, with a short attention-span. This proved to be a trial for Fran and me during the visit. I was constantly on the lookout for things he had gotten into and might be damaging. But Fran took him under her wing, as she does with some of her impaired students, and held his interest for much of the evening by showing him her skeletons, skulls, and other collections, and then joining him in playing on the floor with his little toys. He is immature, acting about four or five years old instead of the nine or ten he actually is. She wound up feeling like a babysitter. We tried to keep him entertained and out of trouble by showing him videotape movies, ones he'd picked out, animations and others which most children would have found interesting. Unfortunately, he very quickly became bored with each one. I believe he started through and quickly tired of four of them before it was late enough that he could be put to bed. He has, perhaps, a "level 2" attention deficit hyperactivity disorder, not really mild, but not quite severe enough that he must use Ritalin.
All in all, though some of my conversations with Ernie were neat, it was a rather draining visit. While I believe at one time I would have made a good parent, and very much did want children of my own, and even to be a teacher around fifteen to twenty-five years ago, I have become something of an old fogey now and found myself impatient with William's so rapid switches in focus and activity. Yet ours was but a short experience. His parents have this arrangement for at least another decade, perhaps longer, unless later his physiology changes, as with puberty, or he is put on an appropriate long-term medication.
Last night we were relating memories of incidents related to the sea. Ernie reminded me of a time he and Pete had taken an inner-tube, a beer-and-fresh-fish cooler, a couple deep-sea fishing rod-and-reels, and an abundance of bleeding cut-fish bait, some of which was leaking its murky bloodiness into the waves around them, and had swum out beyond the farthest pier and jetty at Galveston, paddling themselves on until they figured they were far enough away to be successful with their fishing efforts, and then setting bait to hooks and casting, though they had neither boat nor anchor and were just floating way out there, each hanging onto the inner tube with one arm, while holding onto his rod-and-reel with the other, drifting about at the mercy of the prevailing currents, inviting brushes with hungry sharks, etc.
They'd been out for awhile, having no fishing success, but drinking and enjoying themselves with foolish innocence, when they had noticed a big commotion way back on the beach and then on the pier nearest them. A helicopter flew over. An ambulance appeared. A great mob of onlookers were all interested in something in their direction. And then a lifeguard, back on shore, tiny in the distance, leaped into the waves, with one of those small, inflatable buoys you see them pulling in "Baywatch," and began churning the water straight toward them.
"Do you think all that might be about us?" Ernie had asked, perhaps a little under the influence. "No," Pete replied, equally high from a few longnecks, "we're obviously not drowning!"
As it happened, though, they were the object of the rescue effort. The lifeguard eventually arrived and, after ascertaining that they were okay, just intentionally drifting far from shore while trailing blood in the water, explained that they lose about one person a week in that area during the summer, and that they do take the ordinance, about swimmers not going out beyond the pier, very seriously. Ernie and Pete said they knew nothing of the ordinance but were about ready to call it a day anyway, so they paddled on back, following the lifeguard, who received an enormous cheer and round of applause when they were close enough to the beach for he and our intrepid pair to wade in on foot.
Ironically, although our Wagner home page was originally set up as a vehicle for accessing "The Wagnerian Express" online, primarily for the use of my extended family, our site is now attracting more actual feedback from outside the Wagner network. Today, for instance, one reader wrote: "A wonderful web site indeed! Beautiful photography and informative script. Miriam and Mike" Yesterday, we received this: "What a fun, intelligent, interesting group of people you guys are! I enjoyed your website; and my male shepherd-Labrador mix, Boe, would like to pass on a 'Hello' to Pepper! Michelle" This kind of response is easy to take!
We have had our Wagner home page for only a little over three months. In addition to its monthly Wagnerian Express family-and-investment newsletter, Fran has been adding several interesting embellishments and links, with garden-related essays and photography, light-hearted focuses (in prose and pictures) on our dog, Pepper, drawings and graphics of Fran's creation, and so on. We also joined several appropriate internet rings. Recently, interest in the Wagner site has started to pick up, with at least a hundred "hits" a day, indicating that many outside our friends and family network have been checking things out. Very neat. But it was nothing to the thrill we received Monday (7/17) when we got an e-mail from a major internet company, complete with a cool graphic link we can add to our web site, indicating they had chosen us as their feature online location for the month. Wow! This company sifted through over 100,000 sites before selecting ours as their "best of the best" for the month. So, we are now enjoying the "fifteen minutes of fame" to which Andy Warhol said we are all entitled.
Austin, like much of the nation, from Arizona to Florida, is now suffering from a scorcher of a heat wave. For several days we have had 100° F high temperatures. It got up to 105° last Sunday. Throughout the South, people and crops are dying from the excessive temperatures. Plagues of locusts are menacing farm profits. Droughts are continuing. We are ready for a hurricane or two!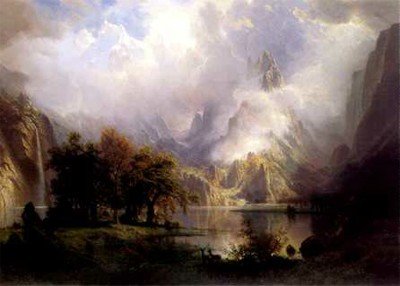 7/21/00-Fri.-Up about 7:15. This is my last vacation day except for the weekend. We went to Trudy's for breakfast and then to the post office and the bank. Frances did some watering of the parched yard and some digging around a big rock she wants to excavate (from under a big live-oak tree in the back), while I was getting ready for the meal outing.
While Mom, who is an amateur storyteller, was visiting us the other day, she related being pleased with the enthusiastic response when she was recently in Mexia for a storytelling event and wound up entertaining about a hundred twenty children, brought in by three nurseries, plus about twenty-five of the library staff and parents. The young people generally really liked her stories and let her know with applause, laughter, animated faces, answering where appropriate, etc. But she said one youngster, in particular, caught her attention. He just kept loudly repeating: "She's so ugly! Look how ugly she is! What an ugly old lady!" (Well, to me, Mom is a pretty good looking broad, for someone nearly 78 years old. But she does have a lot of wrinkles. I guess the child just hadn't seen many older folks!)
This afternoon, Fran and I went to see the movie, "Dinosaur," which, unfortunately, was a disappointment. Amazing that it got a four-star rating from "The Austin Statesman." It's probably a good children's film. We were hoping for not just reasonable depictions of how the creatures were supposed to have looked (which Fran, who has studied them, says was accomplished) but at least half-way realistic portrayals of their behaviors and interactions as well, not these silly, anthropomorphic renditions. In this we were greatly disappointed. It was, of course, essentially a Disney cartoon. So what did we expect? But the rave review from the paper had made it seem it would be more.

7/22/00-Sat.-Today we got up early and went walking. Pepper was quite pleased to see and chase two rabbits. It was already very hot and she quite thirsty by the time we were heading back to our car.
Later we went for lunch to Bombay Grill. We ran into Gene, one of Fran's teaching colleagues, at a nearby pet shop where we'd stopped to pick up a couple dried pig snouts. We had given Pepper one of these a long time ago, and she loved it.
While there we also took a moment to pet some African pigmy hedgehogs, terribly cute little creatures!
Fran and I are a little envious of folks who have had great luck or real savvy with investments or business. While at the restaurant, we overheard someone discussing how he now has ten successful eateries and is planning on building a hotel here in Austin.
Last night, at the Baltic Buzzards rehearsal, Matt and Glenda were relating how the property values in their run-down, sleazy neighborhood, having only relative proximity to the University of Texas campus going for it, have more than doubled in the last few years, the tiny old houses there now selling for at least $200,000.
Wednesday evening, Ernie, who had visited Alice and Ed recently in their Monte Sereno, CA, location, said the place they had bought there in 1994, for $1.2 million (a property I would not have paid more than $300,000 for in Central Texas), was now appraised at $3.1 million, with no end in sight for the ever rising real estate prices in that area.
Meanwhile, since we bought our southwest Austin house (and 1/3 acre lot) in 1986, its market price has gone from $89,500 to only $100,000.
This evening I watched a sad movie, rented from a video store, "The Spitfire Grill," a fine dramatic work, but you'd better have your handkerchief.

7/23/00-Sun.-Since it seems too awkward to keep labeling the type of paragraphs included here, i.e. "intensive journal," "meditation diary," "traditional," "free associative," and/or "dream log," I'll simply write out of whatever is the appropriate context. Just as our thoughts, sensations, judgments, actions, and feelings are not, naturally, categorized as they occur, so here the entries will stand alone.
Suffice to say that, as a minimum, I shall continue to meditate daily, normally for at least twenty-five minutes and in a variation on the "insight meditation" mode, and that frequently I'll also be employing "intensive journal," dream techniques, or other methods.
Hurt my back in some heavy sledgehammer and crowbar work this morning, helping Fran excavate a couple large, deeply buried rocks in our backyard. We were successful though in getting them out and relocated where desired for our landscaping.
We had a thunderstorm, with intense rain and high wind, this afternoon while I was giving Frances a massage.
Appreciating a history book my Uncle Randolph sent me. In today's reading there were several interesting pages on ancient India, giving insight into the almost lost origins of Indian culture's literature, art, caste system, and religion.
Images of a trotting donkey, of my Guru, of poor sections of New Delhi, of noisy, excited children, a snake-charmer, then of carnivals, bees, circus animals, sign-language "talking" mountain gorillas, African termite mounds, ostriches and their clutches of enormous eggs, dinosaur egg fossils, flying reptiles, classic dinosaur monster movies, "King Kong," Alice soaking up notions of esoterica and becoming a "psychic," thinking she can call up storms, make millions of dollars with just her thoughts (and good vibes) of wealth...
Pepper, carrying toys up to us, to entice us to play, which we find too cute and charming to resist.
Images of Jungian therapy with Harry and Courtney, of atomic and hydrogen bomb blasts, World War Three, Jewish victims of the Holocaust, The Time Machine, "The Lost World," hot, red or incandescent, yellow lava flows rushing to the sea, geysers, water deposits on the moon, Mars, great storms with hail, spectacular crashes: trains, planes, trucks, buses, cars full of people, sinking ships.

7/24/00-Mon-Memories, Dreams, and Reflections, Carl Jung's autobiographical work, emphasizes the positive by dwelling on the inner world and counting it as of greater importance than the outer reality. In this he is mirroring the wisdom of the East. One must strike a balance, though, and always keep one's feet, level-headedly, firmly on the ground.
Petting the dog. Her cute mannerisms. Part of the pack. Somehow, no matter what goes wrong with the human primate tribe, the canine family comes through, at least so long as I remain her "Alpha Male."
"NYPD Blue." Interrogations. Interviews. Sometimes violent means. Bending of the rules. Quiet rage. Extreme sadness. Eating your gun. Intrusions. I understand, but do not condone, the righteous unleashing of Shiva, the Destroyer. Such release! Better, for a moment, than the best of sex. World War II documentaries.

7/25/00-Tues.-Have noticed a number of coincidences, with things mentioned in poems (and other writings), for instance, occurring, or being referred to, in, "real life," within the next day or so. By way of example, I made a poetry reference to "mountains of the moon," which phrase was then repeated the next time I heard a newscast. It is tempting, if egocentric, to ascribe such to "precognitive" or "clairvoyant" sensitivities. It seems, however, far more likely that the brain simply is conditioned to pick out and emphasize anything meaningful (such as repetition), relative to the vast amount of information it receives that is fairly meaningless and of no personal consequence to us.
Carl Jung's writings on synchronicity seem pertinent. It may be that there really is a slightly increased likelihood for something to come up in our outer world consensus reality after we have noticed or expressed it from the private, inner realms. But, if so, it must reflect something fundamental about the nature of existence and our moment-to-moment perception of it, of the interplay between the two, rather than some special, magical faculty we possess that others do not.
Rushing along upon a great, black stream in flood, a most exhilarating ride while it lasts. My body, in contrast, feels great fatigue. Am barely able to keep awake.
7/26/00-Wed.-A routine workday. Rested for about twenty minutes once home again, dozing off a bit. Dreaming of rafting, with Pepper and one or two others, down a torrential stream.
Eating leftover Chinese food for supper, while watching the "Nightly Business Report."
During his visit a week ago, Ernie said Tess and Chris have hinted recently that Horace and Leila and the rest of their family will be selling their place in Woodway as soon as they can get a good price for it, possibly as early as this fall, and then may be moving to Colorado where Horace is expecting to start a new brokerage business, possibly selling the one he has here, or perhaps commuting back and forth for awhile, to manage his clients' interests in both locations.
Meanwhile, Ernie and his family are anticipating moving from Plano, TX, to North Carolina, within the next year, possibly as early as this fall.
Such changes, if they occur, will be dramatic for our extended family, shifting the majority of us from in-state to out-of-state for the first time since our folks retired to Austin in 1960. Particularly left high and dry by this exodus would be my mom, who, in the last decade or so, has come to rely on both of these likely departing families, more than any others, for vital interactions with many beloved grandchildren, plus help with big and little jobs around her place, as well as the families serving as crucial safety nets, ones she could rely on if anything significant were to occur in her health, whether for something as simple as driving her to and from day-surgery on her hand, as Chris did a few weeks ago, to being there almost at once if she should break a hip, have a heart attack or stroke, and so forth.
While she is aware of Ernie's likely upcoming move, I do not believe Mom yet has an inkling of Horace's intentions. Yet the latter would be potentially the more devastating for her. She has through the years since Dad's death remained in that area (till she is now nearly 78 and quite possibly beyond any further major moves herself) primarily because of Horace and his family's proximity.

7/27/00-Esther's birthday. Since she's living with her mom, who's divorced from my brother, Ron, and we were not invited to the party, we just sent her a card with a Barnes and Noble gift certificate. She loves music CDs and books. She is 13, going on 18, and very much into the boys, who would probably, of course, enjoy getting into her as well, if they are not already. Young folks grow up quickly these days.
They sometimes grew up quickly in "my day" as well. When both I and my girlfriend, Patricia, in Oneida, NY, were thirteen, I took her to movies but was too shy to do more than hold her hand and kiss her cheek. Yet, six months later, she was pregnant and getting married because she "had to," no doubt to someone without my inhibitions!
One of my unit colleagues, two or three years younger than I, collapsed at work today and was taken to Seton Hospital, where it was found he has kidney failure and will, almost certainly, have to undergo dialysis several times a week for the rest of his life.
In the history book gift from my uncle, I'm now reading about Taoism in ancient China. As described, I find much attractive in this philosophy, though it seems to tell us little of how to deal with the modern day-to-day challenges of ordinary life.
7/28/00-Fri.-Dreaming last night of looking into my nose. Each nostril was very large, like a long, dark cave, but with few hairs. Instead, there were huge, fleshy stalactites and stalagmites. I understood that these growths were normal for someone as old as I was then!
On the radio today there was talk, in connection with a new music CD, of all things, of communication with divinity. I like this concept, so long as the idea is direct communion with whatever is one's concept of God, completely free of our cultural baggage and dogmas. While various historical greats can be cited, Guatama Buddha, Jesus, Mohammed, Francis of Assissi, and Mother Teresa, to name a few, I find at least as admirable and compelling the tens or even hundreds of thousands of private individuals who went off by themselves for several years or decades and, in quiet and isolation, came to their own, personal understandings of and interactions with the divine in each of us.