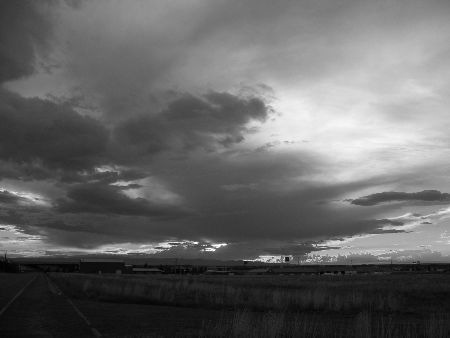 5/6/11-Fri.-Drove up to Waco today for a 2-3 day visit with my mom in commemoration of Mother's Day Weekend. Our time together has been going well. I gave her a bunch of society garlic perennials and so far have planted about a third of them. I likely would be a lot closer to finishing except that Mom also had several weeds or dead plants she wanted removed.
Am enjoying a new bargain book, on John Templeton's approaches to value investing.

5/9/11-Mon.-Had a flat on my way home from Mom's yesterday, then had to drive on the "donut" for about 60 miles at 50 MPH in heavy, fast traffic. No fun. This morning, I took the car in to Discount Tires. The tire had a strip of sidewall damaged and was not repairable. Bought two new tires (and all the extras) plus a new wheel, so one of the old tires will go on it as the full-size spare in lieu of the "donut," which I'll also keep and take with me on the upcoming trip in a couple weeks, to NM and CO. Total comes to almost $300.
Gained a little weight over the weekend. Sigh.
Things feeling rather hectic just now. Much to do before I leave on 5/20.
Later. The car now veers to the right after the new tires were put on. Typical bother. Will try to adjust it back to true with better balance of tires' air pressure. As usual, the tire folks put air in the tires to suit themselves, with little rhyme or reason. Chances are, they did the same with wheel balancing, despite hefty charges for all that. Hard not to be cynical.

5/22/11-Sun.-On the road again. Vacationing in hopefully cooler areas.
It seems we scraped by again and somehow survived the end of days and "Rapture," most recently predicted for yesterday.
Allen, Nina, their kids, and I had a good visit in White Settlement and Fort Worth this weekend. This time together was just about the right length. Our mutual graciousness was wearing a bit thin by this morning.
Am now heading for Amarillo, for a motel stay tonight, before likely driving on to NM tomorrow, then CO about a week later.
Later. Have stopped for a break in Childress, TX, about a two-hour drive from Amarillo. Tired, achy, and also frustrated with my car. It still veers to the right unless I keep pulling the steering wheel to the left.
Charlotte Joko Beck says, and I agree, that our only problems are: 1. we think we have problems; 2. we actually prefer negatively reacting to the way things are, instead of just dealing with or adapting to them; 3. out of lifetime habit, we tend to take a position concerning and to dramatize most everything that happens; 4. we prefer dysfunctional thoughts, fantasies, or emotions to merely dealing with reality as it arises.
Yet an alternative way of being exists, to merely observe and experience life, being present to it, moment by moment, while it is occurring. This can be more rewarding than any other option.
Ruts are easily fallen into. It requires added awareness and energy to get ourselves out of them again and again. Nobody stays out of them all the time.
Charlotte J. Beck teaches that in the end the meditator may be grateful for the problems, for what they teach us. I am not there yet!
Staying for awhile with my brother and his family, it is clear to see their problematic ways of coping with life. And in a spoiled six-year-old they are glaringly obvious. A more insightful outlook reveals with equal clarity one's own dysfunctional attitudes and behaviors!
You could say our only problem is our insistence that life be different than as it is.
Still later (close to 8 PM). Never found a convenient stopping place in Amarillo. Headed on west. Got a supper snack in Vega, on I-40 and around 30 miles farther toward the NM border.
Saw a dust devil this afternoon and lots of signs warning of "extreme fire danger."
10 PM. I checked into a Motel 6 an hour ago and paid $3.00 for wifi. Had some troubles with it at first.

5/23/11-Mon.-Drove on into NM yesterday evening. Stayed in Tucumcari. Heading for Taos today.
Am enjoying seeing and hearing all sorts of new birds, not familiar in Austin. Among these are some yellow-breasted swallows building nests in the stairwell outside my room door.
Also notice a little shortness of breath here, at our currently higher elevation.
Am beginning a list of meaningful maxims from Charlotte Joko Beck's Nothing Special - Living Zen.
Mountain Time prevails here.
Used the digital notebook Fran got us in 2010, last night checking and sending a couple e-mails. Even made moves in my chess games. Also looked at photos taken in Fort Worth, for this using Fran's original laptop.
The stock market is down. May see tonight if I can use the notebook to buy some additional stock.
Mid-afternoon. Have seen my first snow of this vacation. It is sunny and mountainous here. Temperatures on the road (#518 to Taos from Las Vegas, NM) are about 20 degrees lower than in Austin. Nonetheless, there is very little snow, and the conditions in this area are the warmest and driest I have experienced them. Chances are, I shall head for Rocky Mtn. Nat'l Park (RMNP) before much longer. If it proves disappointing as well, later maybe I shall stay home in the summers and just take lots of cold baths and showers (smile).

5/24/11-Tues.-Am at least getting caught up on my backlog of proxies. Thunderstorms, brisk wind, and temperatures in the 40s today in Taos. Temperature 32° in Taos tonight. Snow on surrounding mountains, but too wet to go up there today. Did take some landscape photos. Also did my meditation. Did exercise in the room and transferred pictures to the laptop.
Stopped at Burger King for a sandwich. The men's room here is only accessible with a password. The register clerk is busy with both drive-through and regular inside customers, so men are locked out, though the women's is open. I just saw a teenage boy go into the women's room. About two minutes later a woman went in. The boy rushed out. Lots of high school kids hang out here. My guess is there were fights, shakedowns, or other problems in the gentlemen's room before.

5/26/11-Thurs.-Paraphrase of a line from a recent Nicholas Cage movie: "It's about who you love, not who loves you." Philosophy of an optimist.
There are two basic ways of orienting oneself to life: reality or fantasy. We can but face facts or avoid them.
Chances are we shall do some of each, but maybe we can gradually do more of the former. That way lies hope, the other, despair.
From the ego's point of view, there may be no hope in the way things actually are. Its only recourse seems to be an endless round of escapism, neurosis or psychosis.
Yet if there is more to us than the "I." Perhaps the courage and motivation may be found for dealing with things squarely. Might as well.
For this, a useful tool is to stay in the moment.

5/27/11-Fri.-Am leaving Pueblo, CO, this morning and heading for Boulder or Estes Park.
The negative feeling we experience is inevitable, because we are fundamentally unrealistic. That negativity is a measure of the discrepancy between the way things are and the template into which we insist on making them fit.
We can become more reasonable in our expectations by experiencing reality one bit at a time. Joy is available to us. To know it, we must set no boundaries upon what we accept into our awareness.

5/29/11-Sun.-To enjoy life, set the bar low. This is working well on my vacation so far.