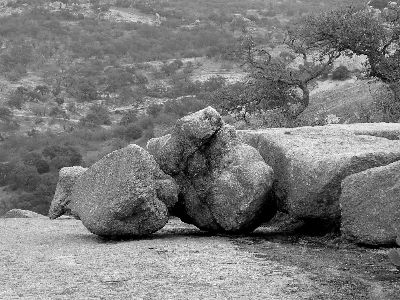 6/1/11-Wed.-Three full days remain for my time here. Up early today, and called my male sponsor, Stephen, who had suggested 8 AM (7 AM, my time) as a good hour to call for my weekly check-in during this trip. It turned out not to be a good time after all, so he expects to return my call this evening. Since I was up and dressed already, I finished getting ready, had my continental breakfast, and drove over to RMNP to begin the day's trail walking, starting in the Bear Lake hiking area first.

6/3/11-Fri.-Yesterday I went into RMNP by the Fall River Entrance and soon found myself at a beaver meadow in which there were both elk and bighorn sheep. I took lots of photos. Later, I hiked up to the summit of Deer Mountain. There were many great views. More pictures were taken.
Today is my last full day here in either Estes Park or the RMNP area for this trip. The plan tomorrow morning is to head east on U.S. 34 toward I-25, stopping at times for photos of the Big Thompson River. Between Estes Park and I-25, it roughly parallels Hwy. 34 for several miles.

6/4/11-Sat.-Slept well last night. Yesterday, began doing meditation for 2-3 hours a day, intending to continue this regimen the balance of the trip. Had good luck in RMNP, capping my vacation time there with a moose sighting at Sprague Lake plus elk and bighorn sheep sightings at one of the beaver meadows. Last night, after transferring my pictures to the laptop, responding to e-mails, doing my laundry, and recharging everything that needed it, I packed up.
Stopped for my free continental breakfast this morning, finished getting ready, loaded the car, checked out, and was on my way.
Later. Stopped for lunch in Colorado Springs. Am making good time. The service is quick and the prices low at McDonalds.
I had forgotten till a few minutes ago, but I believe, back in the days Fran and I used to go on camping trips together, we had stayed briefly before in the San Isabel National Forest, my next major attraction on this vacation. If it is the same, the next couple or three days are liable to be quite cool. My memories of that area are great, with the exception of too many mosquitoes. May need to pick up some insecticide.
A question to be resolved is where to stay and how much to spend if I stay more than one night. (Tonight I shall be in Pueblo, but it is at least a 45 minute drive from most that is appealing in the national forest. Otherwise, there are only tiny communities around there, unlikely to have reasonably priced lodging, and I am not prepared to stay in a tent.)
I paid my 7-night motel balance (for lodging in Estes Park) this morning. The total was even a bit less than anticipated, working out, with tax, to only $59 a night for a king size bed room with inside and outside entrances, bathtub, microwave, lavish free breakfast, big TV, 'fridge, and wifi, all looking quite new. The laundry service was cheaper and more efficient than in Austin.
Still later. Checked in and got my stuff into a room at Motel 6 in Pueblo about mid-afternoon. Will probably be here two nights.
I got a nice room (and quite cool despite warm weather outside) at a reasonable rate.
An online check of Rye, CO, recommended by my male sponsor, shows temperatures (despite about a 6500 foot elevation) in mid- to upper-80s during the day, but in the 50s at night, with light breezes.
Higher elevations in the nearby mountains are forecast to be from the 30s to the 70s, which sounds more like it. I wonder how far I would need to drive to reach those levels.
A weather check for San Isabel, which Stephen had also mentioned and is 10-20 miles farther west, shows current and forecast temperatures about the same as for Rye. (Interestingly, its forecast high for today was 76°F, but its actual current temperature is 82°F.)
Overall, then, it seems that, within a reasonable driving distance of Pueblo, it is hotter than I would enjoy. However, maybe I shall be surprised when I go there tomorrow. If so, I'll plan to stay around this area at least another couple days. If not, I shall depart toward Austin by Monday morning.
The most likely hiking prospects in normal driving distance of Pueblo would seem to be around Lake Isabel, so I plan to check it out first.
Lake Isabel's weather seems more what I had in mind: from lows in the high 30s to highs up to 60°F, yet the average high and low forecast for the next 3 days are 54 and 41, respectively. Alright! Lake Isabel appears, on the map, to be on route #165 between Rye and San Isabel. This seems intriguing! There is also a chance of thunderstorms each of those days. Cool.
So, based on what I know now, I shall probably extend my stay at Motel 6 and commute for various scenic driving, photography, and hiking options at or near Lake Isabel. (25 miles south from Pueblo to exit #74 off I-25, then 18 miles on #165 to Lake Isabel's south entrance. Go .1 miles. Look for parking area. Day use fee: $5. Three unpaved hikes available plus a paved trail [around the lake] under supervision of the national forest service.)

6/5/11-Sun.-My fellow roomers at Pueblo's Motel 6 were for the most part a quite rowdy, partying bunch last night, yelling, screaming, and running about till after 3 AM. I assume many of them were recent high school graduates. In any case, they were in a most inebriated, celebratory, fecund, yet self-absorbed mood.
Got underway today about mid-morning, heading, as forecast yesterday, toward Rye and Lake Isabel, CO, for most of the daylight hours.
Hope this evening to talk with my female Alanon sponsor.
The predicted high in Pueblo today is 97°F, this despite it being at about 4600 feet elevation above sea level. The cooler mercury at higher Lake Isabel will be most welcome.
Later. Arrived, after about an hour on the road, at the Lake Isabel Recreational Area, and paid my $5 day use fee. At first blush, this park is more crowded, open, sunny, warm, and distant from really mountainous and cool areas than I had hoped. I shall take a long hike and check things out, but if they are as they appear initially, I shall be on my way back toward Austin tomorrow morning. (It is warm enough here that the car AC feels appropriate. This may just be a freak heat wave, but it is discouraging.)
Still later. Within five minutes of my stopping at a relatively secluded (but still too bright for my taste) picnic area, I was sweating in the heat, and at least fourteen other people had joined me in this "retreat," including several kids. Things were promptly as raucous as last night at Motel 6. It seems that folks who like the area, this time of year, must have a much greater tolerance than I for sun, crowds, noise, and heat. Well, at least it is another good opportunity for meditation work! I am reminded, though, of a scene in Brave New World, in which the protagonist, hoping to be left alone, is unable to find a place free of the insensitive masses.
While I was disappointed with the Lake Isabel experience, I made up for it by completing and sending off to my sponsors a synopsis of thoughts (from this vacation) about Alanon, as I see it now after close to two years in the program.

6/6/11-Mon.-Have stopped at a rest area just north of Trinidad, CO. May stay here a little while. Just fell asleep while driving over 70 MPH, startled awake when I veered to the right as the tires hit those safety grooves at the edge of the shoulder. A bit of planned shut-eye seems in order. Expect to just go to Amarillo today, roughly another 4-5 hours of driving (if I remain awake). Then shall stop mid-way between there and Austin tomorrow evening, getting home on Wednesday.
Later. Have stopped in Clayton. Made it to Raton, NM, about 1:30, then entered TX again around 3:30, which soon became 4:30 local time. This eatery where I'm taking a break, the Clayton Dairy Queen, has a bizarre way of serving your food, and they assume you know about it, which I did not. You get your drink cup right away and serve yourself. Then they take your non-dairy items to your table. Frozen food items must be separately ordered (again) and picked up at a dairy counter. Warning: if they are crowded, the rest of your food may get cold or be stolen while you wait in the new line to get your dessert item(s). Of course, the French fries were cold and the coffee old, so it may not have made much difference. (I was not impressed.)
Still later. Got a nice room ($45+ tax), one with wifi, microwave, and continental breakfast, in Canyon, TX (Buffalo Inn), hauling my stuff for the night into the room by 7:30.
Went out for Thai food.
Answered some e-mails.
Saw 14 pronghorn antelope between Raton and Clayton.
Hot all the way today.
The Thai food was delicious at "Best Thai" restaurant.

6/7/11-Tues.-Have stopped for lunch at a McDonalds, somewhere between Lubbock and Abilene, my destination today. Had a rest stop break again this morning for a nap. About half an hour of slumber makes a great difference in my resistance to falling asleep at the wheel. Coffee, however, seems to do little good. It might almost be a sleeping potion!
A few hours ago, went through a little dust storm near Happy, TX, hometown of my first college "love."
Later I passed a ranch that had about fifty visible (besides any not noticeable from the highway) little burros. I don't know if they were donkeys, asses, mules, or what, but they were tiny, hardly bigger than big dogs, and quite cute. Saw no people or other animals around.
At another ranch, there were multiple cows with young calves.
Heard an interesting program this morning on High Plains Public Radio, about prairie chickens and their mating rituals, using "leks," places where they stomp and strut their stuff and make highly resonant musical noises from special neck sacks, returning often to the same such places year after year.
I got lost in Lubbock, but the delay was only about ten minutes.
Later. Despite my rest stop nap, I kept almost dozing off this afternoon. The last couple hours of driving till I safely reached Abilene were quite an ordeal.
I took another nap, then, in the early evening. Completed my meditation. Took a bath. Answered an e-mail from Mom and wrote one to Fran. Did my exercise. Also fixed and ate a little supper. Watched TV.

6/8/11-Wed.-Have stopped for a break, about an hour and a half's further driving away from home in Austin. No problems with fatigue on the road today. It is warm (90s or 100s) and sunny, par for the course here till around mid-October. An uneventful last leg of my trip so far today, the way I prefer it. It will be good to be home.