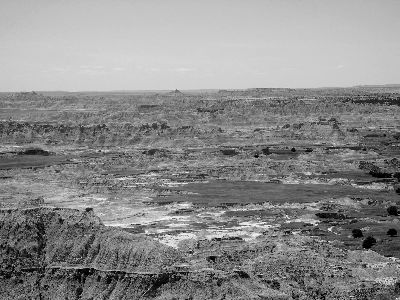 8/1/07-Wed.-Odometer reading as the day began: 53,491. Am determined to reach Salt Lake City by this evening, a good distance, but am already (at 12:30 PM) running with my battery on empty, sleep-wise, so have pulled into a rest stop. Will try to get at least a few minutes' rest.
Have stopped in Wells, NV, for the night. Was just too bushed to continue on to Salt Lake City. Was falling asleep at the wheel and having cramps and back pain. Including tax, my motel room rate is only $42, far better than the $97 charge I was being quoted last night in Fernley. It is hard to figure out how these various room amounts are calculated. The dubious area attractions (desert mountains, salty water, a stream running through, and gambling) seem to be in both places. Of course, it's a no brainer why the Pacific coast charges are generally so much higher.
The news has just appeared about a major I-35 rush hour bridge collapse over the Mississippi in Minneapolis. The pictures make it appear as bad as if there had been an earthquake or a terrorist attack. I have never liked going over bridges. Who will catch you if it falls out from under while you are crossing? Of course, the odds of dying from such a collapse are extremely remote. I have taken a bridge across the Mississippi several times in Minneapolis, as Fran and I have gone to and from visiting her sister and brother-in-law in WI.

8/2/07-Thurs.-Odometer reading as I start out today: 53,670. I left Wells about 10 AM and now (at 11:45) am having lunch in Wendover. Am hoping to reach Rock Springs, WY, today. Reading The Path of Insight Meditation, by Joseph Goldstein and Jack Kornfield.
Yesterday, the temperatures during the day in northern NV were about 100°F or so. But they cooled down quickly that evening and night. It felt good swimming in the heated pool at the motel. Afterward, I even briefly had the heat on in my room.
3:00 PM-(Note: Have lost an hour and am back on Mountain Time)-Arrived at the Great Salt Lake. Have now driven over 1000 miles of the homeward journey.
6:25 PM-Despite more construction delays, have checked into a cheaper motel, this time in Evanston, WY. I am a little over 100 miles ahead of schedule for my return trip. If in the next few days I can get another couple hundred more miles ahead, I can shorten the trip and save the cost of one more night in a motel. Hope to reach Laramie, WY, by tomorrow evening.
8:30 PM-For my evening walk, I went on a neat (Bear River) hiking trail, complete with bird, otter, and beaver areas. But a storm was hurtling in. With the intense wind, I saw only a few birds before being caught in the cloudburst. I hurried back to the car, yet it still was a quite pleasant break from my usual traveling routines.
12:15 PM-Have stopped in Rock Springs, WY, for a coffee break. The scenery on the way here this AM has been awesome, but I was so tired and/or the rain was so discouraging that I just drove on, not taking the many photos I could imagine snapping. Nonetheless, the drive was much more interesting thanks to many neat canyon, butte, or other features. Next stop is Rawlins, about 120-130 more miles down the road.
2:50 PM-Oops! It turned out the desired Rawlins exit was masked and confusing by the latest several-miles-long stretch of road construction with which have had to contend. So have stopped a few miles later at a rest stop instead. My target for the day, Laramie, is now about 95 miles away. As has often not been the case this trip, but one would certainly wish for more northerly routes out and back, today there have been refreshingly cool temperatures, strong winds, and intermittent storms, making for more pleasant traveling.
7:15 PM-Right after my last entry, I was caught in the first of four major thunderstorms, two of which also included hail and high winds, that made driving the interstate extremely hazardous. After these adventures, I checked into a motel in Laramie, WY, soon afterward had a good chat with Frances, and now am winding down before a badly needed nap.
I'm several thousand feet higher than I had been on the Pacific coast. Awhile back this afternoon, I crossed a 7000 foot elevation Continental Divide. And I have not gone down much since then. While this is far less elevation than I have (even) hiked and camped at before, it seems I am not yet acclimated, for I have, as also occurred in 2005, when Fran and I were in southwest CO, been having some shortness of breath. Of course, it could be asthma, but I doubt it in this case.
This trip has once again exposed to full awareness an almost unbearable sense of loneliness, insignificance, loss, and emptiness. At times if feels that my whole life has been a failure. And at times I project and think Fran is the reason I'm depressed. Intellectually, I know it is not as simple as that. Emotionally, there is, in any case, apart from fantasies about how it might have been otherwise, just the deep sadness of or grieving for a life that is inevitably coming to an end without much solace from the usual joys and entertainments.

8/4/07-Sat.-My moroseness of yesterday eve is over this morning. Feelings are so unreliable and fickle! I love my wife. And I am pleased and proud that she chose to be with me and somehow finds me a person she continues to want to love and spend time with. No, she is not a traditional, conventional spouse and is an iconoclast. Hooray for her! One has only to spend a few minutes with her, open to who she is, rather than resisting and wanting her to be somebody else, to realize she is a delight. I hope we have lots of laughs left in us to share before death do us part.
12:10 PM-Have stopped for lunch in Cheyenne, WY, and am now on I-25, heading south, not far from CO. Odometer reading when started out in Laramie this AM: 54,267. Target for today's drive is Trinidad, CO. I have about 290 miles to go.
During my meal, for some reason I remembered a time before I had even considered or knew much at all about meditation, a period when I was living in Austin, before graduating from college, and had just visited the abode of someone living in a houseboat, on Lake Austin or Lake Travis. I was working in some routine job that gave me social interaction and plenty of extra hours to just think and dream about stuff. I recall thinking that this might be all I would need to be content: doing my work; living off by myself on a houseboat; enjoying the water, sunrises or sunsets, storms, nature in general; reading good books; doing the few things needed in the way of daily chores; and perhaps hiking, swimming, canoeing, or visiting with friends occasionally. It was, of course, an idealistic notion, but it is interesting to remember a time when my yearnings were that simple and easy to fulfill. Of course, I later felt the need to get away from the city where my folks lived and to have some adventures. So I set off for San Francisco instead of taking full advantage of what was already available and quite possibly sufficient, right where I was.
It would be nice to think that until a little after that time, when I simply wanted to live in a houseboat, my life was free of dramatic, stressful dramas. Then I could enjoy the prospect of getting beyond an abnormal, traumatic period and back to the peaceful, low-key, if unadventurous core of my essential self for the rest of my days. But the truth is there have always been dramas. The brief period of thinking how nice it would be to live on the lake was atypical.
It remains correct, however, that some of the best times have been when, by one means or another, I was able to suspend intense yearning for this or that, or regret over that or this, and just appreciate what was going on in and around me.
4:50 PM-On the public radio this afternoon there was discussion of a documentary film called "...[something] Bunch of Dodos," about several advocates of intelligent design, a number of arrogant, elite, intellectual atheists, and one fairly eloquent and sympathetic advocate of an open, wondering approach to the mysteries of creation and existence. Conclusions drawn from the film by the interviewer and the director himself included that: the atheists are their own worst spokespeople, and their smug, superior, and "rising above" attitudes toward others who do not automatically agree with them turned everybody else off (as, indeed, arrogating superiority or rising above views almost always do); and humble curiosity about the nature of things (without doctrinaire conclusions in advance), as expressed by one eloquent lady, was perceived by audiences to be the truly winning position, even if they fell into the atheistic or intelligent design camp before seeing the movie. Though she came from another background, her description of Buddhism as one option for a philosophy of life seemed to encompass the best synthesis of both the scientific facts and one's experienced or inner realities.
I've stopped for a break in Pueblo. If all goes well, have about another hour and a half of driving today.
8:40 PM-Have had difficulty getting a motel tonight. Arrived in Trinidad, CO, about 6:30. But every available motel room there and in the next town south was taken. I drove on into NM and stopped next at several motels there as well, at two exits, with the same result. I finally found a room at a privately owned (not a chain) motel. All things considered the $55 plus tax rate seemed comparatively reasonable. And now I am a little closer to tomorrow's trip destination. After getting checked in and unloading the car, I stopped at a nearby restaurant for my first Mexican food meal of this vacation. The drive to Amarillo tomorrow is mostly on secondary roads and should be for about 225 miles.
11:45 PM-There is an intense succession of thunderstorms here tonight.

8/5/07-Sun.-Getting underway about 10 AM. Odometer reading: 54,638. The storms here have passed. It is hot under an almost completely clear sky this morning.
12:00 PM-It has taken till now, two hours later, to get from Raton to Clayton, NM, a distance of about 75 miles, via secondary, mainly two-lane roads with lots of construction and reduced speed sections. The drama this morning included spectacular landscapes, in the vicinity of Volcano National Monument, amid vast open spaces.
But it included as well my second instance this vacation of having dangerously misjudged how much gasoline I would need to get to the next little community with operating gas pumps, or simply having forgotten to get more fuel before leaving a larger city. I thought it likely I was going to be home free when I saw a mileage sign showing a tiny place coming up, about half the distance to Clayton. But when I got there, the single service station was closed.
Earlier on this trip I had been congratulating myself on having brought everything I could possibly need (and then some). But now, a bit later, I realized I should also have brought a gasoline safety can filled with a couple gallons of extra fuel for such near emergencies. As it turned out, this time I was again lucky. In an area where neighbors are easily 5-10 miles from each other, there was, happily, a small town 9 more miles down the road that did have (too expensive but available!) gasoline.
When I got here to Clayton, I discovered that Dairy Queen was its one significant eatery. Scores of others, amazing to see in such vast emptiness, had evidently learned this before me. Nonetheless, a half-hour later I had been served, had finished my first food of the day, and was ready to hit the road again, on toward Amarillo. My breathing is still not back to normal. The elevation is as yet between 6000-7000 feet.
3:20 PM (have now gotten back to TX and Central Time)-Am in Dumas. I stopped for a break at a Burger King and asked if it were Mountain or Central Time here. The staff mostly did not know. So I asked what time it was. My watch still said 2:20. My first question was still making the rounds, though, but after a little while it was answered by one person there who knew the difference. I guess this situation is equivalent to that of the person who has trouble remembering his or her own phone number. After all, one seldom needs to call it. And why know what time zone one's in if never outside it or communicating with someone who is?
Learned something interesting about blood thinning vs. coagulants today, from the radio: Chocolate, Vitamin E, Omega 3, Ginger, Aspirin, Ibuprofen, and Almonds all are blood thinners, and can have synergistic effects. Ground black pepper and ground cayenne pepper have coagulating effects and can be beneficially sprinkled on a cut or laceration to facilitate clotting. (Black pepper does not sting if used this way, but the reporter did not know if it would hurt to use cayenne pepper.)
I plan to call or e-mail Frances with my new motel room number again this evening, after checking in and getting settled. I am very grateful to Fran throughout this trip for calling me and chatting about every other night, making the vacation far less isolated and lonely than otherwise. It also allows me to stay up-to-date on what's been going on with her. It would cost far more if I were to have such nice, long conversations regularly only if I had called her, plus I might not know if my calls were compatible with her schedule. Even so, the difference in our time zones has occasionally been a nuisance, as when, on the west coast, I would be "up" and ready to do something neat for the evening now that my day's trip had been completed, but Fran would be winding down, tired, and ready to soon head for bed.
11:45 PM-Had a nice chat with Fran, though we see a few things differently. Have been feeling really depressed. It's too easy at such times to feel it is because of some other person or circumstance. It is amazing what we will do or believe, or how we will rationalize, to avoid pain. But sometimes the pain is just there. All my life I have been reacting to shadows or making even major decisions to lessen or get away from that persistent or recurrent pain. The one thing I have not tried is really, deeply going into the pain. Heck. It might turn out to be less expensive, and even easier, just to get to know the pain intimately. What's the worst that can happen? It might be extra, extra painful. Ha! But, on the upside, there might be some reduction in over-reactive attitudes and actions. And an openness to pain might facilitate an openness to joy.

8/6/07-Mon.-Various habits can limit situational sadness, for instance eating well, getting plenty of rest, staying productively engaged, assuring good physical condition, playing with pet(s), social interaction and companionship, having interesting hobbies, etc. What one ought not do is take special steps not to feel negative emotions, because shutting them down also shuts down the capacity for feeling positively. Nor should one deliberately seek painful circumstances. There are enough of these without looking for more! I can simply be aware of and open to the feelings, positive and negative, that naturally arise, moment to moment, without resisting or trying to avoid either and without seeking solutions through various changing the deck chairs shallow alterations in one's environment while the ship is actually still in profound difficulties. Finally, there need be no further diversions, distractions, or delays in dealing with one's demons. Sometimes, one may tend to put this off till the setting is ideal. Ultimately, this is merely another way of not doing what has to be done. This very moment is the only one we have and can be used for increasing both consciousness and the full emotional spectrum. Though it contains the seeds of sadness, who would not want to fall in love?
This trip I am now completing may make little or no sense to Fran or others, but, besides the proof I can have rewarding vacations even if she chooses not to join me in longer trips, it has had effects similar to those of a meditation retreat.*
Other options for difficult situations at home:
Use DEET and suntan lotion, besides usual measures, to control problems from mosquitoes.

Use meditation room with door closed and dog left out if Fran wants to delay her naps and go on field trips, etc., in afternoon, when I am ready for a snooze.

Use special pad (now under a pile of blankets) for some of meditating.

Fix Puff's chair up with fluffy extra blankets to make her feel better about not sleeping in my place, now that I'll be back there.

In or out of the home, avoid raising self up or putting self forward.
There is a misconception about sadness, that it is abnormal. What is not healthy is avoiding real feelings or obsessively dwelling on negative emotions and circumstances. Simply feeling them as they arise is genuine and positive, even if they are very painful. It is also a natural response to the realities of this existence, which include loss, insecurity, loneliness, and death, for us and for every other being that can experience its fate.
As I started out from Amarillo this AM, the odometer reading was 54,860.
*Of course, if interested in a meditation retreat, there may be less costly and energy intensive ways of having one than going by myself on a month or more trip.
2:35 PM-Have stopped in Vernon, TX, for a leisurely lunch before going on to Wichita Falls for the night. Had first thought I would get a room here, but made better time than I expected, and may as well make tomorrow's drive on to Allen and Nina's easy. If I have extra time, I shall take a nap or meditate.
Have been going through old chapters of this journal, from 1980. Am sure this is not the case for everyone(!), but for me it is quite interesting reading. Enough time has elapsed that I had forgotten much of the details from that period in my life.
To concentrate the benefits of meditation, limit TV, computer use, added sugar, coffee, tea, alcohol, and daily food or liquid calories, and get plenty of rest and exercise. Then meditate regularly, at least morning and evening, for a minimum of 50 min. a day, and as much more as practicable (sitting and walking), up to 5 hours total daily. Do this for a couple weeks (minimum) at a time, to be at least equivalent in effects and intensity to a long solo vacation.
10:45 PM-More noisy motel room neighbors: yelling, singing, whistling, and having the TV on loud, with occasional choruses from one or more crying babies. Lovely!

8/7/07-Tues.-Stopped at the library in Wichita Falls and began getting caught up on e-mails. This was my first internet access in several days. Had just 30 minutes on the library computer. Next, for lunch I stopped in the early afternoon at an IHOP in Decatur, about 40 miles north of Fort Worth. Odometer reading: 55,167.
5:30 PM-Stopped at Nina's store and visited with her awhile, then borrowed the key to her and Allen's house, drove over, let myself in, unloaded my car, got the AC going a little bit, took a bath, had a nap, and did some meditation. Allen, Nina, Sharon, and Seymour are due home about 6 PM.

8/8/07-Wed.-My visiting with Allen and Nina, like the overall vacation, and the life journey itself, has had its ups and downs but has not been a time of unfettered bliss, transformative joy, etc. And in reviewing the entries from my old journals, it is apparent that some of the issues from long ago are still with me. Another way of putting it is that my good resolutions from over a generation ago came to little. Then as now, it was apparent that the answers would not come from any person, situation, setting, or teaching outside myself. The inner pain that plagued me then is still waiting to be fully addressed. I know the means. There is not an unlimited amount of time left.

8/9/07-Thurs.-Slept somewhat fitfully last night. Up, then, about 7:20 this morning, saying "Goodbye" first to Allen, when he left for work about a half-hour later, and next, after I'd gotten ready and loaded up my car, around 9:30 to Nina, Sharon, and Seymour.
Mom called me at Allen and Nina's place early yesterday evening asking that I arrive as soon as possible and have lunch at her house, instead of our going out for a meal then as planned, because she was experiencing a dental emergency, one of her teeth having cracked off, or at least partly so, and she needed to see her dentist about it early this afternoon. So, I expect I shall get there about 11 AM or just a little later.
3:35 PM-Completed my longest ever road trip when got home this afternoon. Odometer reading: 55,435. Total distance traveled on this vacation: 6387 miles.

8/22/07-Wed.-A busy time since I got back from the Pacific NW trip. Still not caught up.

8/24/07-Fri.-Am meditating over two hours a day. Yesterday, resumed yard mowing, though only half of the front, despite wrist problems. No significant ill effects from it.

8/27/07-Mon.-Negative vibes. Am at Kerbey Lane for breakfast after picking up x-ray films and medical and PT records to take to an orthopedist. At the adjoining table, not two feet away in this congested eatery, a married couple is apparently wrestling with the reasons for and terms of a break-up. Feelings are obviously, and understandably, still quite raw. Too bad these two people chose such a public venue, but maybe they felt it would be more neutral, and so safer, to air grievances and dicker over splitting lives and property here. Meanwhile, the barely contained anger comes out in everything they say, albeit in muted tones... The lady just walked out after being told to "Shut up! Shut up!" The man then stayed "in control," kept eating, left a big wad of cash, and a few minutes later departed as well.
Anyway, about a week ago my physical therapist advised me she and my regular physician think I should see an orthopedist, as my wrist tendon problems have not had enough improvement. I can tell, when I think about it, that I'm getting old - though still feeling as if I am young, just having a little more trouble doing certain things - for now I often find grandmothers I see out in public quite attractive, not that more youthful ladies are not enticing as well. It seems I could too easily be seen to fit in the "dirty old man" category, but can also be turned on (fortunately, for this is Fran's age) by women in their forties to early fifties.
Lately, even more than before, I have noticed an "at loose ends" kind of feeling, no doubt partly a result of much being on hold till the problem with my right wrist is resolved. But it is just a more pronounced form of the concerns since retirement over "what to do when I grow up," or what it might take to have life seem meaningful.
It strikes me that this sort of angst is a luxury or self-indulgence. Poor people or folks in really bad health would not be likely to have such inner dialogues. Even the dream group folks cannot generally take most of my "difficulties" all that seriously. Their impressions seem to be that my main dysfunction is simply that I do not readily acknowledge how good our situation is!
Meanwhile, like some obsessed Don Quixote, I take off on this or that idealistic odyssey, from more hours of meditation to thousands of miles of driving across the country, etc., in a quest for the perfect transformative experience or circumstance, after which, I fancy that, at last, my life will feel truly meaningful, relevant, rewarding, and so forth.
The Pacific Northwest vacation was just the latest example of a major venture commenced with high hopes that, in reality, failed to live up to my initial anticipation for it.
So, inevitably, I must come down to earth after each such mental or actual excursion, again asking myself such (movie) questions as "What's it all about, Alfie?" or "Is that all there is?" or "What if this is as good as it gets?"
What if I never find my "true calling," never find something to fill my life the way I imagine having a "Leave It to Beaver" family, kids, and grandchildren fills the lives of some others? What if I never have a set of meditation or other experiences that magically turn my mundane, often depressed existence into that of a mostly happy, charming, successful Disney prince, never write the great American novel, never have many (or any) really close friends, never live a moment (whether blissful, hellish, or in between) beyond an ordinary life and death, etc.
Objectively, the truth is things are not that bad, are actually rather nice, and yet are not likely to get much better. So, the waiting to really start living might just as well cease. These are already the good old days.