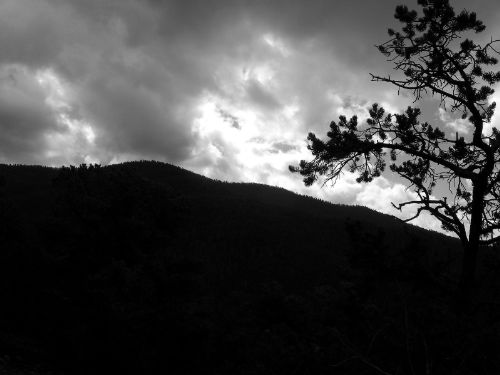 12/10/09-Thurs.-Have stopped at Kerbey Lane South for a breakfast taco while waiting for Fran's car to be ready, after leaving it for a state inspection.
This is the second auto repair/inspection place I have taken it this morning. The first was already "booked up" at 7:45, with almost no cars in the parking lot. So, I zipped back west on Hwy. 71 and north on S. Lamar till I found another place I remembered from Google research last night, one that is at least a BBB member and does these inspections. Fingers crossed. The staff said they could do the work right away.
The countdown is on for Fran's and my trip up to WI, beginning early on 12/27. Much remains to be done to be ready in time. Last night, I indulged in a pleasant non-essential, decorating our little plastic Christmas tree.
Tuesday night, I went to my first Alanon men's group meeting, a bunch (25 or more) of good fellows there.
The temperatures in WI, where we'll be in 2-3 weeks, are often well below zero and arriving with abundant wind and snowfall. Yesterday, they had a school snow day in Clear Lake, where we are headed on this driving trip. Lots of flights were cancelled over a several states area. Many cars were stranded in huge drifts or ice storms throughout the mid-west.
I had a complicated dream day before yesterday that I thought was about what my hypothetical higher power wanted from me now (more exercise and meditation [consciousness], weight loss [am about ten pounds too heavy], and more effective use of my time), but my friend Janet analyzed the dream and said instead it just means I ought to continue meditating, going to dream group meetings, and sticking with my Alanon 12-step program, that what is needed is already being taken care of that way. (My concept of a higher power is mixed up with issues from the relationship with my father.)
Fran told me yesterday she has noticed positive changes in me, that I seem to be calmer and more positive, more easygoing, since beginning the Alanon meetings a few months ago. Cool.
Am reading and enjoying T. Jefferson Parker's L.A. Outlaws and Elizabeth Strout's Olive Kitteridge.
Later. The state inspection of Fran's car was successful. Great.
Stopped and did grocery shopping on the way home.
Fran went shopping this afternoon at a hardware store for new doorknobs to replace ones we have had since moving into this house, but which are about worn out. She plans to start installing them today. Super!

12/25/09-Fri.-Christmas-We went to sleep late last night, partly due to noisy motel room neighbors having a party, somewhat also due to a TV movie we watched till 2 AM. Finally up, then, about 8:00 this morning.
There was a little snow here in Waco yesterday, and the low temperature was 21°F.
About 10, we headed over to Mom's place again and resumed our holiday visiting. Allen and family, Mom, of course, Mary, Jim, Ron, Esther, Jane, Frances, and I were enjoying this get-together. Horace, Leila, Tess, Roger, Carol, Martha, Virginia, Abel, Charles, and Keith had also joined us yesterday, but were doing their own separate Christmas thing today.
Later.-Had a good get-together for lunch and this afternoon, and then most folks left, headed back to Austin, Houston, and Fort Worth.
This evening, I went for a walk with Pete (who had arrived later than the others on Christmas Eve), ate supper while watching a movie on TV, played chess with Pete, etc. Pretty tired. Missed the nap I did not have a chance to get today.
I had taken a number of photos during the past couple days and looked through them on Fran's lap-top tonight. A number were "keepers," but several did not come out well at all.

12/27/09-Sun.-A few minutes after 8 AM, began our trip to WI today. We passed through Fort Worth a little past noon. By Denton, not long afterward, we were noticing snow. The weather was fair, so this was residual white stuff, likely from Thursday, when there had also been flurries in Waco, enough to coat yards and roofs there for awhile. Expect now we shall be seeing snow, at least in patches, the rest of the way up to Clear Lake, our destination.
Later.-We reached our motel in Emporia, KS, a little after 8 PM. This is roughly the half-way point in our journey. We encountered places where the roads were very bad, but had no serious problems ourselves, though we passed a stretch in OK where the traffic going south on I-35 was stopped and backed up in both lanes for perhaps ten miles or more. Nothing was being done to divert it or let oncoming drivers know of this huge difficulty, so more were piling up continuously in an ever lengthening line. It probably will take many hours to clear such a jam after traffic is at last flowing again. Meanwhile, folks may run out of gasoline in their cars, their bladders may give out, etc. Bummer.

12/28/09-Mon.-Had a pretty good night. Got a reasonably early start in the last leg of driving today. In Kansas City, we ran over a big piece of ice that had suddenly appeared in our lane, and it hit the bottom of the car with a loud bang. About half an hour before leaving MO, we saw a large turkey foraging near the highway in a snow-covered field. About 1 PM, we crossed into IA and enjoyed a rest stop at the Welcome Station.
Later.-The driving was a bit difficult at times due to road and traffic conditions. Again I took the wheel for the majority of the driving today. We saw a few more turkeys plus some hawks. I believe I also saw an eagle and a large owl. Fran saw several pheasants. The wintry, almost completely snow-covered scenes today were often dazzlingly beautiful. Rather exhausted, we reached Trudy and Scott's place about 9 PM. Our welcome by them and their kids was great, and after good eats, playing, greeting, etc., the youngsters headed for bed about 11 PM. Trudy, Scott, and Fran retired by around midnight. I hope to make to the horizontal position by 1 AM or, if not, as soon afterward as my prostate permits.

12/30/09-Wed.-Yesterday, Scott was busy for about 16 hours, on call and with his herd checks. The rest of us did stuff about Jay's greenhouse, played games, went to Violet's wrestling practice, ate meals fixed at home, etc.
This morning, we went to a special cheese and fudge shop and did a little sightseeing. Then, this afternoon, Scott joined us to help record the event as we all went to a lady's in-home hair styling and shearing shop, to let Cheryl, Violet, and Trudy have haircuts, the kids for their first times outside their own house, while Fran, Scott, Jay, and I all recorded the event with scores of photos plus video-taping.
Tonight, most of us are going to an indoor skating rink.