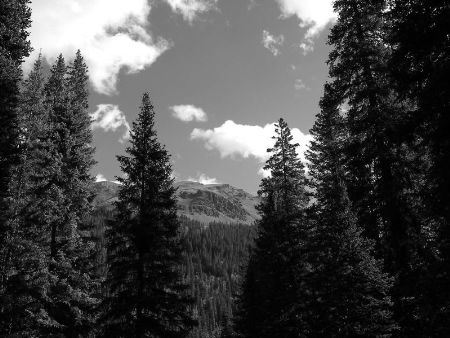 12/7/12-Fri.-71 years ago today, December 7, 1941 (though already December 8 in the Far East), a couple attacks on U.S. Pearl Harbor facilities in Hawaii indirectly led to my existence. My mom (a war bride) and dad were married a few weeks later, in February, 1942, and I was their first child, born in Oct., 1943.
I am waiting in a south Austin Chick-fil-A, next to a Wal-Mart service center, for my car to be ready after an oil change.
Though this location is virtually in our neighborhood, only a mile or so from home, driving over was an adventure. Traffic exceeded the roadways' capacities and was backed up quite a distance. Impatient drivers were then acting recklessly, for instance zooming down the single opposite (wrong) lane to get around the line.
Once I had checked in at the auto service desk and stopped here at Chick-fil-A, the craziness continued. A small white woman was ahead of me and just paying for her to-go order. She evidently did not have time for the long drive-through wait. An angry bull of a white guy came in and, evidently controlling his rage with difficulty, told her he was calling the police and would have her child taken away from her if she did not immediately return to caring for her kid, waiting in her vehicle. She tried hurriedly to explain she could see her car through the window and that her order would be ready any second, but he yelled at her "I don't care! I don't care!" and said she was more than 15 feet from her child and if she did not care for her offspring, he did, and he was calling the cops. As drama and the lady's misfortune would have it, a couple mild-mannered, courteous, uniformed policemen were also there getting breakfast. The lady, quite flustered, rushed out abandoning her food instead of her child, and the angry white guy relieved his "stress" by telling whoever around was listening about the "terrible" thing this lady had done, till he had saved the day. I could not help wondering if this self-styled savior citizen was a Christian (as many Chick-fil-A customers are), but one who somehow had missed Jesus' message of humility, compassion, and forgiveness. And now, in my righteous response, perhaps I too have forgotten a more empathetic view of human foibles.

12/23/12-Sun.-Fran and I got underway a little after 8 AM and were 50 miles shy of Houston by a couple hours later.
I did an analysis of our nest egg last night. Normally I would do it at the end of the month (and quarter and year) except that we shall be on vacation (visiting with my mother-in-law, Linda, in FL, starting tomorrow) then. Our equity book value tally continues to reflect a 13.5% a year increase since I began this accelerated book value growth rate and is up to just under $800,000. The total equities dividend tally stands at a little over $18,000 a year (over 2% of book value). Market value of our equities to book value stands at 0.90. Net asset value is up to $1,112,200, over 11% higher than in 2011. Since equities are the main source of that growth but are only about 65% of the total, they have had to increase almost 20% in the past year to assure the overall appreciation rate.

12/24/12-Mon.-Christmas Eve Day-We got underway about 8 AM. Saw a flock of white pelicans flying close by, set against a dramatic sky, landscape, and "waterscape" backdrop, the early morning light filtered by rain clouds, storms in the distance, with marshes and watery channels in the foreground.
We stopped for gas and a light breakfast at Loxley, AL, a little before 10 AM.
Fran last night mentioned seeing a woman being interviewed on TV who is 21, cute, beautiful, smart, and a talented singer, who also manages her profession like a business and earns over $100 million per tour.
We discussed envy and whether her enormous level of success discounts the worth of others' accomplishments, for instance Fran's or mine. I think too of athletes or Hollywood celebrities or company CEOs, who often in a single year can make many times what Fran or I might in a lifetime. Would we like to trade places with these people if we could? And why or why not. A Nobel Prize winning scientist, even, usually makes in a lifetime but a small fraction of what some of these folks do in a short while, yet are their contributions to society really worth so much less?

12/25/12-Tues.-Christmas Day-Fran and I arrived at Linda's about 6 PM yesterday. We had a fun evening that included checking e-mails, supper, playing with Puff, and watching a cute animation movie, "How to Train Your Dragon."
This morning my "biological clock," still on Central Time, got me up at 7:00 (8:00 local or Eastern Time). I got ready relatively quickly for me. Linda, Fran, and I departed (Puff throwing a tantrum in her kennel) about 9 AM, heading for Homosassa Springs, which is open even on Christmas.
On the way, Fran and I saw a deer walking beside the road.

12/26/12-Wed.-Today, Fran, Linda, and I took Puff (whose 9th birthday anniversary it was) to the Kanapaha Gardens. We drove through an intense rainstorm to get there. The downpour continued as we drove into the parking lot. In moments, however, the rain stopped, not to return. All was then fresh and clear in the gardens. We soon took our umbrellas back to the car. The sun came out along with several critters, including a couple new species for Fran's photography.
My right thumb has been symptomatic in the past couple days, reminiscent of thumb and wrist difficulties that required several months of physical therapy, acupuncture, and other treatments earlier. I believe the major difficulty is the wear on the joints from holding my camera as I have been taking hundreds of photos. Will be more selective in my picture taking for awhile.
After the gardens, Linda treated us to a late Chinese buffet lunch. Mmm, good!
On the trip to FL, we saw a low flying flock of white pelicans relatively nearby. Today, during our last few minutes at Kanapaha Gardens, it was a flock of sandhill cranes.

12/27/12-Thurs.-Up at 7:30 AM. Linda, Fran, and I (the tantrum-throwing-very-unhappy-about-this-dog left behind today) headed off about 9:00, after Linda and Frances had taken Puff to meet the clubhouse secretary.
Today we went to the Paynes Prairie Preserve State Park. We saw a couple white-tailed deer, interesting dragonflies, eagles, a large beetle larva, and multiple water birds. We all tried to take pictures of cormorants with freshly caught fish. When we process the pictures, we shall find out if any of these shots came out well.
Later. We took the La Chua Trail to Alachua Sink and the center of the prairie marsh, another part of the Paynes Prairie Preserve than where we had been this morning. We saw about 20 or more alligators as well as having many more predator bird and water fowl sightings.

12/28/12-Fri.-We saw a sandhill crane near the La Chua Trail yesterday. This morning I saw three more, in flight nearby, while Linda, Fran, and I were driving to Gainesville for butterfly house and museum visiting.
Later. We all had great times today. Mine was spent mostly in the photography part of the art museum and in the natural history museum. Fran and I also got together at the art museum's cafe for lunch, a pleasant intermission.

12/29/12-Sat.-A warm front brought several rainstorms last night and this morning. Nonetheless, we got underway about 9:30 AM. We headed over to Silver River State Park, this time with Puff. She loved getting a biscuit from the park ranger at the entrance.
Later. We had a good time on our hikes. Fran and I saw an armadillo. Awhile afterward, she saw a deer too.

12/30/12-Sun.-Today we went to the Central Florida Zoo, about an hour and a quarter drive from Linda's place, arriving about 10 AM. The temperature was uncomfortably cold, but at least bearable, and most of the weekend crowds stayed away till later when it was warmer. Fran and Linda, as is usual for them, preferred for us not to stay together but to proceed through the zoo at their own paces. This was fine except they had not indicated where and when we would get together again before going home. The last thing I heard from Fran about this, she was telling her mom not to plan other activities, that the zoo would take all day. Once they split off from me, I never even saw Fran again until after I left the zoo about 4 hours after arriving. I did see Linda in passing a couple times, but she gave no clue when we would try to meet again and certainly did not, either time, seem ready to leave. Anyway, I was through after about two hours and so began looking for the ladies to tell them I would be waiting in the car. I did four circuits, looking everywhere, and never saw either one. So, I finally left, figuring when they would give up looking for me in the zoo they would try the car. I headed back to the parking area. And then I found them, outside the zoo and waiting for me. Oh well. As noted before, coordination and communication are not our strong suits. Still, we do well at many other things, and this is generally not that big a deal.

12/31/12-Mon.-New Year's Eve Day-Had a nightmare last night and was up 3-4 times.
This morning we are all (including Puff) heading over to a greenbelt area in Belleview, FL, a "land bridge trail."
On the way, we saw geese on a horse ranch. Once on the trail, Fran found, and showed Linda and me, a couple mouse nests made in saplings from natural debris. Before realizing exactly what they were, Fran had opened one up and discovered a mother mouse with three babies clinging to her. Two continued to hold on as she tried to "escape," climbing higher in the little tree. One baby fell off to the litter below, and Fran scooped it up and put it back in the damaged nest.
Later, while I had gone back to the trailhead with Puff for a pit stop, Fran and Linda found a large (mostly underground, but with two entrances) yellow jacket nest. They were swarming, with multiple queens and lots more drones. At a little distance from the nest, they found balls of several drones on one queen each, presumably the males competing to mate with her. The ladies took multiple photos.
Next we went to Brick City Adventure Park, where there was a big sinkhole (old quarry) and boardwalk. Unfortunately, the part of the park in which we were interested was closed.